Florida expands "Don't Say Gay" law for all school grades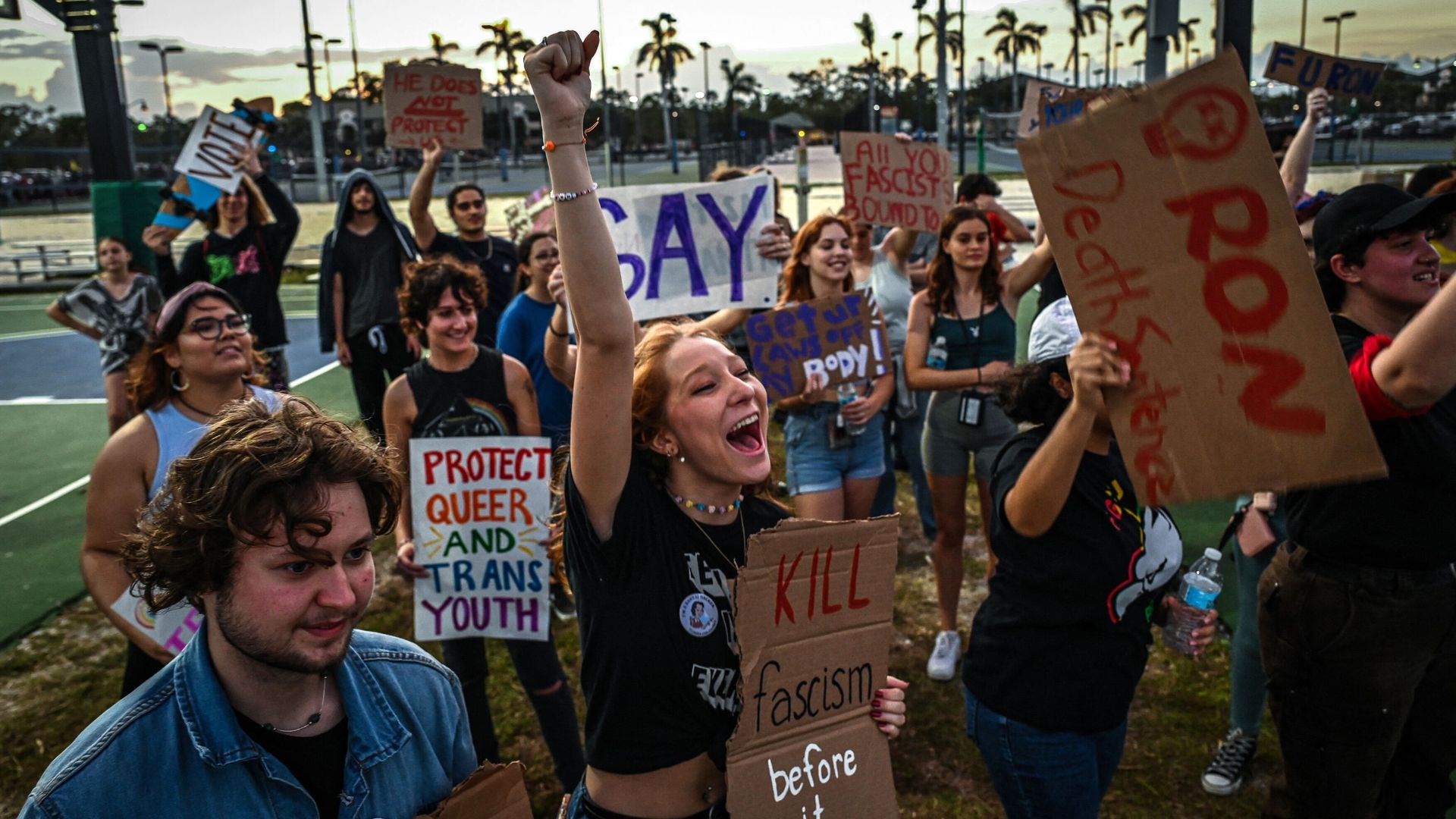 The Florida Board of Education approved a rule Wednesday barring the state's public school teachers from teaching students in any grade about sexual orientation and gender identity.
Why it matters: The new rule comes amid a string of anti-LGBTQ+ bills across the U.S., which have included restricting gender-affirming care and restrictions on drag performances.
The board is building upon restrictions from the Parental Rights in Education law, dubbed "Don't Say Gay" by critics, which focused on classroom instruction in kindergarten through third grade.
The rule prohibits teaching about sexual orientation and gender identity in grades four and higher unless "required by state academic standards" or part of a reproductive health course or lesson.
Teachers who violate the prohibition could have their licenses suspended or revoked.
The big picture: Florida Gov. Ron DeSantis (R) has become a champion for conservative cultural issues — gearing up for a potential 2024 presidential run that would pit him against former President Trump, who in recent days has picked up endorsements from more Florida lawmakers.
The rule goes beyond legislation the Republican-majority Legislature is considering, which would expand the prohibition through eighth grade.
Between the lines: High-profile conservatives appear to have abandoned past framing of the legislation as an "anti-grooming bill," which aimed to stoke fear that such instruction could endanger young children.
What they're saying: This action will provide "clarity to assure that our teachers know that they're not getting in any kind of trouble for teaching the standards and making sure they stick to that," state Education Commissioner Manny Diaz Jr. said during the board meeting.
"Educators in Florida are expected to teach to the state academic standards," Alex Lanfranconi, a spokesperson for the state education department, told Axios. "The topics of gender identity and sexual orientation have no place in the classroom, unless required by law."
The other side: "Free states do not wage war on LGBTQ+ people to score cheap political points for a man desperate to be president," Joe Saunders, Equality Florida's senior political director, said in a statement. "This policy will escalate the government censorship that is sweeping our state."
The "rule will spread the confusion caused by the 'Don't Say Gay' law all the way up to high school graduation," state House minority leader Fentrice Driskell told Axios. "It has already caused widespread chaos and fear in school administrations, libraries, and classrooms across Florida."
Editor's note: This story is developing and will be updated.
Go deeper