DeSantis signs "Don't Say Gay" bill into law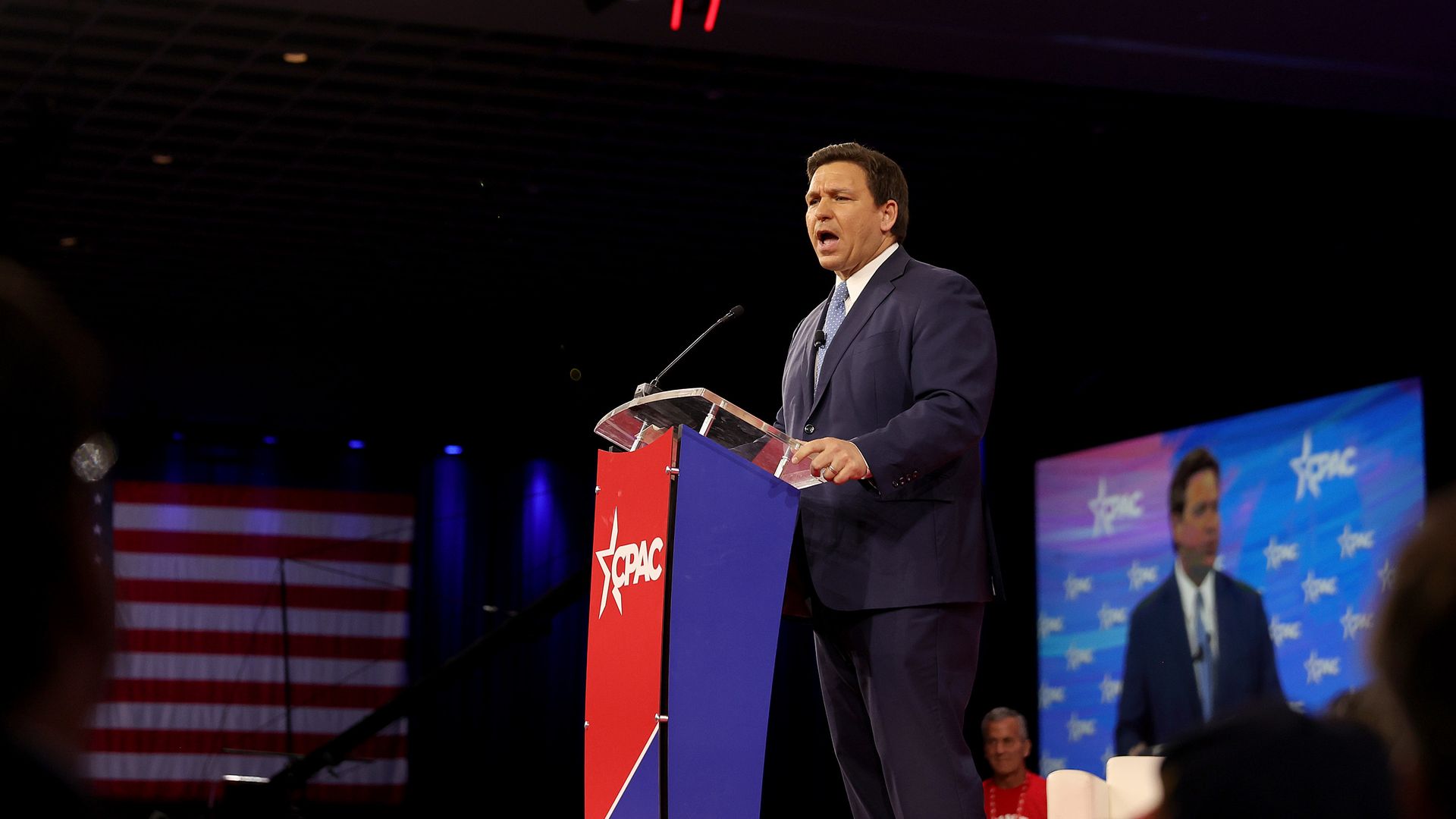 Florida Gov. Ron DeSantis (R) on Monday signed into law the controversial Parental Rights in Education Bill — dubbed by critics the "Don't Say Gay" bill — to ban classroom instruction on sexual orientation and gender identity from kindergarten through 3rd grade.
The big picture: The bill, which will go into effect on July 1, led to backlash across the country, including protests among students and educators, as well as public opposition from corporate leaders.
For higher grade levels, the bill says that instruction should be "age-appropriate and developmentally appropriate" by state academic standards.
It also allows parents to sue schools or teachers that engage in these topics.
DeSantis and Republicans claim that parents should be the ones to bring up topics of sexual orientation and gender identity with their children, but critics say the bill amounts to censorship.
People have also expressed concern that singling out LGBTQ topics in this manner implies that they are inappropriate.
What they're saying: "We will make sure parents can send their kids to school to get an education, not an indoctrination," DeSantis said before he signed HB-1557 at the Classical Preparatory School in Spring Hill.
He accused critics of the bill of supporting "sexualizing kids in kindergarten … injecting woke gender ideology into second grade classrooms … enabling schools to 'transition' students to a 'different gender' without the knowledge of the parent, much less without the parents' consent."
"I don't care what corporate media outlets say, what Hollywood says, what big corporations say. Here I stand. I'm not backing down."
The other side: LGBTQ advocacy group Equality Florida along with politicians like state Rep. Michele Rayner (D-St. Petersburg) held their own press conference after the signing, accusing DeSantis of gaslighting critics of the bill and putting children in harm's way to promote a future presidential campaign platform.
Equality Florida is creating a legal defense fund to support LGBTQ youth and their families who feel the bill violates their rights.
"Litigation is coming and it will be swift and fierce," Equality Florida's senior political director Joe Saunders said.
"Every student deserves to feel safe and welcome in the classroom. Our LGBTQI+ youth deserve to be affirmed and accepted just as they are," President Biden tweeted Monday afternoon.
"My Administration will continue to fight for dignity and opportunity for every student and family — in Florida and around the country."
Disney released a statement moments after DeSantis signed the bill, lambasting it by saying it "should never have passed and should never have been signed into law."
"Our goal as a company is for this law to be repealed by the legislature or struck down in the courts, and we remain committed to supporting the national and state organizations working to achieve that," a Disney spokesperson said.
Editor's note: This story has been updated with new details throughout.
Go deeper