Behind the Curtain: Tearing apart Democrats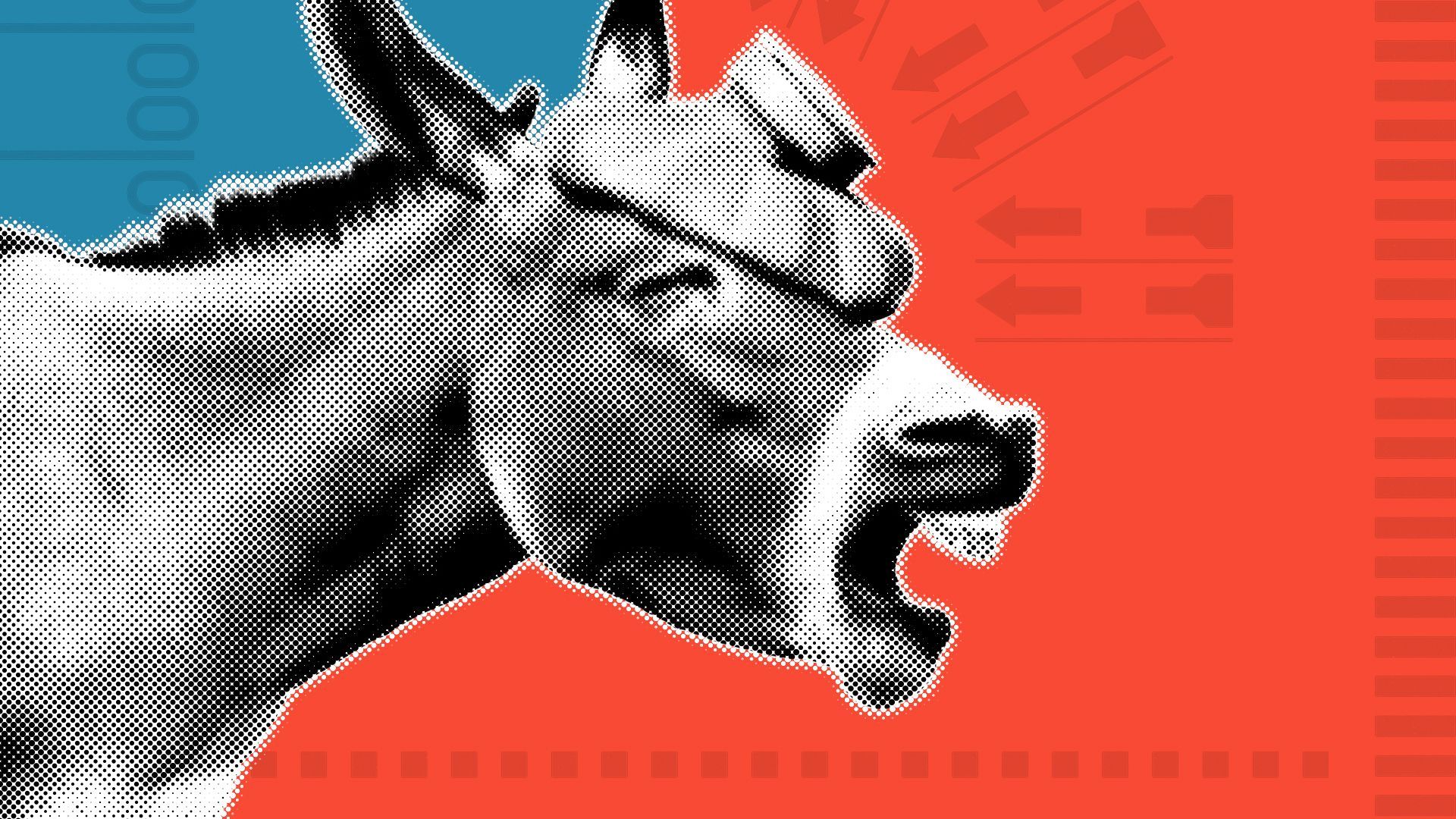 No issue threatens to break President Biden's fragile Democratic coalition like Israel's response to the Hamas terrorist attack.
Why it matters: Infighting is spreading, slowly but meaningfully, at every layer of the Democratic Party over Biden's full-throated support of Israel. It runs much deeper than college campus protests or caustic comments from elected officials.
Step back and survey the split:
Among Democrats in Congress, the divide is deep and personal:
On college campuses nationwide, antisemitic threats are rising. University leaders, including at Harvard, are being slammed for tolerating rising antisemitism.
A letter this past week from top law firms warned deans at elite law schools against tolerating the growing antisemitic "harassment, vandalism and assaults on college campuses."
Second gentleman Doug Emhoff told Politico in London that he sees an "an antisemitism crisis .... on our campuses and even in our K-through-12 schools, on our streets and our markets, wherever you go. It's unprecedented."
The big picture: Biden's political standing was shaky before the war. He's basically tied with former President Trump nationally and in swing states.
Any churn of pro-Israel or pro-Palestinian voters could cost him a state — or the White House if it's another close-call election, which both sides expect.
Biden's political team is particularly concerned about younger voters: Polls show they're less pro-Israel than their parents' generation.
The topic is lighting up TikTok and Instagram, where around half of Americans ages 18-29 regularly get their news.
The big fear: This might be the best it gets for Biden in terms of holding together Democrats.
It was only a fringe group of Democrats who didn't condemn the brutality of the Oct. 7 terrorist attacks. But with each passing day, the images and reality of innocent Palestinians, including many kids, getting killed in Israeli bombings of Hamas makes Biden's job harder.
Top officials tell us explaining Israel's position that Hamas militants use Palestinian civilians as human shields resonates mostly with staunchly pro-Israel Democrats.
Biden's war-planning team is pro-Israel across the board — but top officials know their own party decidedly isn't. Many more liberal Democrats are pacifists in general, anti-war in nature, pro-Palestinian in mindset — and deeply divided over Israel's leadership and Gaza strategy.
"My donors are flipping out," one leading Democratic official told us. "They're happy with Biden but angry with the party." This Democrat told us that Biden's approach to Israel shows "resolve and conviction. For voters who think we're weak on immigration and crime, this is the kind of strength they need to see."
By the numbers: A Quinnipiac Poll out Thursday showed the stark age divide:
Respondents were asked: "Do you approve or disapprove of the way Israel is responding to the October 7th Hamas terrorist attack?"
Overall, half approved and 35% disapproved. But only 32% of respondents ages 18-34 approved of Israel's response, as opposed to about 58% of those 50+.
Democrats disapproved of the response by 49%-33%. Three-quarters of Republicans approved, and 46% of independents.
Zoom in: Michigan is the state where Democrats have the most to lose over their divisions. It has the largest Arab-American community in the country + a sizable Jewish vote — and is a presidential swing state, with an open Senate seat.
The Jewish vote is pivotal for Biden in several big swing states, including Pennsylvania and Georgia, Axios' Josh Kraushaar tells us.
The bottom line: Every day is a balancing act for Biden and Secretary of State Antony Blinken. They try to signal support for Israel and signal (or leak) efforts to constrain Israeli Prime Minister Benjamin Netanyahu and his war Cabinet.
But Biden knows the scale will tip against him if more Democrats turn sour on America's role.
"Behind the Curtain" is a new column by Axios CEO Jim VandeHei and co-founder Mike Allen, based on regular conversations with White House and congressional leaders, CEOs and top technologists.
Go deeper