Israel aid maneuver fuels Democratic fears about new GOP speaker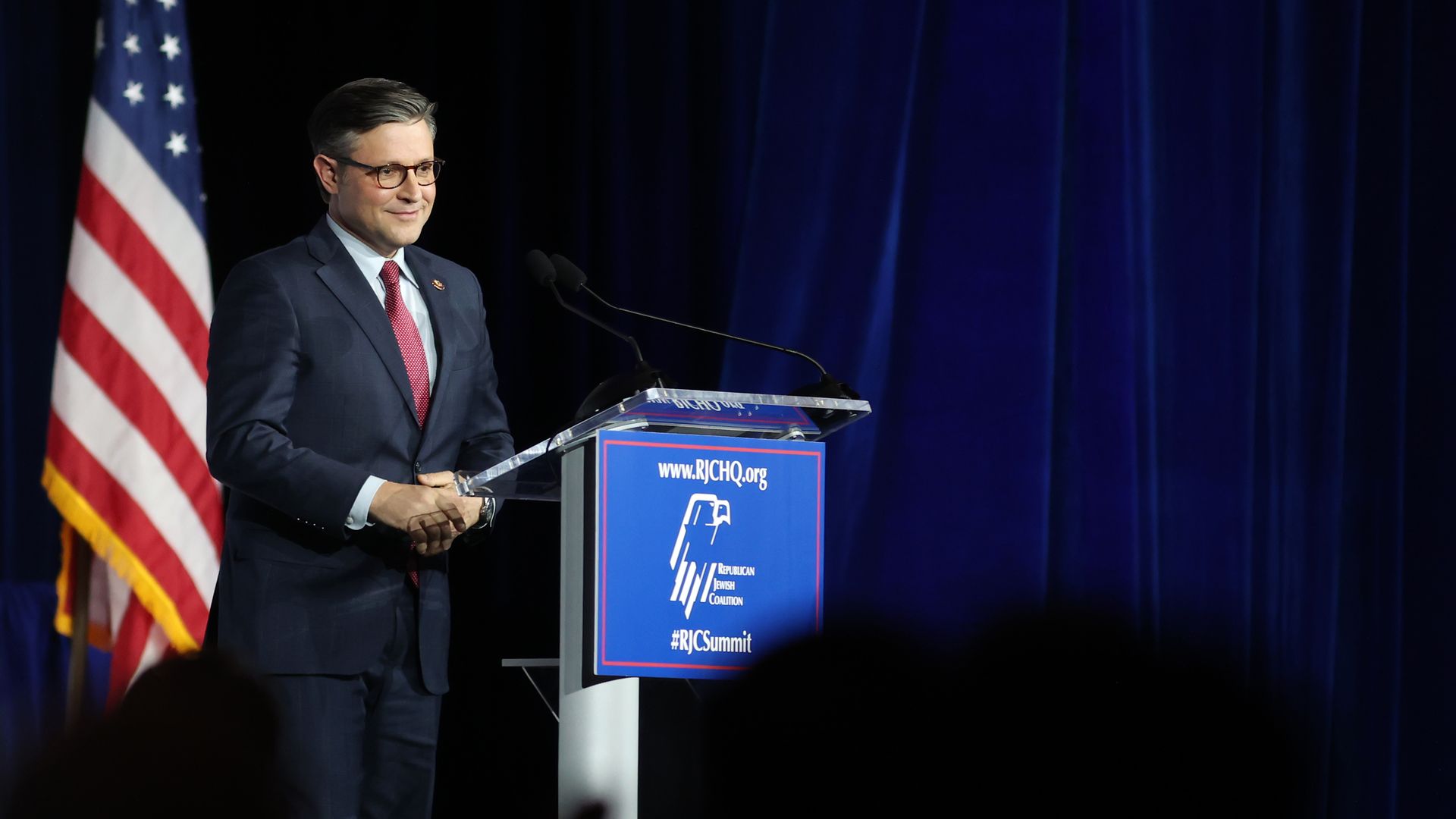 Democrats are taking House Speaker Mike Johnson's (R-La.) efforts to offset aid to Israel with funds from one of their signature pieces of legislation as an early sign that their initial fears about his speakership were well-founded.
Why it matters: The emergency Israel funding will need bipartisan support to become law — as will bills to support Ukraine and Taiwan, shore up border security and avert a government shutdown.
Driving the news: The supplemental appropriations package would offset $14.3 billion in military assistance to Israel by rescinding an equal amount in IRS funding from the Inflation Reduction Act.
The rescission adds to Democratic frustration over Johnson's decision to try to pass Israel aid as a standalone bill, rather than tying it to Ukraine and Taiwan aid and border security funding.
Senate Majority Leader Chuck Schumer (D-N.Y.) told reporters it would make the bill "much harder to pass" in the Senate.
What they're saying: Democratic lawmakers and aides told Axios they see the offset as a sign that Johnson plans to take a firmly partisan approach to governing as he steps into the speakership.
"Obviously, we always want to give people the benefit of the doubt when they step into leadership positions, but this is totally ridiculous," said Rep. Jared Moskowitz (D-Fla.).
One senior House Democrat called the rescission "very problematic" and said it "doesn't seem like this is a good start for the new speaker."
"Instead of introducing a clean aid package … the new Republican Speaker has chosen to put a poison pill" in the bill, said Rep. Ritchie Torres (D-N.Y.). "The politicizing of Israel in a time of war is nothing short of disgraceful."
A spokesperson for Johnson did not respond to a request for comment.
Zoom in: Raising Democrats' ire even further is the fact that the rescission would cut against Republicans' stated goal of saving as much money as they spend by dampening tax collection enforcement and thus diminishing federal revenue.
"They are preventing the government from holding wealthy tax cheats accountable and adding to the deficit," Rep. Suzan DelBene (D-Wash.), the chair of the Democratic Congressional Campaign Committee, told Axios in a statement.
The IRS funding has long been a GOP boogeyman, with Republicans voting to rescind it just days after taking power in the House in January.
The backdrop: Johnson's steadfastly conservative record prompted concerns among Democrats before his election that he would govern in an even more uncompromising fashion than former House Speaker Kevin McCarthy (R-Calif.).
In addition to his hardline stances on abortion and same-sex marriage, Johnson spearheaded an amicus brief supporting a lawsuit aimed at overturning the 2020 presidential election.
Democrats last week compared Johnson to Judiciary Committee Chair Jim Jordan (R-Ohio) and said his genial demeanor and lower profile masked an equally right-wing set of beliefs.
Yes, but: The bill may still receive Democratic votes.
Moskowitz, a staunchly pro-Israel moderate, framed the rescission as a ploy to get Democrats to vote against Israel funding and said he is "not going to fall for this stupid trap."
"At the end of the day, this is not going to be the policy of the United States anyway," he added. "I'm going to vote to support Israel."
With Republicans in control of the House by a narrow majority and Reps. Thomas Massie (R-Ky.) and Marjorie Taylor Greene (R-Ga.) planning to vote against the bill, it may need Democratic votes to pass.
What we're watching: The DCCC, which has already been eager to imprint the image of Johnson as a loyal "MAGA" movement foot-soldier, may jump on the move as well.
"Speaker Johnson continues to show that extremists are running the House," said DelBene. "Time and time again, House Republicans prove to the American people they are not serious about governing."
Go deeper