Mike Johnson's 20-year paper trail is an opposition researcher's dream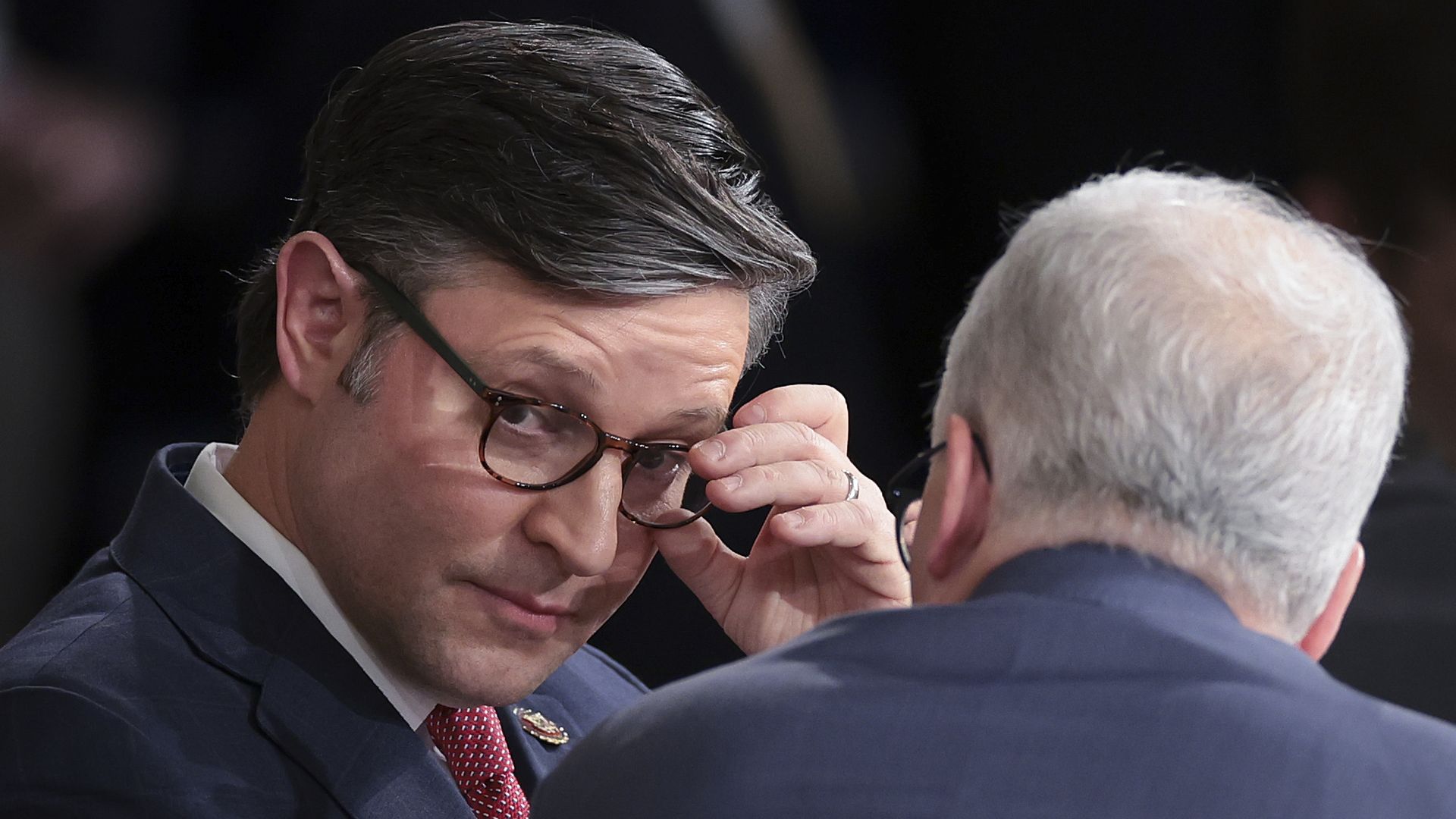 New House Speaker Mike Johnson (R-La.) didn't have a national profile until this week, but his 20-year paper trail is an opposition researcher's dream.
Why it matters: Johnson is one of the most socially conservative speakers in modern memory — often far to the right of former President Trump — and Democrats are ready to make him a central figure in their 2024 campaigns.
Johnson is making it easy on his researchers, with reams of op-eds and newspaper columns paired with legislation he's recently introduced and supported.
"He actually has years of material, freestyle right-wing rhetoric, that nobody has looked under the hood on," one Democratic strategist told Axios.
Johnson was unanimously elected by House Republicans on Wednesday.
Abortion
Johnson posted on X in January that "[w]e will get the number of abortions to ZERO!!" in Louisiana because of the fall of Roe v Wade.
Johnson has an A+ rating from the Susan B. Anthony List, a group that opposes abortion rights. He's co-sponsored federal legislation that would ban abortions after the detection of a fetal heartbeat.
Sexual orientation and gender identity
"Your race, creed, and sex are what you are, while homosexuality and cross-dressing are things you do. This is a free country, but we don't give special protections for every person's bizarre choices," Johnson wrote in 2005, CNN reports.
In 2022, Johnson introduced federal legislation banning the use of federal funds "to develop, implement, facilitate, or fund any sexually-oriented program, event, or literature for children under the age of 10."
Sexually-oriented was defined by the bill as "any depiction, description, or simulation of sexual activity, any lewd or lascivious depiction or description of human genitals, or any topic involving gender identity, gender dysphoria, transgenderism, sexual orientation, or related subjects," CNBC noted.
Same sex marriage
"Society cannot give its stamp of approval to such a dangerous lifestyle ... There will be no legal basis to deny a bisexual the right to marry a partner of each sex, or a person to marry his pet," Johnson wrote in 2004, CNN reports.
In 2022, Johnson opposed the Respect for Marriage Act, which codifies federal recognition of same sex marriage and requires states to respect marriages performed in other states.
Go deeper