MAGA movement gets its speaker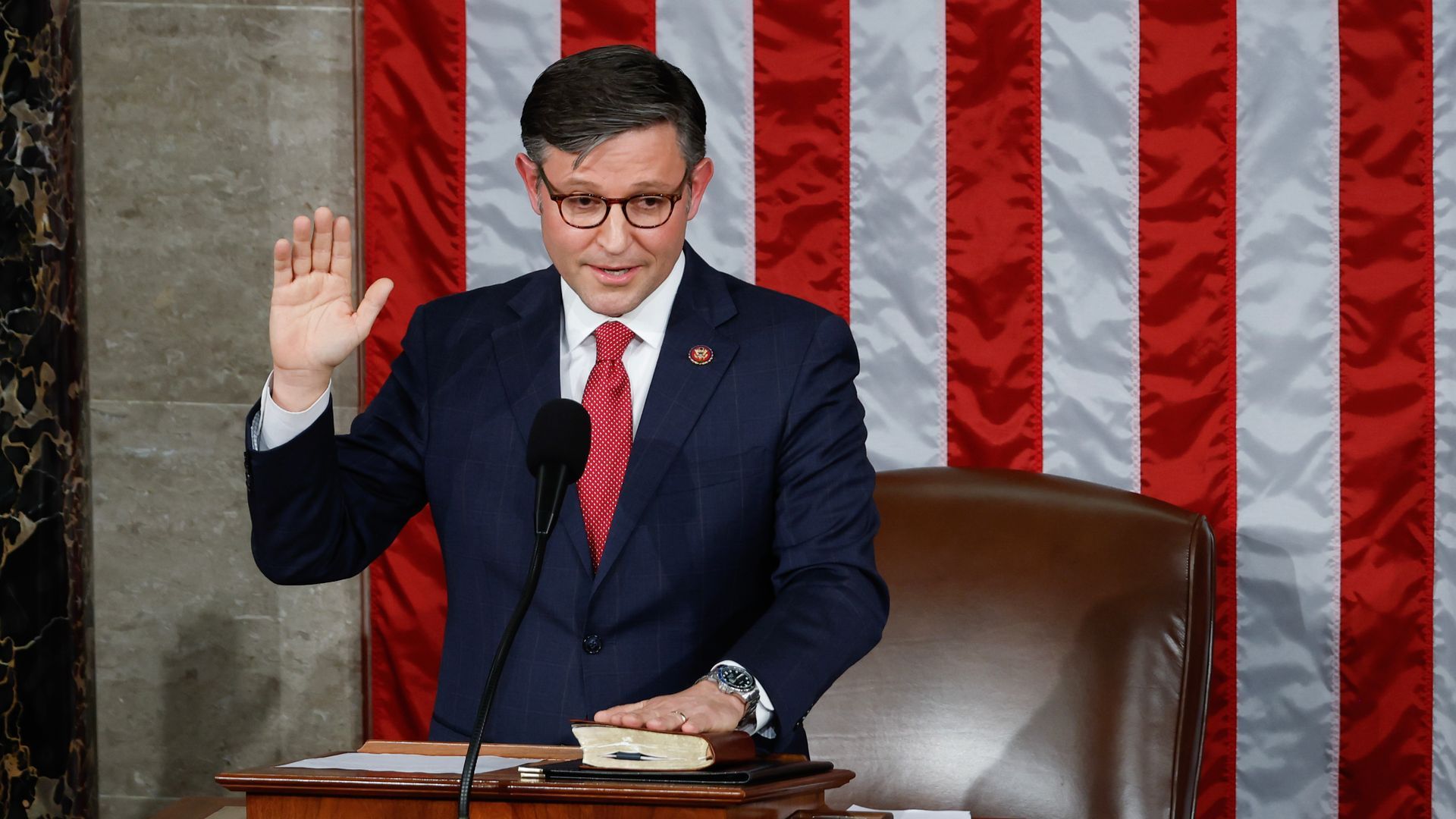 Rep. Mike Johnson (R-La.), a four-term congressman who has never chaired a committee, was elected speaker of the House with unanimous Republican support — achieving a feat that few thought possible.
Why it matters: Politics is personal. After 22 days of paralysis and three failed nominees, the only candidate capable of uniting House Republicans was one who apparently hasn't served long enough to make any enemies.
Case in point: Johnson is a Trump ally with a remarkably similar voting record to Rep. Jim Jordan (R-Ohio), yet he managed to win over all 25 Republicans who voted against Jordan for speaker last week.
That includes moderate Republicans and members who represent districts President Biden won in 2020 — but who still felt comfortable voting for the most conservative House speaker in at least 80 years.
Driving the news: As Johnson accepted the gavel and addressed the House floor for the first time as speaker, it was easy to see how the folksy, mild-mannered Louisiana Republican could command trust from every faction of the GOP conference.
"Let the enemies of freedom around the world hear us loud and clear: The People's House is back in business," Johnson declared to raucous applause from Republicans — and even some Democrats.
But make no mistake: Johnson is a staunch conservative whose election denialism, support for a national abortion ban, and opposition to Ukraine aid will move the House's center of gravity firmly to the right.
Zoom in: In December 2020, Johnson led an amicus brief signed by more than 100 House Republicans in support of a failed Texas lawsuit that sought to invalidate Biden's election victory in four swing states.
Johnson also trafficked in a baseless conspiracy theory in November 2020 about "rigged" Dominion voting machines allegedly having ties to deceased Venezuelan dictator Hugo Chavez.
When Johnson was asked about his efforts to overturn the election at a press conference last night, House Republicans shouted down a reporter and told her to "shut up."
Between the lines: The election of a new conservative speaker is being celebrated by the GOP hardliners who triggered the ouster of former Speaker Kevin McCarthy (R-Calif.) on Oct 3.
"If you don't think that moving from Kevin McCarthy to MAGA Mike Johnson shows the ascendance of this movement and where the power in the Republican Party truly lies, then you're not paying attention," Rep. Matt Gaetz (R-Fla.) argued on Steve Bannon's podcast.
"There is a new level of trust with Speaker Johnson that did not exist previously. That's why we have a new speaker. He is a conservative partner," Rep. Bob Good (R-Va.) told reporters.
"We've been called a lot of names through this entire process. One of them was 'The Crazy Eight,'" said Rep. Eli Crane (R-Ariz.). "I'm crazy enough to believe that this town could actually change."
Go deeper