Scoop: Biden's 2024 team roiled by Israel-Hamas war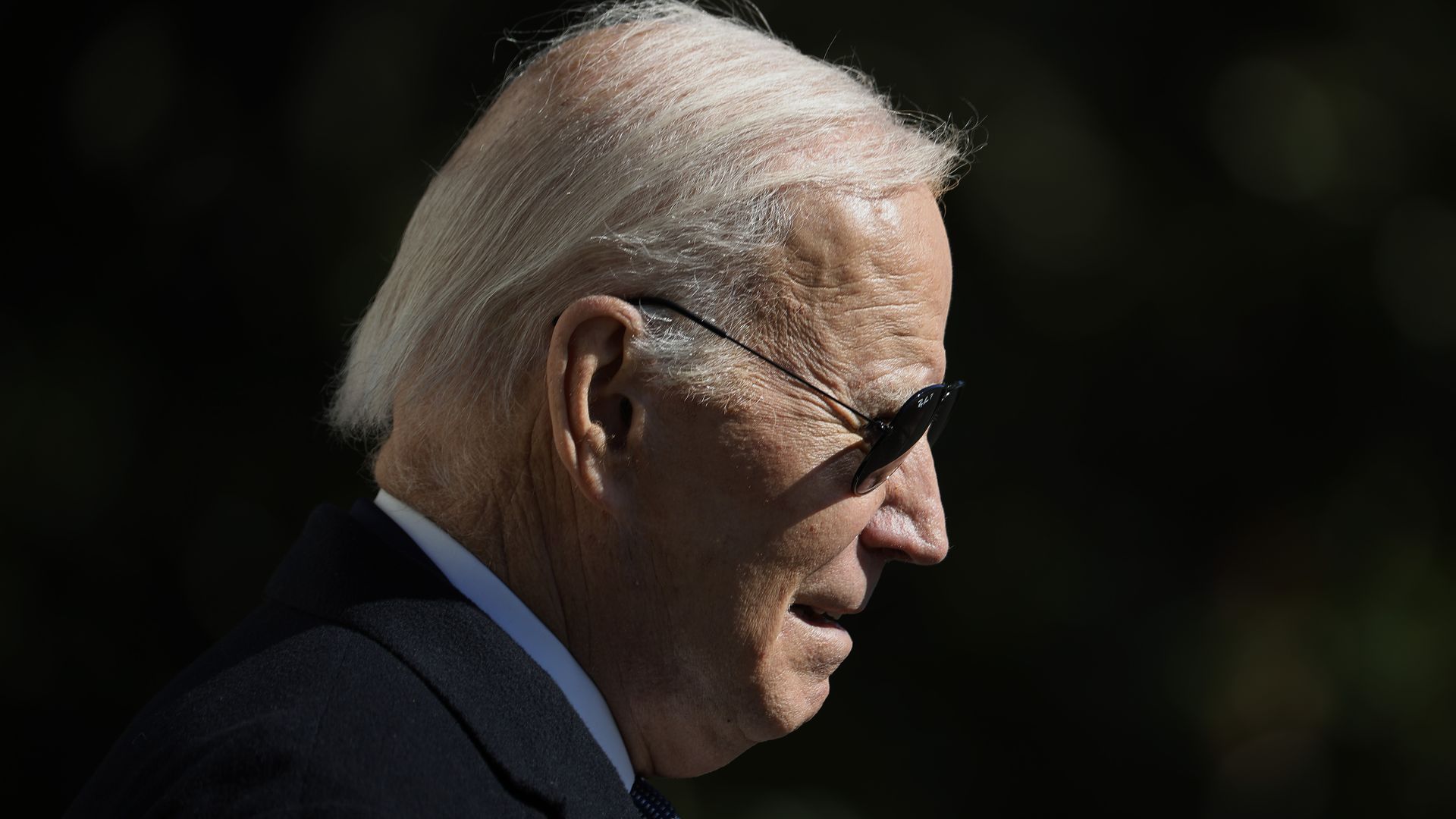 Part of President Biden's political team is in turmoil over the Israel-Hamas war, as some aides see the White House as abetting an immoral attack on Palestinians — while others believe Biden is showing "moral clarity" in protecting Israel from terrorists.
Why it matters: The strife within the Democratic National Committee (DNC) — which Biden is leaning on for his re-election campaign — reflects larger generational and political divisions among Democrats.
Those divisions are chiefly between older pro-Israel Democrats and younger progressives who are more sympathetic to the plight of Palestinians.
Their differences have been exposed by the war in Gaza that began Oct. 7, after Hamas' surprise attack on Israel killed 1,400 people. Israel's counter-attacks in Gaza have killed more than 9,000 people, the Palestinian Ministry of Health claims.
Zoom in: Some staffers at the DNC feel despondent about the scale and death toll from Israel's response, and one staffer said they are considering resigning, citing Biden's resolute support for Israel.
A high-ranking DNC official who asked not to be identified told Axios: "The president centered his 2020 campaign on a 'Battle for the Soul of the Nation,' but it seems as though the administration is currently in a battle for its own soul."
"I don't know how you can see supporting the large-scale killing of Palestinian civilians as anything but immoral," the official added.
DNC chair Jaime Harrison told Axios in a statement that Biden "continues to display unparalleled leadership and moral clarity" — and that "Israel has a right to defend itself from terrorism and the continued threat posed by Hamas."
Harrison noted that Biden — who has called for a "humanitarian pause" in the fighting in Gaza, but not a ceasefire — has been "a strong advocate for both humanitarian assistance to the people of Gaza as well as protecting civilian lives."
Some DNC staffers say they've been rattled by emails and phone calls from Democratic grassroots donors angry about the administration's policy, according to a person familiar with the matter.
The DNC declined to comment on any discontent among staffers, supporters and donors.
The 2024 cycle "promises to be a long, grueling campaign, and the president is making it even harder," the high-ranking DNC official said.
On Friday, 51 DNC staffers — about 17% of the DNC's roughly 300 employees — signed a letter to DNC leaders saying that "we feel it is the DNC's moral obligation to urge President Biden to publicly call for a ceasefire," The Huffington Post first reported.
The staffers also wrote that they were "shocked and heartbroken by the unfathomable loss of life in the brutal attack on Israeli civilians" and were grieving "for the thousands of Palestinian civilians who have lost their lives during the Israeli government's military response."
Early in the war, Harrison and DNC Executive Director Sam Cornale held a meeting with their staff and offered to speak directly with anyone.
Zoom out: The internal conflicts at the DNC also are playing out among Democrats in Congress — and their staffs.
Former staffers for the presidential campaigns of Sens. Elizabeth Warren (D-Mass.) and Bernie Sanders (I-Vt.) have penned letters urging the senators to call for a ceasefire.
Warren called two of the organizers of the effort to hear them out, a person familiar with the matter told Axios.
Sanders' communications director did not respond.
Several House Democrats told Axios they expect more of their colleagues to begin speaking out about the humanitarian situation in Gaza.
"It's going to be very, very hard for Democrats, given what we are seeing on cable news ... about what's happening in Gaza to just turn a blind eye," said one lawmaker, a supporter of Israel.
Sen. Chris Murphy (D-Conn.) turned heads Thursday with a statement calling for Israel to "immediately reconsider its approach" to the war.
The fight has seeped into the administration as well. One prominent State Department official has resigned and national security officials have hosted listening sessions for staffers, POLITICO first reported.
Go deeper