Blinken heads to Israel to discuss Bibi's plans for Gaza after war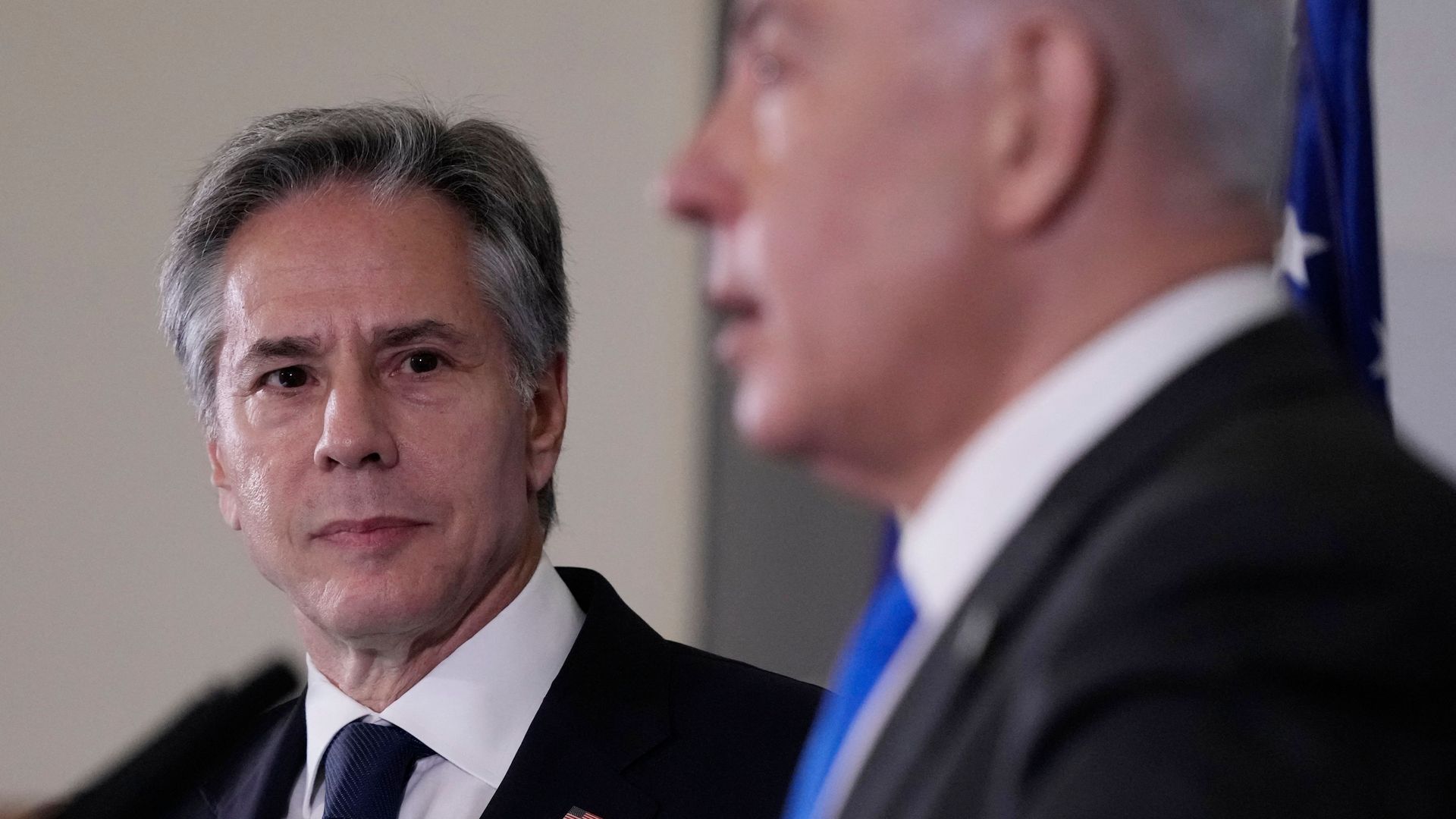 Secretary of State Tony Blinken is traveling to Israel to discuss with Israeli Prime Minister Benjamin Netanyahu and other Israeli officials their plans for Gaza after the war.
Why it matters: Israel's stated goal for its operation is "destroying" Hamas and securing the release of the hostages the militant group is holding in Gaza. But it's unclear what Israel is planning for Gaza if it achieves its goal.
What they're saying: "We're focused on the day of; we also need to be focused on the day after," Blinken told reporters ahead of his departure.
"So in conversations that we'll be having through the course of this weekend, I expect you'll see a focus there and particularly how we can get, over time, to two states for two peoples."
The big picture: Blinken will also discuss the possibility of "humanitarian pauses" in the fighting between Israeli forces and Hamas in Gaza, U.S. officials said.
The Biden administration has ruled out calling for a long-term ceasefire, but the U.S. officials say it does hope to convince the Israeli government to agree to temporary "pauses" that would allow more protection for Palestinian civilians and could enable the release of hostages.
The Biden administration is under growing pressure from some Democrats in Congress and from its allies and partners in Arab countries to push for a ceasefire in the war in Gaza.
According to the Ministry of Health in Hamas-run Gaza, more than 9,000 Palestinians, including 3,700 children, have been killed since the Oct. 7 Hamas terrorist attack on Israel.
Driving the news: White House National Security Council spokesperson John Kirby said on Thursday during a press briefing that the humanitarian pauses the U.S. is seeking will be localized and temporary and enable civilians to reach safe zones. Kirby also said such pauses will also help aid groups distribute assistance to different parts of Gaza.
Blinken will arrive in Israel on Friday morning local time and meet with Netanyahu, President Isaac Herzog and the Israeli war cabinet. From Israel, he will travel to Jordan.
U.S. Ambassador to Israel Jack Lew, who was confirmed by the Senate earlier this week, will join Blinken on the trip
The big picture: Also ahead of his departure, Blinken said he will focus on steps that need to be taken to protect civilians "who are in a crossfire of Hamas's making" and what concrete steps can be taken to better protect them.
"At the same time, we're determined that this conflict not spread, and we'll be talking to both the Israeli government and partners in the region about what all of us are doing to prevent that from happening," Blinken said.
He added that he is going to continue the efforts to get humanitarian assistance into Gaza and to get our U.S. and other foreign nationals out.
Blinken said he is also "intensely focused" on the hostages and taking every possible step to secure their release. Several Americans are among the more than 230 hostages being held in Gaza.
State of play: Israel has already unofficially and quietly paused its operation in several instances, including when two U.S. hostages were released and during the entry of trucks from Egypt, according to U.S. and Israeli officials.
But getting Israel to agree to something more official and public could be difficult because of the possible domestic political fallout of such a move for Netanyahu.
Israeli Defense Forces spokesperson Daniel Hagari said in a statement on Thursday that a ceasefire of any kind is not being discussed.
Hagari added that the Israeli military has finished encircling Gaza City as part of the ground operation.
Editor's note: This story and headline have been updated with additional details.
Go deeper