Bibi's blame game over Hamas attack draws backlash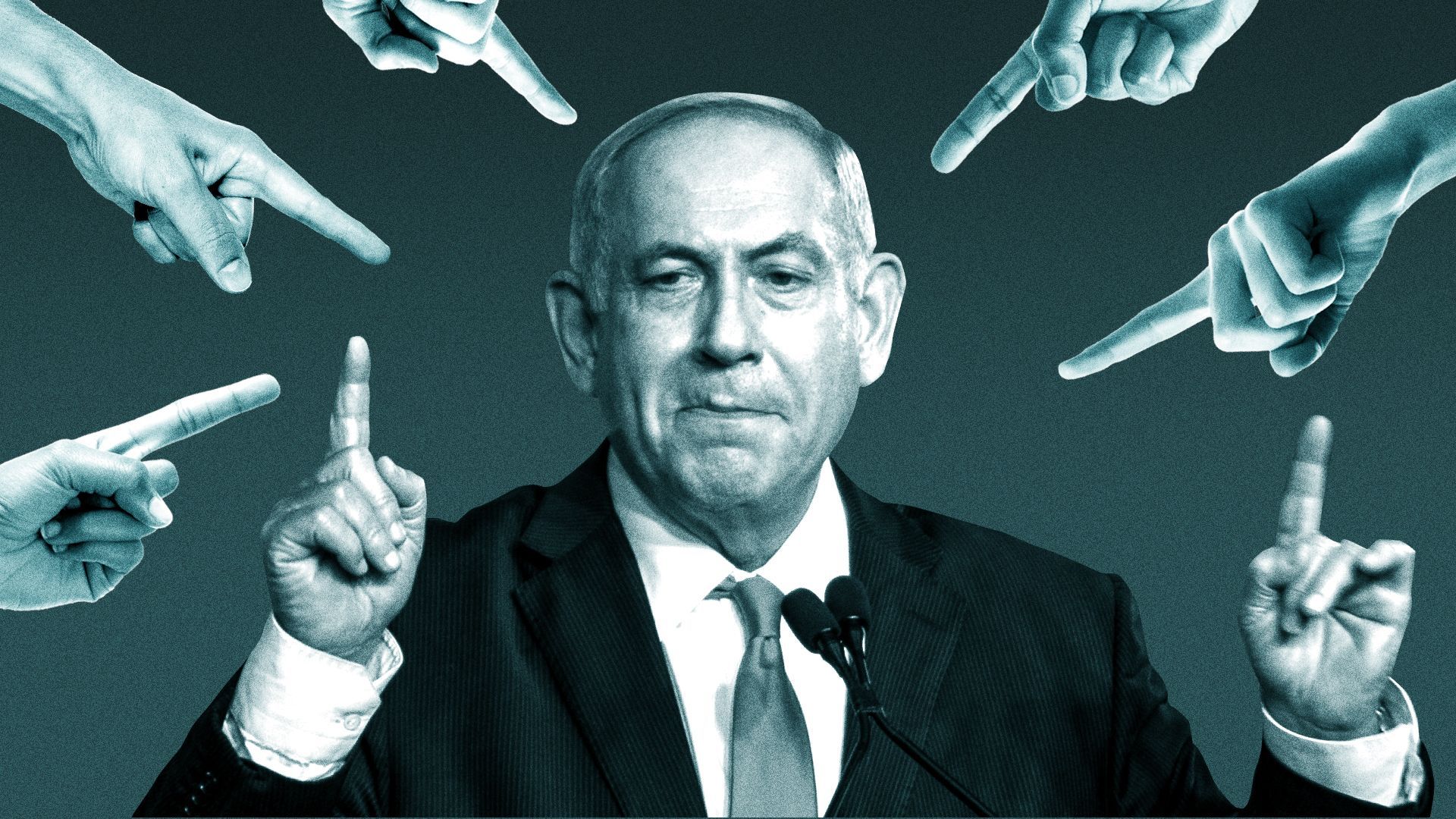 Israeli Prime Minister Benjamin Netanyahu's unwillingness to take any responsibility for Israel's massive security failures in the Oct. 7 Hamas terrorist attack is fueling calls for him to resign after the war.
Why it matters: Netanyahu is the only senior Israeli official who hasn't admitted any fault — a strategy that is sparking a fierce public backlash and sending the prime minister's already tenuous support into free fall.
Driving the news: In the weeks after the Hamas attack, Israeli Defense Forces chief of staff Lt. Gen. Herzi Halevi, military intelligence chief Aharon Haliva and other senior IDF commanders publicly acknowledged the security failures and took responsibility.
Ronen Bar, director of the Shin Bet intelligence agency, did the same. Defense Minister Yoav Gallant also took responsibility, as did his predecessor, Benny Gantz, and former Prime Minister Naftali Bennett, who served for just one year.
Netanyahu has said several times since Oct. 7 that after the war there will be an investigation and stressed that all of Israel's top leaders, including him, will have to answer tough questions.
But at a news conference last week Netanyahu was asked three times by reporters whether he shared responsibility for the failures of Israeli intelligence and defense agencies to prevent or quickly stop the attack. He refused to take responsibility while dodging the questions.
Netanyahu said he was responsible for one thing now: Winning the war.
State of play: Netanyahu's political situation appears dire. In recent polls, 70% to 80% of Israelis said they expected him to step down after the war.
Polls also indicate his Likud party has been significantly weakened.
The big picture: The Hamas attack followed 10 months of political crisis in Israel over Netanyahu's judicial overhaul plan, which tore apart Israeli society and weakened its economy and military.
During this period, Netanyahu was warned several times by Gallant and by the heads of the nation's intelligence services that Israel's enemies saw the internal crisis as an opportunity to attack Israel.
When Netanyahu was asked about the warnings during last week's news conference, he rejected the premise of the question and declined to answer.
Several hours later, at 1 a.m. local time, he said on social media that he didn't receive any early warning of the Oct. 7 attack and blamed the heads of the security services for the failures.
"All the security chiefs, including the heads of military intelligence and Shin Bet, estimated that Hamas is deterred and wants to reach understandings. This was told several times to me by all the intelligence community up until the war broke out," Netanyahu posted on X.
After intense pressure — including from within his own government — Netanyahu deleted the post later that morning, apologized for it, and said he backed the head of the security services.
Behind the scenes: According to several Israeli press reports, the social media post was a result of pressure from Netanyahu's wife, Sara, and his son, Yair, who resides in Miami and hasn't returned to Israel since the war broke out.
Israeli news outlet Walla said Sara Netanyahu ordered the prime minister's aides to scan the transcripts of past security Cabinet meetings and prepare a list of quotes from the heads of the security services who said Hamas wasn't interested in a war.
The prime minister's office denied any involvement by Sara and Yair Netanyahu in Netanyahu's decisions or actions.
Flashback: Netanyahu, 74, is the longest-serving prime minister in Israel's history, serving six terms that have totaled more than 16 years. For years, he took pride in his security credentials and said he wanted history to remember him as a protector of Israel.
Several months after a war in Gaza ended in 2009, Netanyahu returned to power for his second term, promising to topple Hamas' rule in the enclave.
But he quickly abandoned that promise and, instead, led a policy of trying to contain Hamas through deterrence and temporary ceasefire understandings between rounds of fighting.
Netanyahu also tried to buy calm in Gaza through payouts. During his time in office, Qatar, at Israel's request, transferred billions of dollars in cash to Hamas in Gaza. This allowed Hamas to fund a military buildup — mainly its rockets and expansive tunnel system, Israeli officials now acknowledge. Former Mossad chief Yossi Cohen said it was a mistake.
As Hamas strengthened in Gaza, Netanyahu tried to weaken the more moderate Palestinian Authority in the occupied West Bank by sidelining it, sanctioning it and not seriously working to create some kind of political engagement with his Palestinian counterpart Mahmoud Abbas.
What to watch: Netanyahu's rivals and allies expect him to announce a commission to investigate the security failures immediately after the war ends.
An inquiry could buy time for Netanyahu to mobilize his allies for a long and messy blame game — which could allow him to hold onto power.
Go deeper