Israel had intel on Hamas activity but didn't put Gaza border on high alert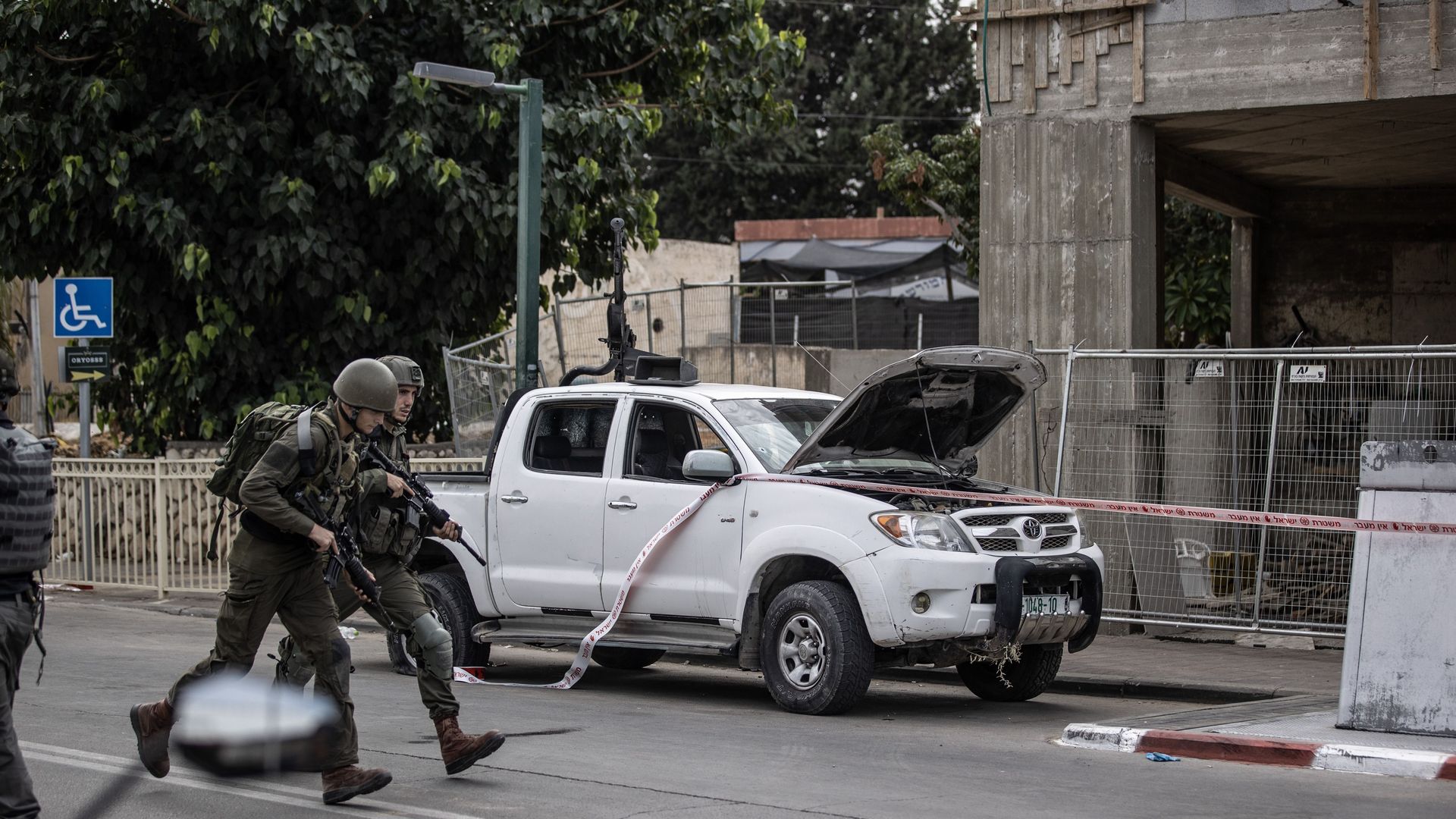 Israeli intelligence the night before the Hamas attack picked up signs of irregular activity among Hamas operatives in Gaza but top IDF and Shin Bet leaders decided not to put military forces on the borders of the enclave on high alert, three Israeli officials told Axios.
Why it matters: Israeli leaders are facing growing criticism — and questions — over how they failed to prevent or quickly stop the deadliest attacks on its territory in decades.
While the Israeli intelligence failure was much broader and strategic, the events of the night before show how most senior officials in the Israeli defense establishment and intelligence community didn't understand how bad the situation would become.
The IDF and the Shin Bet declined to comment for this story.
Behind the scenes: The Israeli officials said that on Friday — the day before the attack — Israeli intelligence saw signs of Hamas activity in Gaza that suggested the militant group could have been preparing for an attack.
As a result, several high-level consultations took place on Friday night to try to understand what the new intelligence meant, the officials said.
IDF Chief of Staff Herzi Halevi, Shin Bet director Ronen Bar and Aharon Haliva, head of military intelligence, participated in some of these consultations, which discussed whether the irregular activity was a Hamas exercise or initial preparation for an attack.
Israeli officials said that one of the possibilities that was raised in the consultation was to put IDF forces around Gaza on high alert because of a possible attack.
But after the consultations, the leaders decided to wait for more intelligence to come in. Several hours later, Hamas attacked.
What they're saying: One Israeli official confirmed that the intelligence received on Friday didn't turn into an early warning about war but pushed back on claims that nothing was done.
The official said that after consultations on Friday night, the director of Shin Bet and the IDF chief of staff decided to send a small Shin Bet special force team and a team from the police counterterrorism special unit to southern Israel for a scenario of an attempt to infiltrate across the border and conduct a limited kidnapping operation.
"These teams literally started fighting on Saturday morning," the official said.
A second Israeli official said, however, that the "decision was to not put out an alert based on the intelligence and it was a misjudgment."
The Prime Minister's Office said Netanyahu wasn't updated about the Friday night consultations and the first time he received an update was at 6:29am local time when Hamas started firing mortar fire on the Israeli villages near the border.
"When Netanyahu got the update, he immediately went to his office in Tel Aviv, held consultations and convened the Security Cabinet," the Prime Minister's Office said.
Go deeper: Hamas attack delivers major blow to Biden's push for Saudi-Israel normalization
Go deeper