Israel's goal in Gaza — and what it means for Palestinians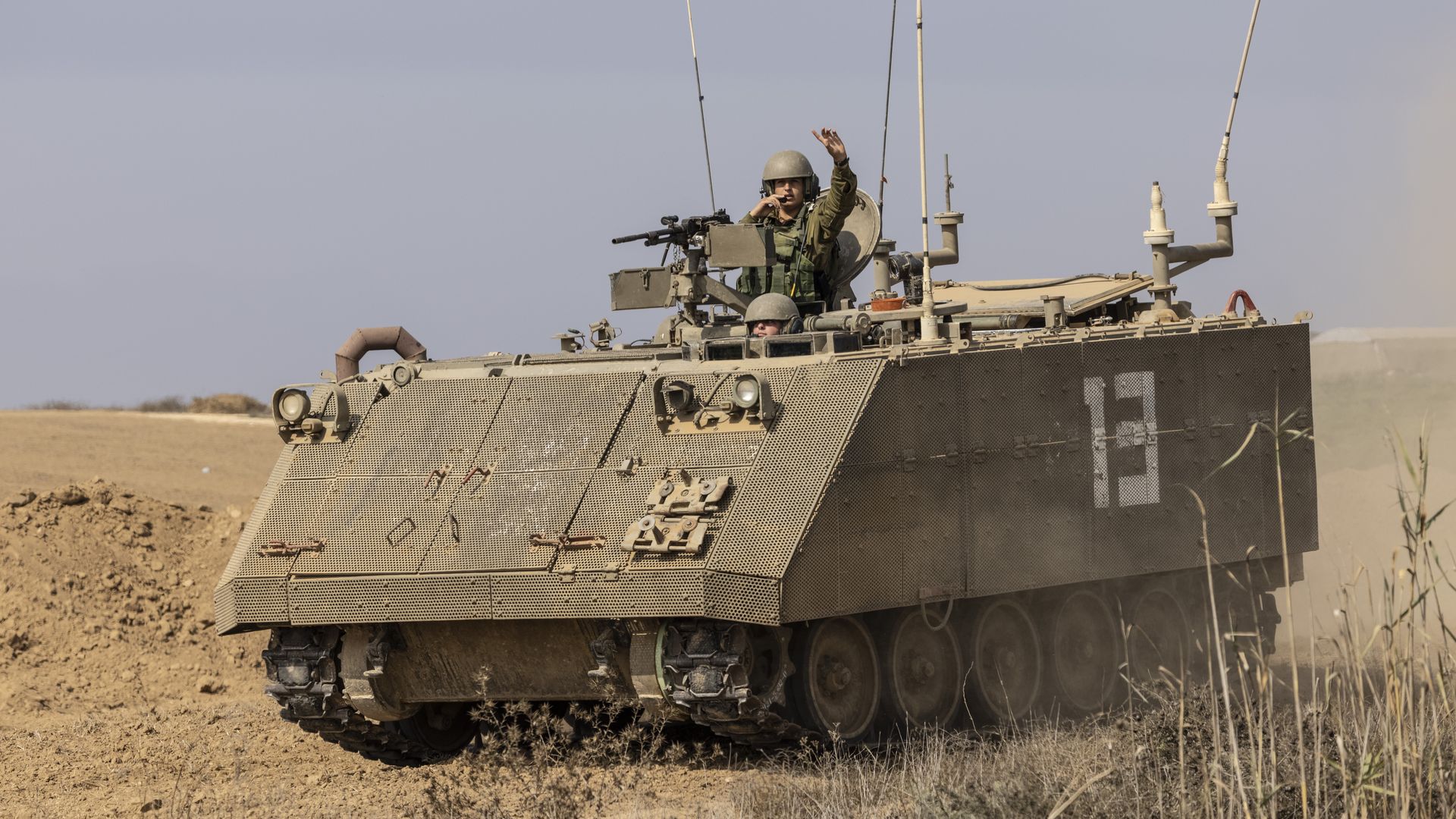 Israel has expanded its ground offensive in Gaza — entering what it calls the "second phase" of the war. Prime Minister Benjamin Netanyahu says its goal is straightforward: to destroy Hamas and bring home the hostages Hamas and other groups are holding.
The big picture: The ground operation is expected to be long and ugly, and result in the deaths of many Israeli soldiers and even more Palestinian civilians. But Israeli officials say it's necessary to "destroy" Hamas after the Oct. 7 terrorist attack in which 1,400 people in Israel were killed and more than 235 were taken hostage.
Before the expanded ground operation began, more than 7,000 Palestinians had already been killed amid Israel's air raids on Gaza.
Israel's goals
Israeli Prime Minister Netanyahu has stated that Israel's goal is "straightforward: to bring home hostages and defeat Hamas."
Israeli officials said they were encouraged by the Oct. 29 rescue mission of an Israeli soldier who was held hostage by Hamas.
They added it was made possible because of accurate intelligence about the soldier's location and the fact that Israel had forces on the ground that were able to act on the intelligence quickly.
What to expect
Israeli officials have said there will be four phases of the war.
Phase one consisted of heavy bombardment of Gaza, as well as limited raids by the Israeli military into the Strip.
It also included the beginning of the "complete siege" of Gaza in which Israel cut electricity and blocked most fuel, food, other basic goods and medical supplies from entering the enclave.
Phase two — what Israeli officials say they are currently in — will likely be long and slow-moving due to the challenges urban warfare presents in such a densely populated place like Gaza.
It will also be particularly challenging given the vast tunnel system Hamas has created under Gaza. It's further complicated by the fact that Hamas is holding so many hostages — some of whom are believed to be in the tunnel system.
Israel maintains it hits Hamas targets, but airstrikes have hit or damaged population centers where civilians remain, including shelters, hospitals, and the Strip's largest refugee camp.
When Israel targeted the Jabalia camp on Oct. 31, it said it killed a senior Hamas commander — a claim the militant group denied. Dozens of civilians were killed in the strike — a reality an Israeli official told CNN was "the tragedy of war."
There's also the prospect of the war widening to another major front, particularly along the Israel-Lebanese border if Iran-backed Hezbollah fully joins the fight.
Tens of thousands of Israeli troops have entered Gaza as part of the offensive, which is especially focused on the north.
"We're at the height of the battle. We've had impressive successes and have passed the outskirts of Gaza City. We are advancing," Netanyahu said on Nov. 2.
The Israeli officials say that the fighting will become dramatically more dangerous and difficult once Israeli forces enter deeper into Gaza City.
Phase three will involve lower-intensity combat to clear the "pockets of resistance," Israeli Defense Minister Yoav Gallant told the Times of Israel.
Phase four: It's not entirely clear how Israel will determine when it has completely destroyed Hamas and what it intends to do if it achieves its goal.
Israeli Defense Minister Yoav Gallant previously said Israel wants to create "a new security regime in the Gaza Strip."
But Israel hasn't elaborated on what exactly that means, including who would govern the territory in Hamas's place.
What the ground offensive means for Palestinians
Israel's bombardment and ground operation have taken a tremendous toll on more than 2.2 million Palestinians who live in Gaza.
As of Nov. 2, more than 8,500 Palestinians, including 3,700 children, have been killed amid Israel's bombardment and ground operation, according to the Ministry of Health in Hamas-run Gaza. Those numbers will likely significantly rise as Israel's ground offensive grinds on.
For the first 34 hours of the expanded ground operation, Palestinians in Gaza were cut off from each other and the world due to a communications blackout.
Israel has not directly said it was behind the blackout, but the Washington Post reported that the U.S. pressed Israeli officials to restore the communications.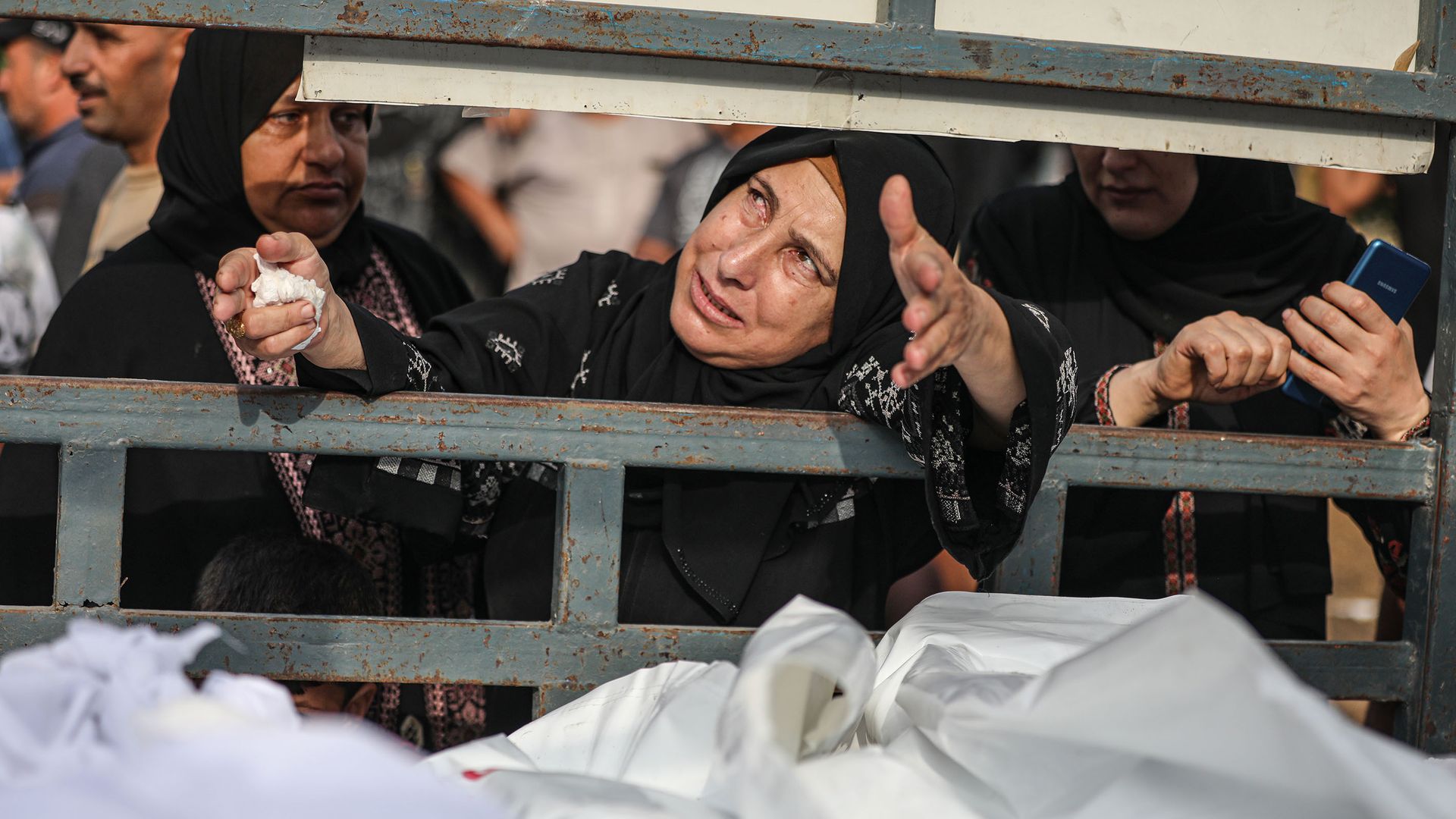 More than 1.4 million Palestinians have already been displaced inside Gaza, according to the UN. Hundreds of thousands moved to the southern part of the Strip after Israel ordered an evacuation of the north prior to the ground operation expansion. Many still remain, however, in northern areas that are expected to see heavy fighting.
The war — and the ground offensive — have devastated the humanitarian aid system in Gaza.
Israel's bombardment has also destroyed nearly half of Gaza's residential buildings, the Ministry of Health in Ramallah reported on Oct. 30.
Many Palestinians fear they're facing another "Nakba" or "catastrophe, which refers to the mass forced displacement and killing of Palestinians in the events that led to the founding of Israel in 1948.
What has Biden said about Israel's ground operation
President Biden, who has offered his ironclad support for Israel, said in a phone call with Netanyahu on Oct. 29 that the Israeli military must conduct its offensive "in a manner consistent with international humanitarian law that prioritizes the protection of civilians."
It's a message U.S. officials across the Biden administration have repeated.
The Pentagon has stressed that U.S. defense officials who have been in Israel — including a three-star general — advising its leaders prior to the ground operation were not "directing" the Israeli military in the offensive.
Go deeper