Updated Oct 28, 2023 -

World
Israel moves to "new phase" of war with Hamas in major incursion in Gaza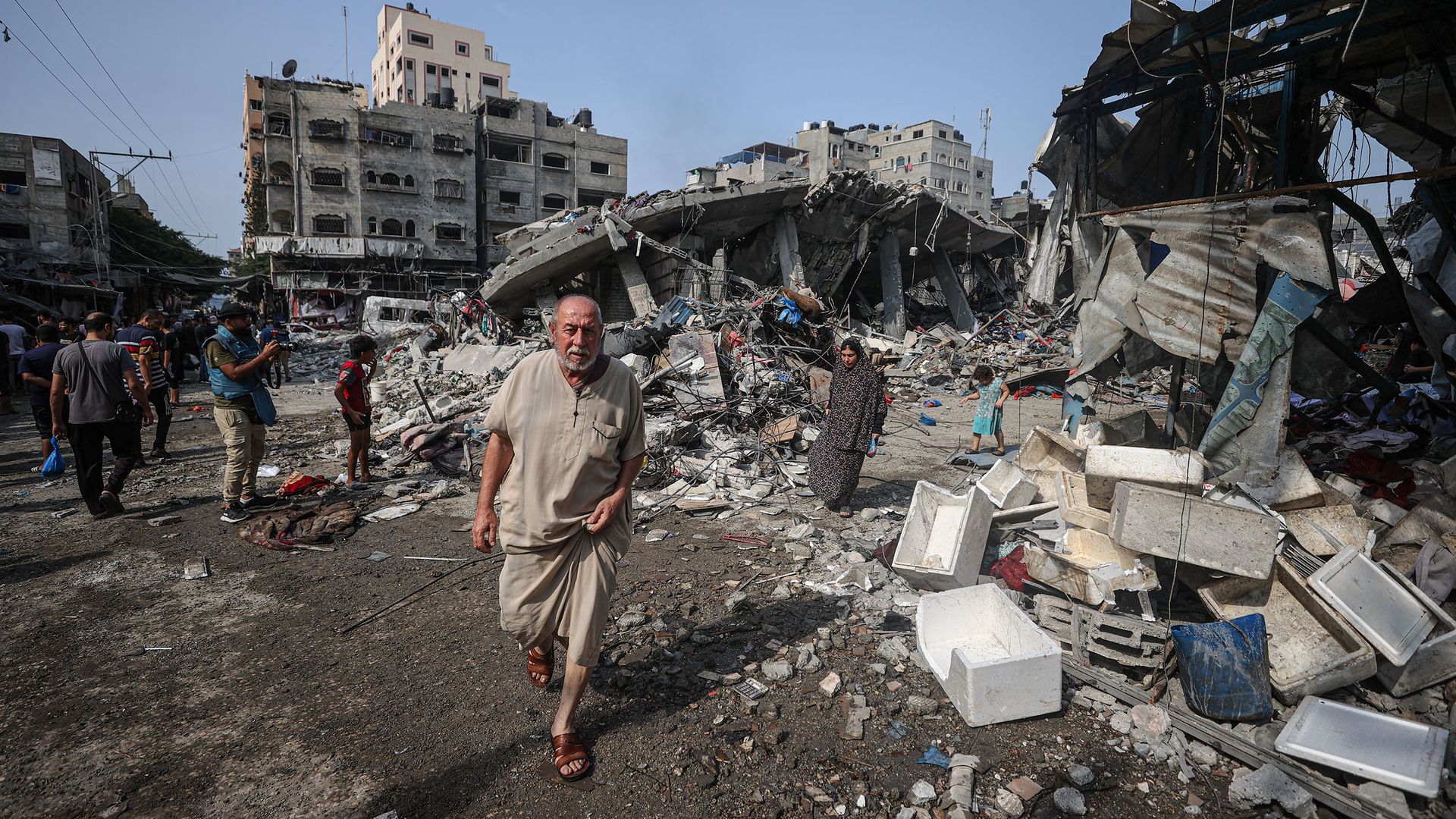 The Israeli military late Friday into Saturday "expanded" its ground operation in Gaza while also ramping up its bombardment of the Strip, targeting what the IDF said were Hamas tunnels and other infrastructure.
The latest: Gaza's more than 2.2 million people remained largely cut off from the outside world amid a communications blackout in the enclave.
"All of my friends living abroad are asking me about their families if they are okay," journalist Hind al-Khudary, one of the few people who was able to post on social media intermittently, said on X. "I do not know if my own family is okay.. I can't reach anyone. My heart is scattered into pieces."
After meeting with senior IDF leadership on Saturday, Israeli Defense Minister Yoav Gallant said Israel "moved to a new phase in the war. We attacked above the ground and under the ground and the operation will continue until further notice."
The IDF said later Saturday that armored and infantry forces were fighting several Hamas squads in northern Gaza.
The big picture: Israel's decision to expand its ground operations came as it conducted massive and unprecedented air raids and artillery strikes on the northern Gaza Strip.
Hamas fired a barrage of rockets toward Tel Aviv and other cities in central Israel. Most have been intercepted by Israel's Iron Dome.
Two Israeli officials said the decision "to expand" ground operations in Gaza was made by the Israeli war cabinet on Thursday night local time after talks on a possible hostage release reached a stalemate.
Zoom out: The IDF's expansion of its operations comes nearly three weeks after Hamas killed 1,400 people in the Oct. 7 terrorist attack on Israel, according to Israeli officials.
More than 7,700 Palestinians have been killed amid Israel's bombardment of the Gaza Strip since the start of the war, according to the Ministry of Health in Hamas-run Gaza.
Hamas is holding more than 220 people hostage, according to Israeli officials. Most are Israeli, but the group is also holding Americans and other foreign nationals.
Israeli Prime Minister Benjamin Netanyahu told the families of the Israelis who were kidnapped by Hamas and taken to Gaza that the more pressure the militant group feels, the better the chance it will release the hostages, the Prime Minister's Office said.
State of play: Israeli officials have said the goal of a ground offensive is to "dismantle" Hamas infrastructure and completely "destroy" the militant group, which is considered a terrorist organization by Israel, the U.S. and other countries.
Netanyahu on Saturday reiterated that the war will be "long and difficult." Early in the fighting, Netanyahu told President Biden that Israel had no choice but to invade the Strip.
Catch up quick: Prior to Israel's expansion of its ground operations, Israel ordered more than 1 million Palestinians in the northern part of the Strip to evacuate to the south. About 700,000 Palestinians heeded the order, according to the UN. Others remained in northern Gaza, saying there was nowhere to go.
The IDF on Saturday dispersed leaflets in northern Gaza that called on Palestinians to move south, saying the area is a war zone and isn't safe.
The dire conditions in Gaza have only worsened since the war and Israel's "complete siege" of the enclave began. Much of Gaza is in the dark after Israel cut electricity. Hospitals and schools sheltering people are running out of supplies, aid groups say.
Israel allowed some aid into Gaza from Egypt after growing pressure worldwide, including by the U.S. But aid groups say it's only a fraction of the enclave's needs.
No one, including hundreds of Palestinian Americans, has been allowed to leave the enclave, despite efforts by foreign governments to get their nationals out. The State Department blamed Hamas, though didn't present any evidence.
What to watch: There are growing concerns worldwide that the war could widen into a much bigger conflict.
Iran-backed Hezbollah in Lebanon and Tehran have both warned Israel against launching an invasion of Gaza.
In Gaza, it's unclear what Israel plans to do if it achieves its aim of dismantling Hamas.
Israeli officials say that after "destroying Hamas" they want to create a "new security regime" in Gaza.
Gallant previously said Israel wants to create "a new security regime in the Gaza Strip," remove "Israel's responsibility for day-to-day life" in the enclave, and create "a new security reality for the citizens of Israel."
Editor's note: This story has been updated with additional details throughout.
Go deeper