Scoop: State Dept. employee accuses Biden of "genocide" amid calls for Gaza ceasefire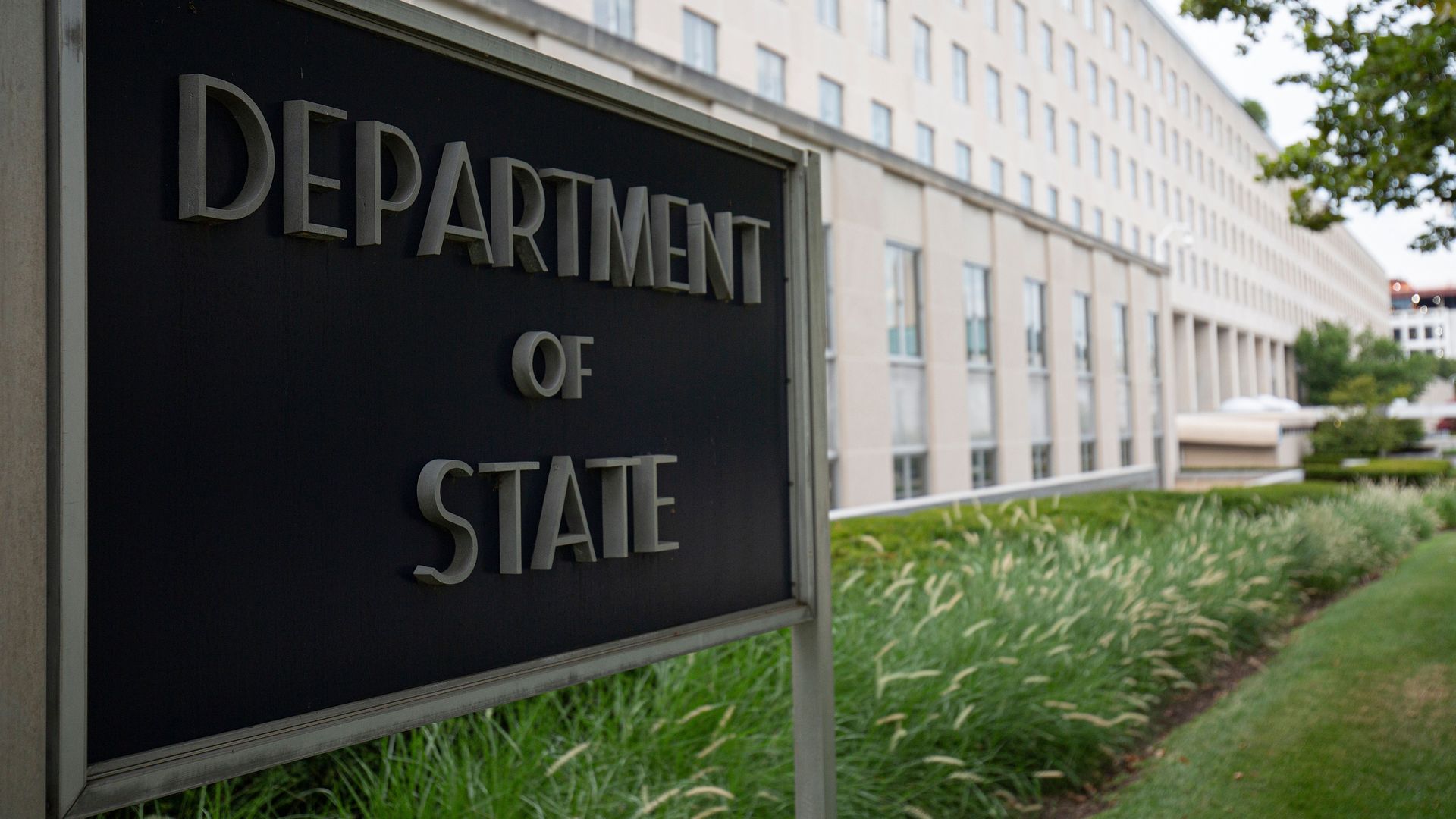 A junior State Department employee who is organizing a dissent cable on the White House's policy on Israel has used social media to publicly accuse President Biden of being "complicit in genocide" toward the people of Gaza.
Why it matters: The dissent cable — and the organizer's passionate rhetoric on social media — are the latest signs of how the Israel-Hamas war is causing anxiety throughout the U.S. government.
That includes the State Department, where Secretary of State Antony Blinken is a key player in carrying out Biden's strategy to publicly support Israel as it responds to Hamas' Oct. 7 terrorist attack that killed 1,400 people.
Israel's response has been an assault on Gaza, a Hamas stronghold. Thousands of Palestinian citizens are reported to have been killed in the fighting, and Biden's administration has backed Israel while expressing concern for the humanitarian crisis in Gaza.
Diplomats often are tasked with implementing administration policies they don't personally support. To register their opposition — or call attention to what they see as a potentially grave policy error — they can file a dissent cable. They also can resign.
Dissent cables are supposed to stay inside the State Department, and senior officials zealously protect them from becoming public. Employees are given assurances that writing or signing one will not lead to retribution or career consequences.
Driving the news: Sylvia Yacoub, a foreign affairs officer in the Bureau of Middle East Affairs for more than two years, sent an email Thursday morning to gather signatures for the dissent cable.
"In light of Hamas's heinous attack on October 7, the ensuing response by the Government of Israel, and the seemingly full endorsement by the U.S. government to the response, we have drafted a dissent cable calling for a significant change in the Administration's short and long-term policy surround the conflict and path towards regional integration and security," she wrote, according to a copy obtained by Axios.
"We will send the draft cable on ClassNet," she wrote, referring to a classified system in the State Department. "We are hoping to collect signatures of those interested by COB tomorrow."
The intrigue: On social media, Yacoub's language was more heated.
"You are providing significantly more military assistance to the government that is indiscriminately attacking innocent Gazans….you are complicit in genocide @POTUS," Yacoub posted Thursday on X, formerly known as Twitter, in response to a tweet from Biden explaining why he's asking Congress for more military assistance for Israel.
"Embarrassingly out of touch @VP," Yacoub tweeted at Vice President Kamala Harris after Harris met with U.K. Prime Minister Rishi Sunak.
Harris had just posted that she and Sunak discussed "our support for Israel's right to defend itself and the urgent need to increase the flow of humanitarian assistance into Gaza."
Yacoub did not respond to several requests for comment. When contacted by Axios, she hung up the phone. She later made her tweets private.
Axios verified that it was Yacoub's twitter account with State Department officials and former colleagues of hers. She worked on Hillary Clinton's 2016 presidential campaign and was a fellow at the Obama Foundation, according to her LinkenIn profile.
Between the lines: A State Department official, Josh Paul, resigned last month because of "a policy disagreement concerning our continued lethal assistance to Israel," he wrote on LinkenIn.
The White House also has experienced internal discontent about the Gaza policy. Biden's senior aides have held several meetings with staffers who voiced their criticism privately.
Flashback: The State Department dissent channel has been available to employees since the Vietnam War, a department official said.
It was used by diplomats in Kabul, who questioned Biden's decision to withdraw U.S. forces in August 2021. Congressional Republicans eventually got access to that cable, but only after the House threatened to hold Blinken in contempt.
What they're saying: "We understand — we expect, we appreciate — that different people working in this department have different political beliefs, have different personal beliefs, have different beliefs about what United States policy should be," State Department Matt Miller spokesperson said last month.
"In fact, we think that's one of the strengths of this government."
The other side: "In two decades, I've never seen State Department management make such a fuss about employees' purported emotions and feelings, to the extent that dissent is essentially being encouraged," said an official in the Near East Bureau, who asked not to be identified because the official wasn't cleared to speak with the media.
"There's a chasm between the White House/NSC and State on this conflict. I'm not surprised that Yacoub is tweeting the way she is, as shocking as it is."
Three White House and State Department officials said most of the criticism comes from staffers who are not directly involved in the work on the Gaza crisis.
Go deeper