Updated Oct 19, 2023 -

World
U.S. State Department official resigns over military aid to Israel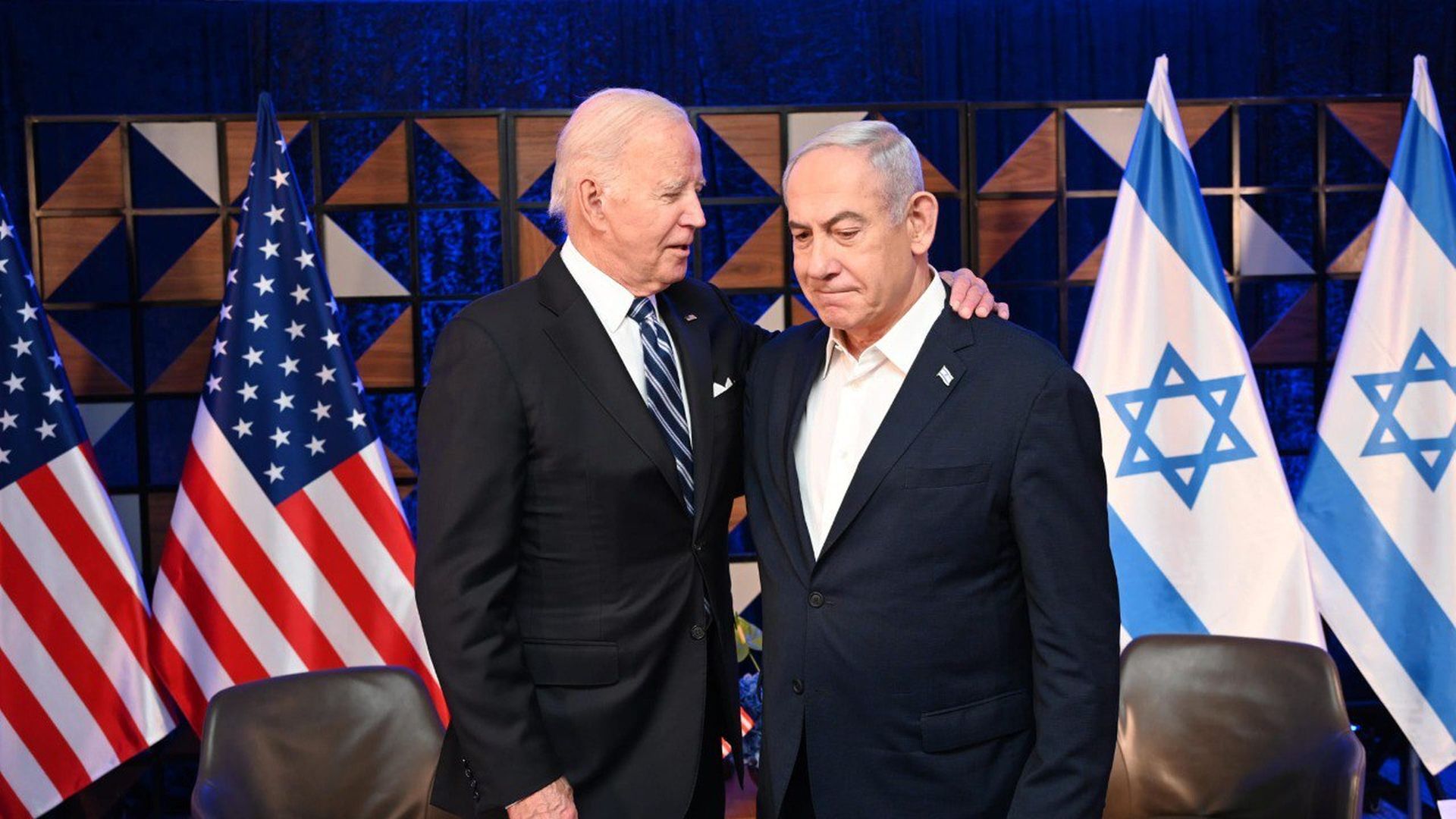 A U.S. State Department official who worked on global arms transfers resigned Wednesday due to his opposition to the Biden administration's additional military aid to Israel amid the war with Hamas.
Why it matters: Josh Paul, who was director of congressional and public affairs at the department's Bureau of Political-Military Affairs, announced his resignation on LinkedIn in a rare act of public dissent against the Biden administration as the president prepares to ask Congress for an unprecedented military aid package for Israel following his visit to Tel Aviv Wednesday.
Paul, who had been at the State Department for 11 years, called the response of the Biden administration "an impulsive reaction built on confirmation bias" and "intellectual bankruptcy" and said he couldn't work in support of a "shortsighted, destructive, unjust" policy.
The big picture: President Biden has been staunch in his support for Israel, denouncing the "bloody hands of the terrorist organization Hamas" for its "act of sheer evil" in targeting Israeli cities in surprise air, land and sea attacks on Oct. 7.
The administration of the first U.S. president to visit Israel while it's at war announced new sanctions against Hamas leaders in response, as Biden sought assurances from Israel's Prime Minister Benjamin Netanyahu that Israeli airstrikes wouldn't hit civilians in Gaza and said the "vast majority of Palestinians are not Hamas."
What they're saying: "I am leaving today because I believe that in our current course with regards to the continued — indeed, expanded and expedited — provision of lethal arms to Israel — I have reached the end of that bargain," Paul wrote.
"Let me be clear: Hamas' attack on Israel was not just a monstrosity; it was a monstrosity of monstrosities," he continued.
"But I believe to the core of my soul that the response Israel is taking, and with it the American support both for that response, and for the status quo of the occupation, will only lead to more and deeper suffering for both the Israeli and the Palestinian people — and is not in the long term American interest."
Of note: Paul resigned because he said it was "clear that there's no arguing" over the Biden administration's Israel policy, per HuffPost, which first reported the news.
He wrote on LinkedIn that he feared the U.S. was "repeating the same mistakes we have made these past decades, and I decline to be a part of it for longer."
Representatives for the State Department did not immediately respond to Axios' request for comment.
Read the letter that Paul posted to LinkedIn in full, via DocumentCloud:
Go deeper: Israel to allow entry of humanitarian aid to Gaza from Egypt after U.S. pressure
Editor's note: This article has been updated with new details throughout.
Go deeper