Updated Oct 18, 2023 -

World
Israel to allow entry of humanitarian aid to Gaza from Egypt after U.S. pressure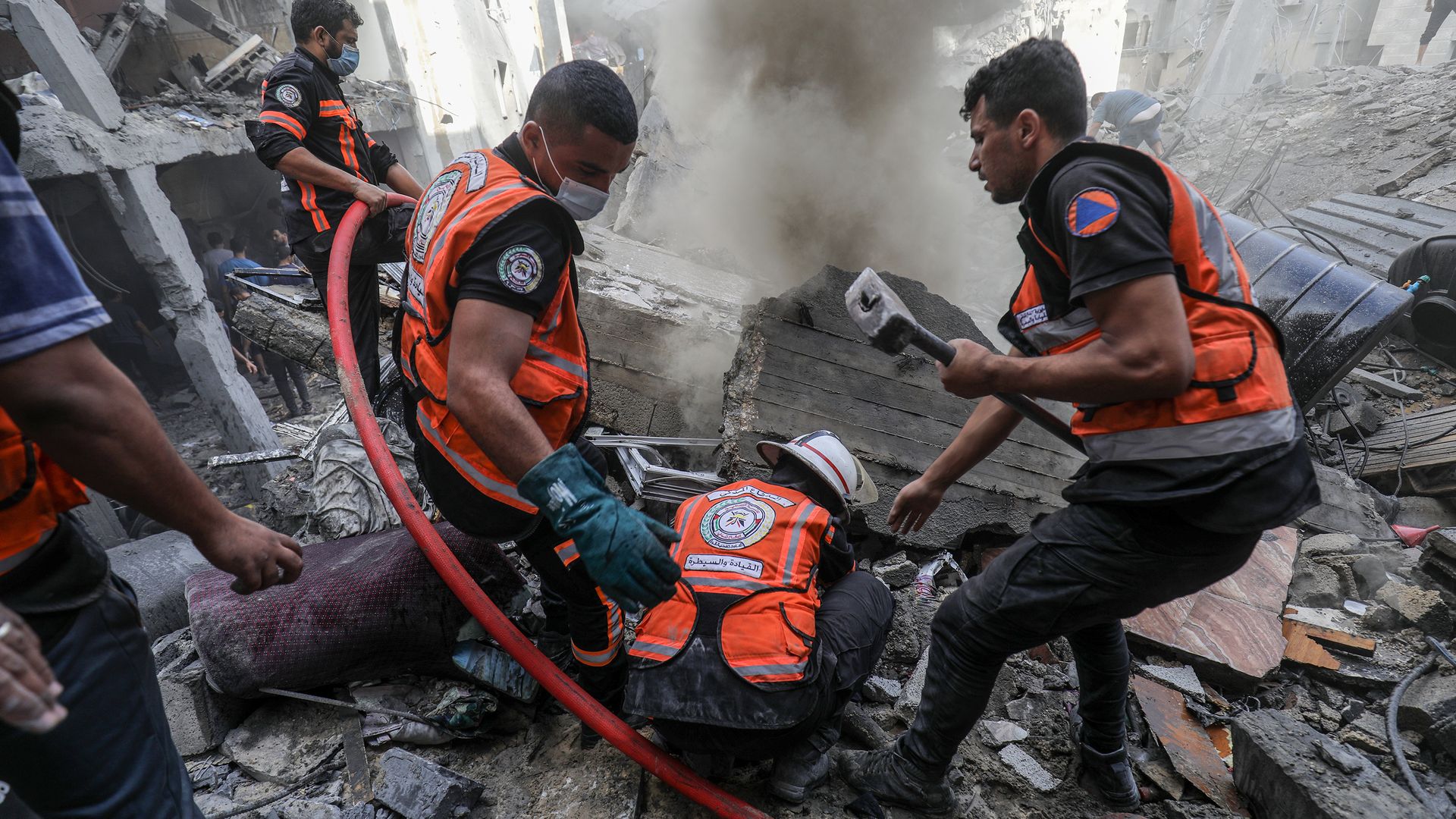 Israel's war cabinet on Wednesday approved the entry of humanitarian aid into Gaza from Egypt after pressure from the U.S. and other countries.
The latest: Following Israel's decision, President Biden said later Wednesday that Egyptian President Fattah el-Sisi agreed to allow 20 trucks of humanitarian assistance through the Rafah Crossing into Gaza.
Sisi "was completely cooperative … He stepped up, as did Bibi," Biden added, referring to Israeli Prime Minister Benjamin Netanyahu, whom the U.S. president met with earlier Wednesday in Tel Aviv.
Biden said his argument to the leaders about humanitarian assistance was: "If you have an opportunity to alleviate the pain, you should do it."
The big picture: Israel's decision to allow the aid to flow came after an hour-long meeting with Biden in Tel Aviv. Biden said while in Israel that he welcomed the decision and stressed aid would be suspended if Hamas tried to take control of it.
Calls have been growing for aid to be allowed into Gaza as the humanitarian crisis in the tiny enclave worsens after 12 days of war.
Israel in the early days of the war imposed a "complete siege" of Gaza, cutting electricity and blocking the entry of food, fuel, water and other supplies. Since then aid groups have warned overwhelmed hospitals were running out of medicines and other vital supplies. Gaza had already faced a 16-year Israeli blockade, supported by Egypt.
Driving the news: Netanyahu's office said that the decision to allow humanitarian aid into Gaza was made due to the "broad and crucial U.S. support for Israel's war effort."
"In light of President Biden's request, Israel will not prevent the flow of humanitarian aid from Egypt as long as it is food, water and medical supplies for the Palestinian population in the southern Gaza strip and as long as it doesn't go to Hamas. Any aid diverted to Hamas will be prevented," Netanyahu's office said.
A senior Israeli official said that during his meeting with the Israeli war cabinet, Biden asked that Israel allow the entry of humanitarian aid to Gaza and explained it would help in maintaining international support for the operation against Hamas.
Giving short remarks just before leaving Israel, Biden confirmed he asked the Israeli war cabinet to approve the entry of aid to Gaza and said he gave a commitment to Israeli officials that all the aid would go through security checks.
He stressed that if Hamas steals the aid or diverts it, it would prove that the militant group doesn't care about the Palestinian population.
He added that the international community would halt aid shipments to Gaza in such a case.
Biden also announced a $100 million U.S. aid package for the Palestinian population in Gaza and the occupied West Bank.
Between the lines: Allowing humanitarian aid into Gaza has been a highly charged political issue in Israel since the war began.
Much of the public and many members of the Israeli security cabinet opposed letting aid into Gaza unless Hamas released the hostages it is holding in the enclave. Hamas is believed to be holding at least 199 hostages, according to Israeli officials. Hamas has put the number at 200-250.
A senior Israeli official said that Netanyahu told Biden that Israel wouldn't consider allowing any aid to enter Gaza from its territory as long as the hostages were still being held by Hamas.
Biden and Netanyahu also agreed to press for the Red Cross to be able to visit the hostages. Biden in his remarks called for such visits and said the U.S. will work with its partners worldwide to bring the hostages home. "There is no higher priority for me as the president of the United States," Biden said. Americans are among those being held hostage.
State of play: Ahead of Biden's arrival in Israel, the White House said the U.S. president was going to ask Israeli leaders tough questions about their strategy in Gaza.
In his public remarks on Wednesday, Biden warned the Israeli war cabinet against making a miscalculation that could lead to similar mistakes the U.S. made after 9/11.
"You have to ask tough questions, clearly define the goals and assess whether the steps being made are achieving these goals," Biden said, signaling he believes Israel must define an exit strategy from Gaza for after it achieves its goal of dismantling Hamas.
The president was initially scheduled to also visit Amman, Jordan, on Wednesday and meet with several Arab leaders, including Palestinian President Mahmoud Abbas.
But Abbas returned to the occupied West Bank and Jordan canceled the summit after a deadly blast at a Gaza hospital late Tuesday.
What's next: Biden said in his remarks in Israel that he will this week send Congress a request for an unprecedented military aid package for Israel.
Israeli officials say they asked for $10 billion in aid and that it be approved as soon as possible.
Editor's note: This story has been updated with additional details throughout.
Go deeper