Biden's "crystal clear" condemnation of Hamas hailed by Israel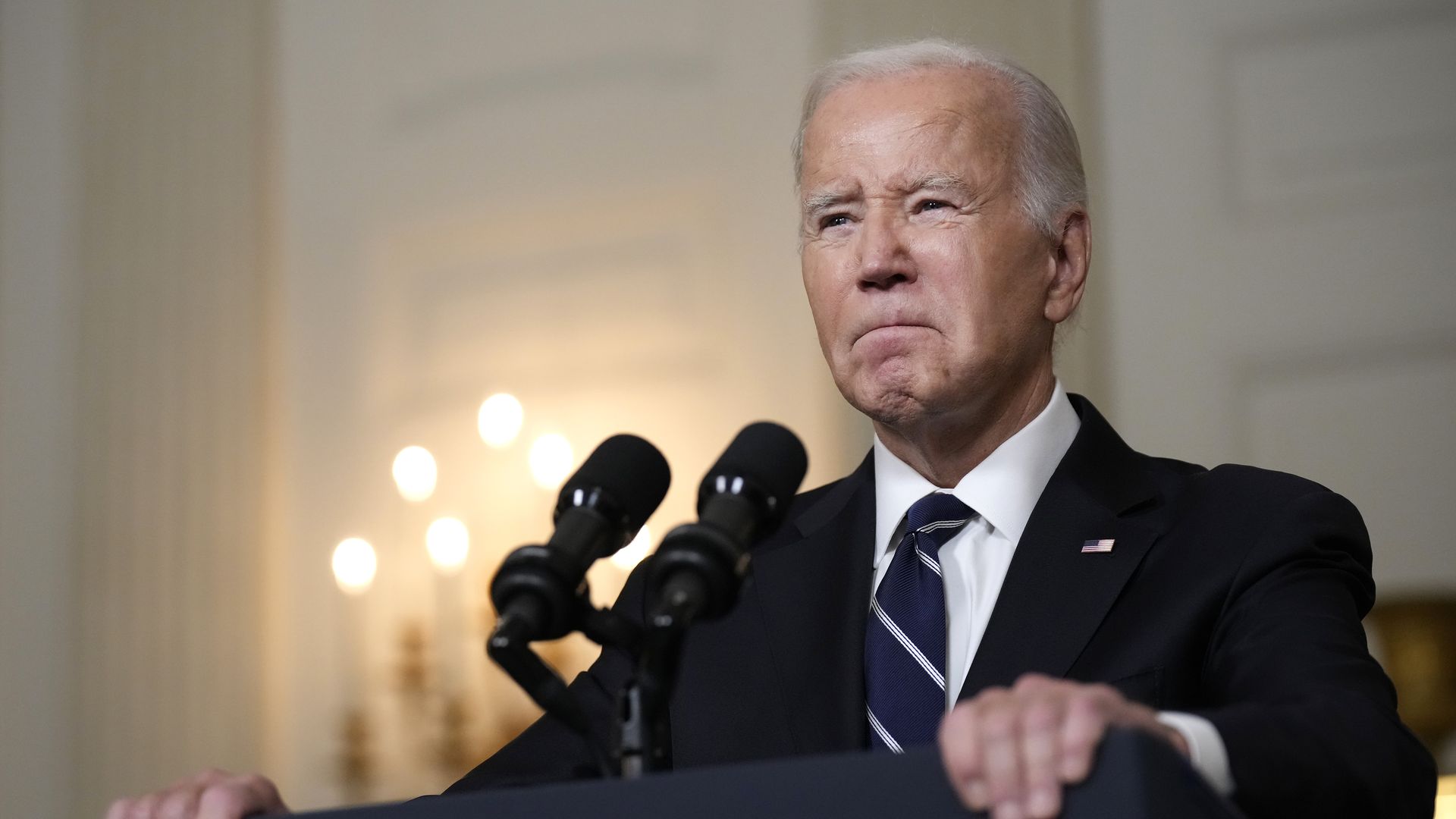 President Biden left no room for ambiguity as he delivered one of the most forceful, emotional speeches of his presidency Tuesday afternoon: Hamas' attack on Israel was "an act of sheer evil," he declared, equating it to the "worst rampages of ISIS."
Why it matters: Biden's address — carried live by all major news networks —was perhaps the most powerful statement of support for Israel by a sitting U.S. president since Harry Truman recognized the Jewish state in 1948.
"In this moment, we must be crystal clear. ... The United States has Israel's back. We will make sure the Jewish and democratic state of Israel can defend itself today, tomorrow — as we always have," Biden said.
"President Biden's speech was the most passionately pro-Israel in history," tweeted former Israeli ambassador to the U.S. Michael Oren. "Our people will always remember and cherish this speech and the man who delivered it."
Driving the news: The speech came as Israel continues to reel from the worst crisis in its history, with many Israelis still in shock, grieving and feeling more vulnerable than ever.
At least 1,000 Israelis have been killed since the attacks began early Saturday morning, while 765 Palestinians have been killed by Israeli airstrikes in Gaza.
At least 14 Americans have also been killed, and U.S. citizens are among the hostages being held by Hamas in Gaza, Biden confirmed.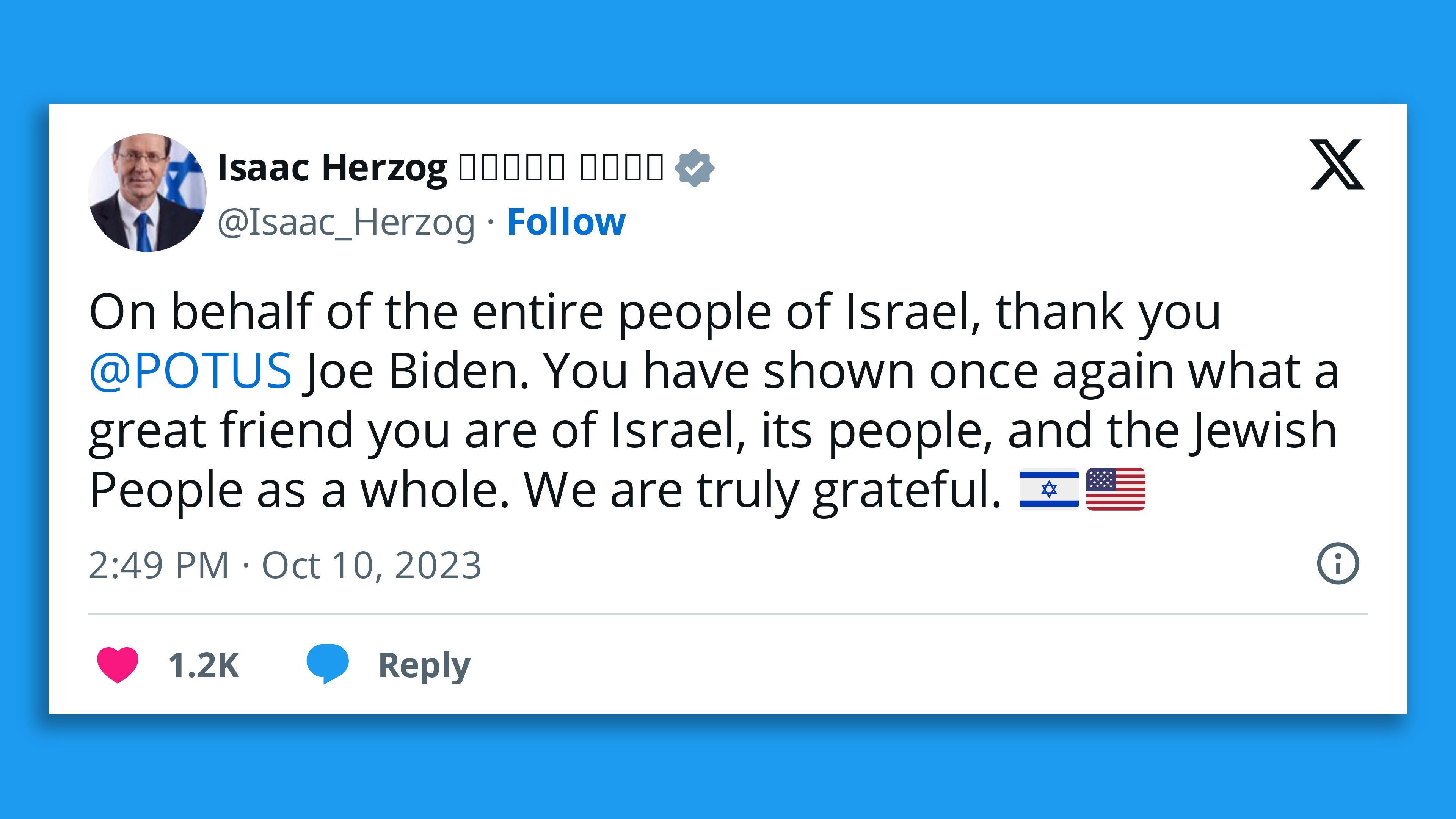 Flashback: When Biden visited Israel in July of last year, he said one doesn't have to be Jewish to be a Zionist. His speech on Tuesday reflected that position.
In his remarks, Biden recounted one of his favorite anecdotes about meeting Israeli Prime Minister Golda Meir as a freshman senator, shortly before the 1973 Yom Kippur War.
Noticing he seemed concerned about Israel's security, Biden said Meir "leaned over and whispered to me, 'Don't worry, Senator Biden. We have a secret weapon here in Israel. ... We have no place else to go.'"
Biden's story served as a symbolic reference to another war that caught Israel by surprise — and that until three days ago was the country's most painful and traumatic moment.
Between the lines: Biden's speech did not mention the Palestinian civilians killed or currently at risk from Israel's siege and bombardment of Gaza, except for a vague reference to the importance of following "the laws of war."
He also stressed that Hamas "does not stand for the Palestinian people's right to dignity and self-determination."
What they're saying: Biden's speech "was expected, but it was disappointing," James Zogby, the president of the Arab American Institute, told Axios.
"What I would have hoped for today is a call for restraint and for ceasefire ... and a U.S. effort to play a leadership role in bringing about an end to the violence and offering some hope — both to Palestinians and to Israelis — that their security mattered, that their futures mattered," Zogby said, adding that he does not condone Hamas' actions.
Behind the scenes: Biden gave the speech shortly after speaking for the third time with Israeli Prime Minister Benjamin Netanyahu, who told him that the savagery of Hamas' attack was the worst that Jews have faced since the Holocaust.
Secretary of State Antony Blinken plans to travel to Israel this week as a show of support as the Israeli Defense Forces prepare a ground offensive in Gaza.
Biden also plans to ask Congress for emergency military assistance for Israel, and has already started providing Israel with ammunition and interceptors for the Iron Dome missile defense system.
The big picture: As American Jews often say, Biden spoke from his "kishkes" when he stressed the U.S. government's unequivocal support for Israel.
The speech wasn't just intended to express empathy and reassure Israelis about their security; it was also meant to deter other actors in the region, such as Iran or Hezbollah, from joining the war.
"To any country, any organization, anyone thinking of taking advantage of the situation, I have one word: don't," Biden warned. "Our hearts may be broken, but our resolve is clear."
Go deeper