Biden's new attack: Wrap the GOP in "MAGAnomics"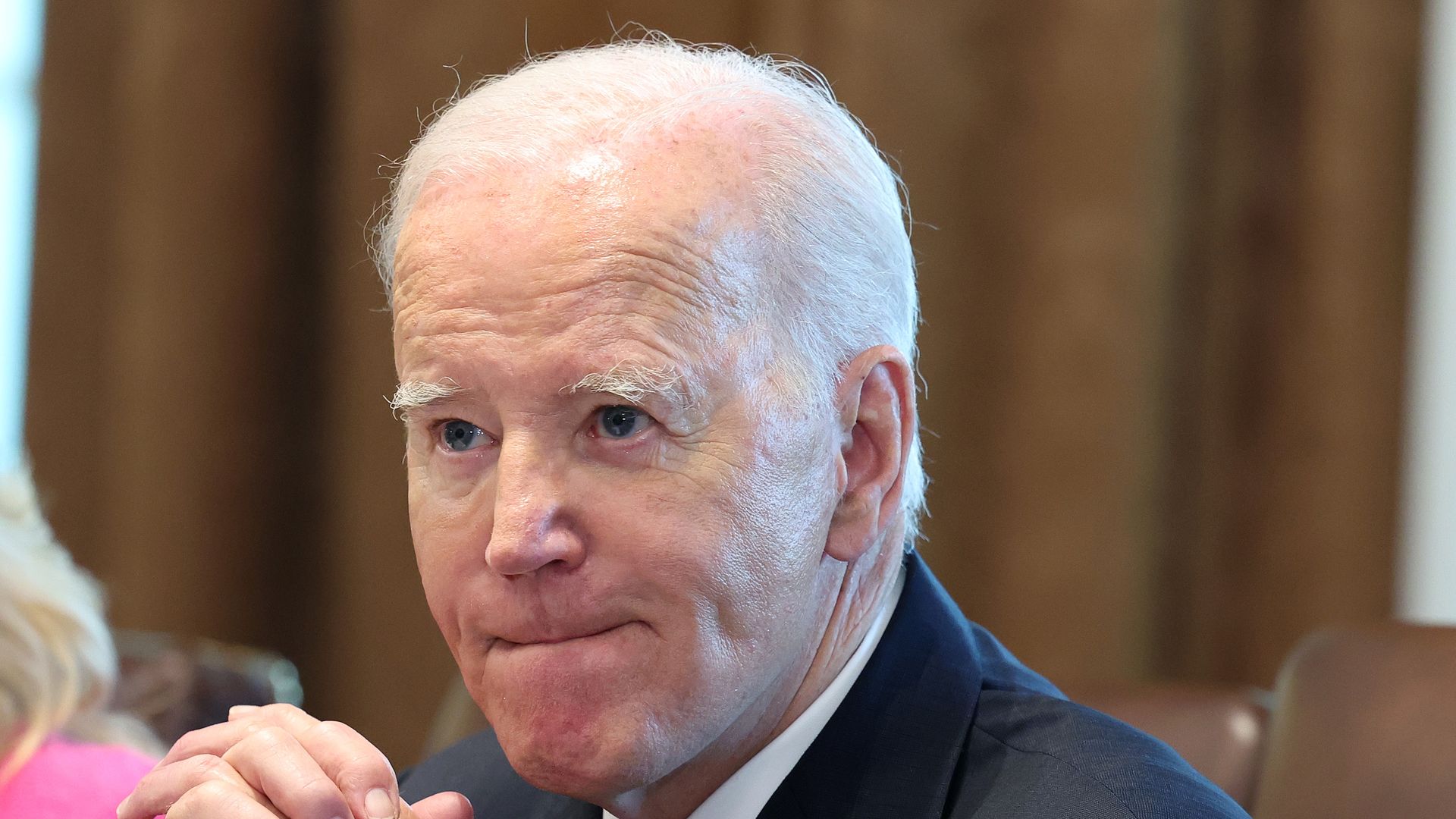 President Biden initially resisted the term "Bidenomics" — until he embraced it to tout his economic record. Now he's trying to stick a label on Republicans — "MAGAnomics" — to accuse them of plotting an assault on Medicare, Social Security and the middle class.
Why it matters: At a time when the GOP is mired in congressional dysfunction and former President Trump's legal troubles, Biden's team wants to define the Republicans' agenda for them — and rebrand MAGAnomics, a term Trump's White House initially coined.
Biden's push begins as House Republicans wrestle with internal disputes in a budget standoff that seems likely to lead to a government shutdown at the end of the month.
Team Biden's move reflects a campaign that is looking to go on offense.
With real household income having declined by 2.6% in 2022 and polls showing voter dissatisfaction with Biden's economic record, Democrats want to make the 2024 campaign into more of a choice between competing economic visions than just a referendum on Bidenomics.
Driving the news: The president is taking a short trip to Maryland today for the second major speech on his economic agenda, offering an update on remarks he gave in Chicago in June.
Biden is seizing on proposals from the House Republican Study Committee's budget, unveiled in June, to accuse all Republicans of wanting to raise the retirement age for Social Security benefits while cutting taxes for the wealthy.
"House Republicans have understandably been reluctant to tout the MAGAnomics budget — but the White House is going to spend much of this fall doing it for them," senior adviser Anita Dunn said in a White House memo to congressional Democrats.
The big picture: The economy under Biden — and under interest rate hikes by the Federal Reserve — has defied expectations. Now a "soft-landing" — in which inflation moderates without a meaningful increase in unemployment — seems possible, Wall Street analysts say.
But inflation, which is down from its 9.1% high in June 2022, has eaten into real wage growth and fueled Americans' perceptions that the economy is worse than its overall numbers indicate.
Biden's campaign knows that the poor marks he gets in polls for his economic record is a potential liability. So the campaign's first big ad buy for this fall aims to convince the public that businesses are hiring and creating good-paying jobs.
Yesterday's inflation reading showed that overall prices rose in August, but the report had some positive data as well.
"Core inflation, which the Fed looks at, is trending back down," Biden told donors at a fundraiser in Virginia last night.
Between the lines: Biden's argument now is a revised version of his strategy at his most recent State of the Union speech, in which he accused Republicans of wanting to cut Social Security and Medicare — then dared them to prove him wrong.
Republicans responded to Biden's challenge by standing with him to show their support for the popular entitlement programs.
"I enjoy conversion," Biden joked.
During the debt ceiling negotiations, Republican leaders, who maintained the allegations were an unfair reading of a proposal by Sen. Rick Scott (R-Fla.), vowed not to touch Social Security or Medicare.
Flashback: At the outset of the Trump administration, officials heralded the arrival of "MAGAnomics," vowing to rethink economic assumptions and promising 3% growth by cutting taxes and regulations.
The bottom line: In embracing the term Bidenomics, the president's team made a strategic decision to own the economy, calculating that Republicans would try to blame them for a slowdown regardless whether it was real or imaginary.
Go deeper