House GOP discord kills key defense spending vote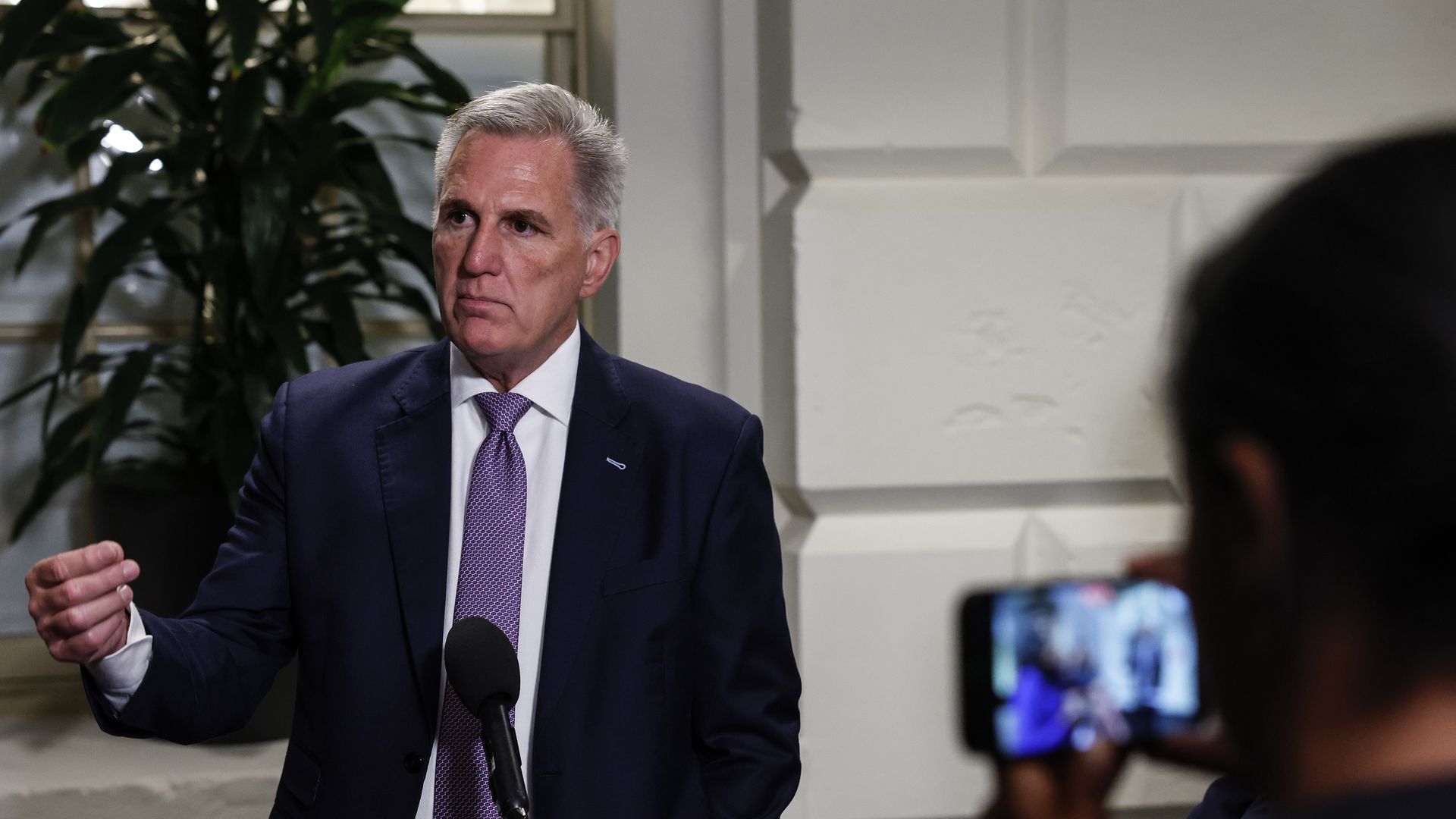 A House vote to advance a bill funding the Department of Defense was scrapped on Wednesday due to opposition from GOP hardliners.
Why it matters: It's another bump in House Republican leadership's precarious path to avoiding a government shutdown as the funding deadline approaches.
"We're in a bad spot," said Rep. Steve Womack (R-Ark.), a senior Appropriations Committee member.
Driving the news: A vote to begin consideration of the Pentagon appropriations bill was scheduled for 1:30 p.m., but it was delayed and later canceled.
"Members are advised that House Republicans are planning to adjourn and votes are no longer expected in the House today," said Minority Whip Katherine Clark's (D-Mass.) office in an update late Wednesday afternoon.
It's not clear yet whether a vote will be held this week while GOP leadership tries to pull its conference together.
What they're saying: Several Freedom Caucus members said they would not vote to advance the legislation because other appropriations bills don't have deep enough cuts to offset its spending increases.
"I'll be voting against the rule," Rep. Dan Bishop (R-N.C.) told Axios on Wednesday morning. "I'm going to vote against everything until we get ... spending cuts in exchange for allowing defense to rise."
"The defense bill in and of itself was okay, but the bottom line is, what's the overall spending? The American people want us to watch out for their tax dollars," said Rep. Ralph Norman (R-S.C.).
These procedural votes are usually passed strictly along party lines, and McCarthy's narrow majority has been further exacerbated this week by several GOP absences.
The big picture: So far, the House has passed just one out of twelve appropriations bills with a Sept. 30 government funding deadline.
House Speaker Kevin McCarthy (R-Calif.), in a closed-door GOP conference meeting on Wednesday, floated linking the defense bill with other security-related appropriations bills – an idea swiftly rejected by the right.
McCarthy has acknowledged the need for a stopgap funding bill, but hardliners have threatened to try to oust him if it doesn't include border legislation and other policy riders that would make it a non-starter in the Senate.
Flashback: Just before the House left for the August recess, they had to scrap a vote on a bill funding the Department of Agriculture due to concerns from both hardliners and moderates.
Several of the centrists, who raised objections to a provision in the bill restricting access to abortion medication, told Axios on Wednesday that no progress has been made on that bill since the recess began.
"We've made clear our position and … the bill hasn't changed yet," said Rep. Marc Molinaro (R-N.Y.). "I think the approach now is to move on appropriations where there might be broader support – national defense, homeland security."
But Rep. Andrew Clyde (R-Ga.), a right-wing Appropriations Committee member, said there is "a lot of work yet to be done" on the Homeland Security Appropriations bill, and that lawmakers should "stay here every solitary day, weekends included, until we get it done."
The bottom line: "We're in a difficult spot," Womack said on Wednesday morning. "We've got a big challenge ahead of us. Are we going to be equal to the task? We're probably going to see by mid-afternoon."
Editor's note: This article has been updated with comment from Rep. Andrew Clyde.
Go deeper