McCarthy floats stopgap to prevent government shutdown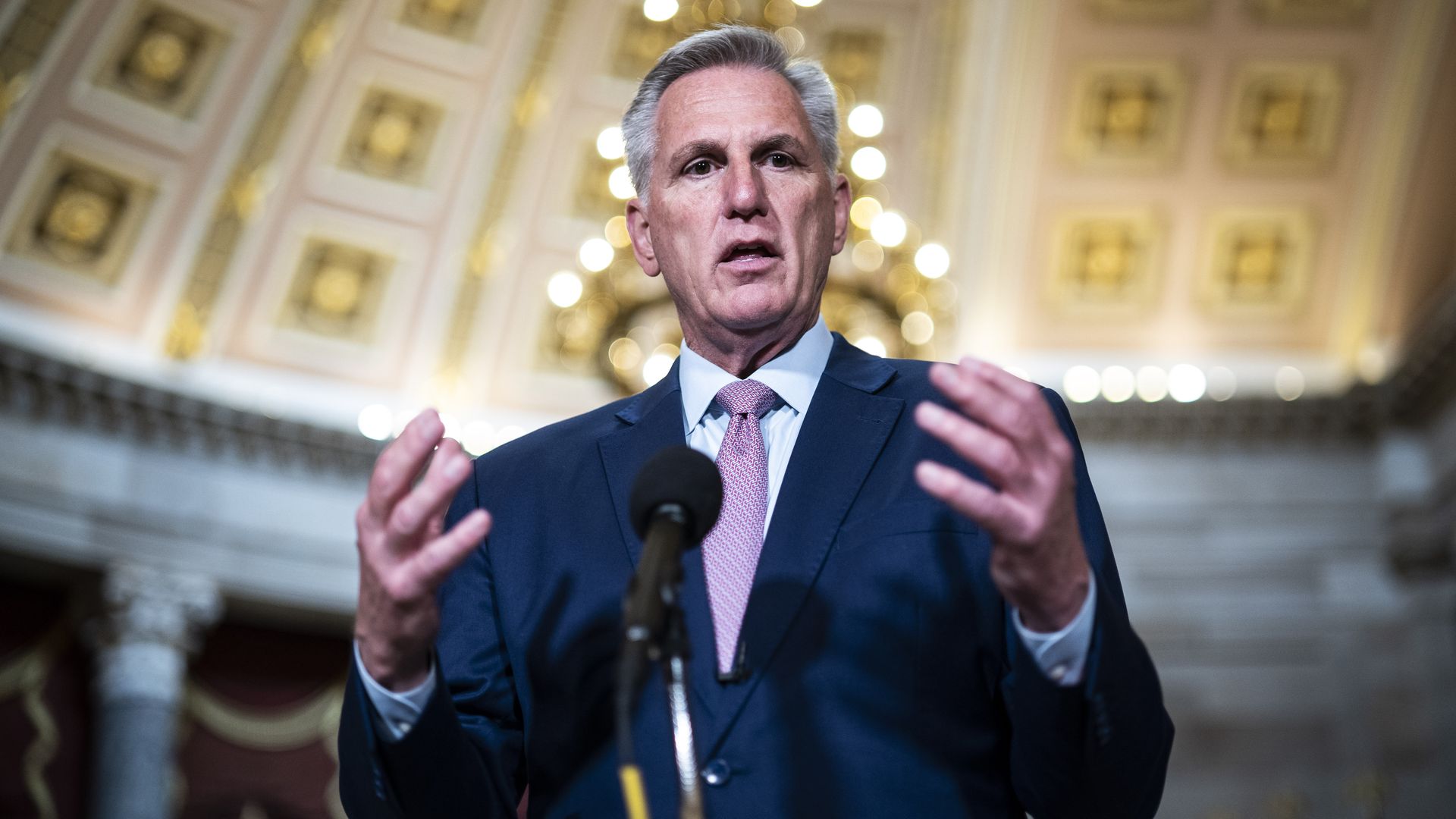 House Speaker Kevin McCarthy (R-Calif.) floated a possible short-term government funding measure during a House Republican Conference call on Monday evening, Axios has learned.
Why it matters: It underscores the difficult path the divided Congress faces in trying to fund the government before the Sept. 30 deadline.
What we're hearing: McCarthy emphasized that any continuing resolution – which funds the government for a limited time to avert a government shutdown – would not go past early December, according to four sources on the call.
The House speaker said he has no interest in pushing the process up against the Christmas holiday, the sources said.
The state of play: The House has passed just one of a dozen appropriations bills so far and has only 17 days in session between their return on Sept. 5 and the government funding deadline.
The Senate, which returns the week of Sept. 12, is in session just 12 of those days.
McCarthy said on the call he wants to continue passing appropriations bills in September, but there is disagreement among House Republican leadership about which appropriations bill to take up first, according to a senior GOP lawmaker.
Some members are pushing for the Homeland Security appropriations bill to be brought up before an agriculture bill that was slated for a vote last month but pulled due to opposition from conservatives and moderates.
What we're watching: Conservatives, who have been using the appropriations process to advance right-wing policy goals, could push back on attempts to pass a continuing resolution.
"Right now, I would say no," Rep. Ralph Norman (R-N.C.) said last month of voting for a continuing resolution, adding that he is "absolutely" willing to force a government shutdown.
"If we have a temporary shutdown of the government ... what's the risk or concern about that happening? We shouldn't implement bad policy to avoid that," said Rep. Bob Good (R-Va.).
Zoom in: There is also a question of how much of the Biden administration's request for emergency funding for disaster relief, Ukraine aid and border security would make it into a continuing resolution.
Conservatives have, in particular, railed against the Ukraine aid.
The intrigue: Spending may not be the only thing the House grapples with as it returns from recess – impeachment could further clog up the agenda.
There was a debate among members on the call about whether the House should move to an impeachment inquiry against President Biden or allow investigations to run their course, according to several sources.
Rep. Don Bacon (R-Neb.) told Axios he spoke against a rush to impeachment: "I advised caution until more direct evidence points to Biden ... Our country deserves to treat impeachment with the gravity the Founders intended."
Rep. Jeff Van Drew (R-N.J.) spoke in favor of moving to an inquiry, according to a member on the call.
The bottom line: Moderate Rep. Tony Gonzales (R-Texas) left the call publicly projecting pessimism about the path forward on appropriations.
"It's clear President Biden and Speaker McCarthy want a government shutdown, so that's what Congress will do after we return in September," Gonzales tweeted. "Everyone should plan accordingly."
Go deeper