McCarthy's talk of Biden impeachment creates GOP headaches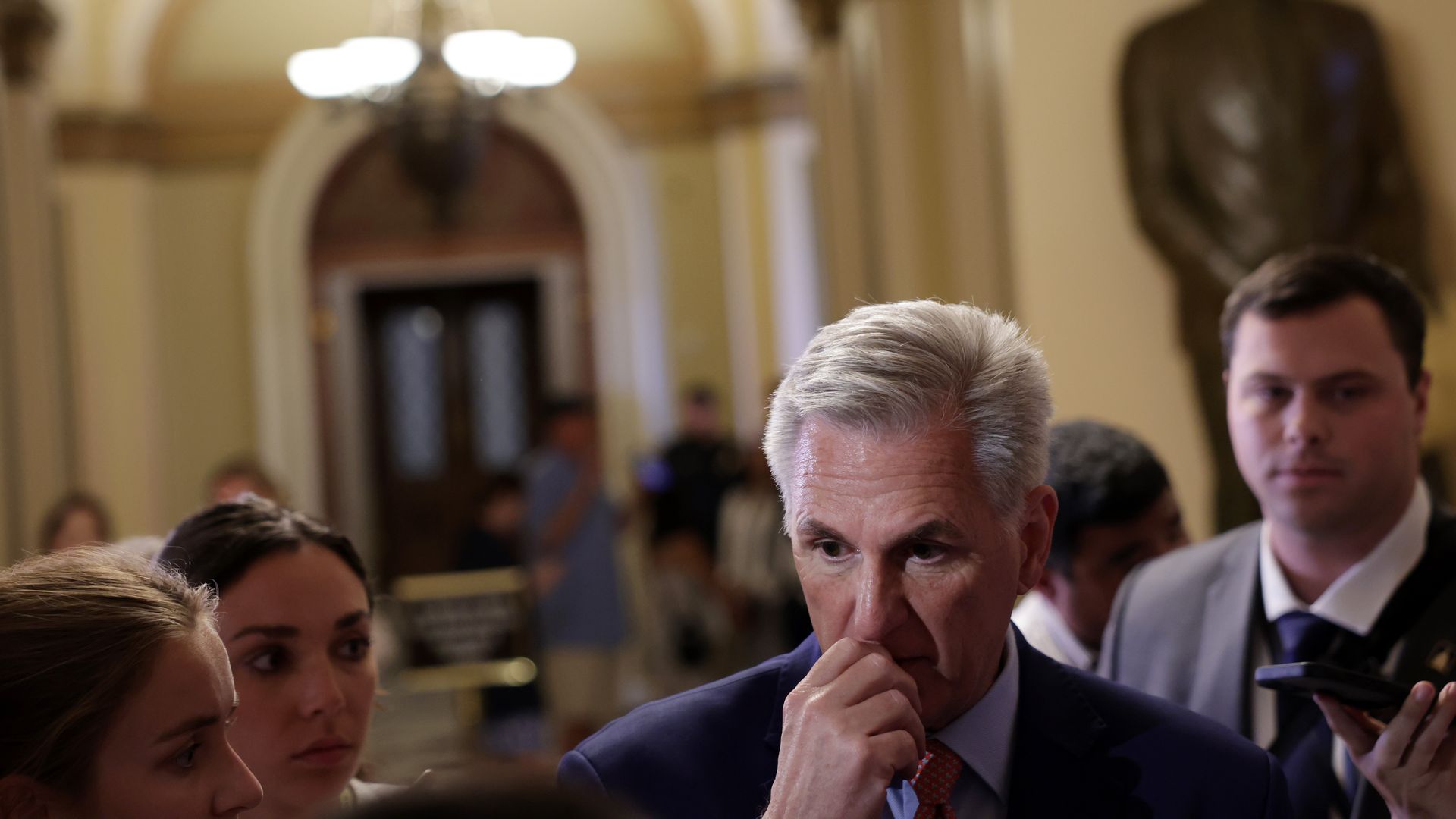 Moderate and swing district House Republicans are openly worrying about political backlash that could result from a half-baked impeachment effort against President Biden.
Driving the news: House Speaker Kevin McCarthy's (R-Calif.) threats to open an impeachment inquiry into Biden have been met with a mix of qualified support and trepidation from his members.
McCarthy said Monday on Fox News that the House's investigations into Biden family members' business dealings are "rising to level of impeachment inquiry."
But in a closed-door GOP conference meeting on Wednesday, he warned his members not to overstate the case for impeachment and to let the investigations run their course, according to multiple members in the room.
"I think there's confusion about the process," said Rep. French Hill (R-Ark.), a McCarthy ally, telling Axios the speaker wants to "follow the evidence in a methodical way."
What they're saying: Rep. Mike Lawler (R-N.Y.), one of the most vulnerable House Republicans, said, "The question me right now is, the investigations, are they producing enough facts and evidence that warrant taking it to the next step?"
"I don't think it's there at the moment," Lawler said. "But these committees are doing their job."
Rep. Lori Chavez-DeRemer (R-Ore.), another Republican in a district President Biden won in 2020, said "there should be an investigation, I think that's what the committees are doing. We're focused on that."
Yes, but: Others echoed McCarthy in downplaying the significance of an impeachment inquiry.
"It's just using our gavels to make sure we're identifying the facts," said Rep. Blake Moore (R-Utah), the vice chair of the moderate Republican Governance Group. "I think there's a sincere effort from leadership not to sensationalize it."
The other side: Conservatives have put considerable pressure on McCarthy to accelerate the impeachment process.
Rep. Kevin Hern (R-Okla.), the chair of the Republican Study Committee, said there is "overwhelming consensus" around voting to launch an impeachment inquiry.
Another conservative lawmaker, speaking on the condition of anonymity, said "it must" happen.
"This is impeachment theater," Rep. Ken Buck (R-Colo.), a member of the Freedom Caucus, said on CNN, arguing McCarthy's mentions of impeachment are meant as distractions from the GOP's spending fights.
Between the lines: "I don't know a single Republican in Congress who didn't want the election to be held the day after Democrats held the first [Trump] impeachment vote on the floor," said Rep. Kelly Armstrong (R-N.D.).
Armstrong, a member of the House Oversight Committee, said Republicans need to be "careful and cognizant of the realities," because "we don't get any of this [investigative power] if we're not in the majority."
A swing district Republican, speaking on the condition of anonymity, said impeachment is "not good" for their reelection and "makes all of us [in swing districts] nervous."
"Impeachment – even talking about it – is not something that we're looking forward to," the member said.
Go deeper