House GOP squeezes McCarthy on "World War III"-level spending fight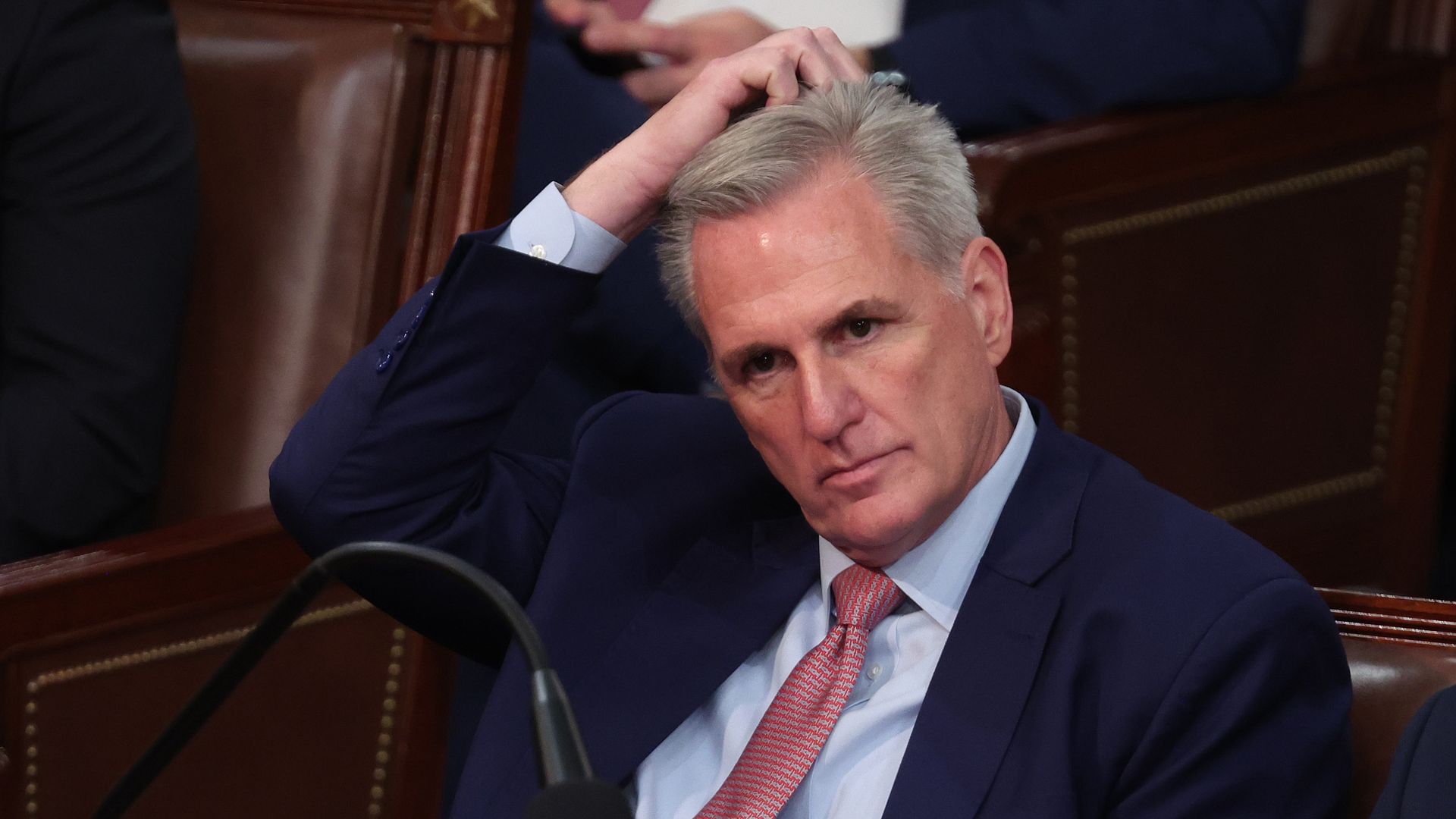 House conservatives who have mostly backed Speaker Kevin McCarthy (R-Calif.) are privately warning that they're paranoid of budgetary gimmicks instead of significant cuts in the coming appropriations bills.
Why it matters: One GOP lawmaker told Axios they expect the spending fight to be "World War III," with multiple GOP sources doubtful that Congress will pass all 12 appropriations bills by Sept. 30 to avoid a government shutdown.
The debt ceiling deal between McCarthy and President Biden — which would set discretionary spending caps at $1.59 trillion for fiscal year 2024 — included clawbacks to COVID spending and IRS funding.
House conservatives wanted deeper cuts, and the deal had to be passed with significant Democratic support. They're now wary that McCarthy may try to repeat this dynamic.
Zoom in: A recent poll taken during a meeting of the Republican Study Committee, the largest conservative caucus in Congress, showed 78% of respondents are not supportive of relying on rescissions — in this case the clawbacks from the debt ceiling deal — to get to desired spending levels.
"Folks ... want real spending cuts, and this place is famous for math that never really quite works out," RSC Chairman Kevin Hern (R-Okla.) told Axios.
Rep. Garret Graves (R-La.) — a McCarthy ally who served as a key negotiator in the debt ceiling deal — argued that the use of rescissions should not be taken off the table.
What they're saying: "There are people who would like to see us get to $1.471 without rescissions and certain folks have said that all along. I will say in January, that was not what we talked about," Graves told Axios.
"The speaker has made it crystal clear that it is his objective to get appropriations down as low as functionally possible, and so that's what we're doing," Graves told Axios.
What to watch: McCarthy recently said he won't combine the 12 spending bills into a single omnibus package, a practice that has infuriated conservatives in the past. But he hasn't ruled out grouping the bills into several "minibuses" if necessary to avoid a shutdown.
Conservatives want the appropriations bills passed individually with the ability to be amended.
"We're not going to know what our final number is or how close we are to that $1.471 trillion unless we actually know what the [12 appropriations bills] are," a GOP member told Axios.
Between the lines: Conservatives are also growing worried about a provision in the debt ceiling deal that would impose automatic 1% cuts to all discretionary spending programs — including defense — unless the appropriations bills are passed by Dec. 31.
The threat is intended to force both sides to follow through on the agreement.
Conservatives fear the blanket cuts would harm the defense budget and cost them the opportunity to enact deeper cuts in areas they care about.
The bottom line: Multiple members of the House GOP conference acknowledged that McCarthy has beaten the odds on passing key pieces of legislation while dealing with a narrow majority.
"Kevin survives hour by hour. He's done a good job and he's surprised even his detractors," a senior Republican told Axios.
"But his strategy is to survive the day, so there's a conflict that is inevitable. The trains are going to go off the tracks — we just don't know whether it'll happen this week, three weeks, three months or whatever."
Go deeper