What we know about Kevin McCarthy's concessions to become speaker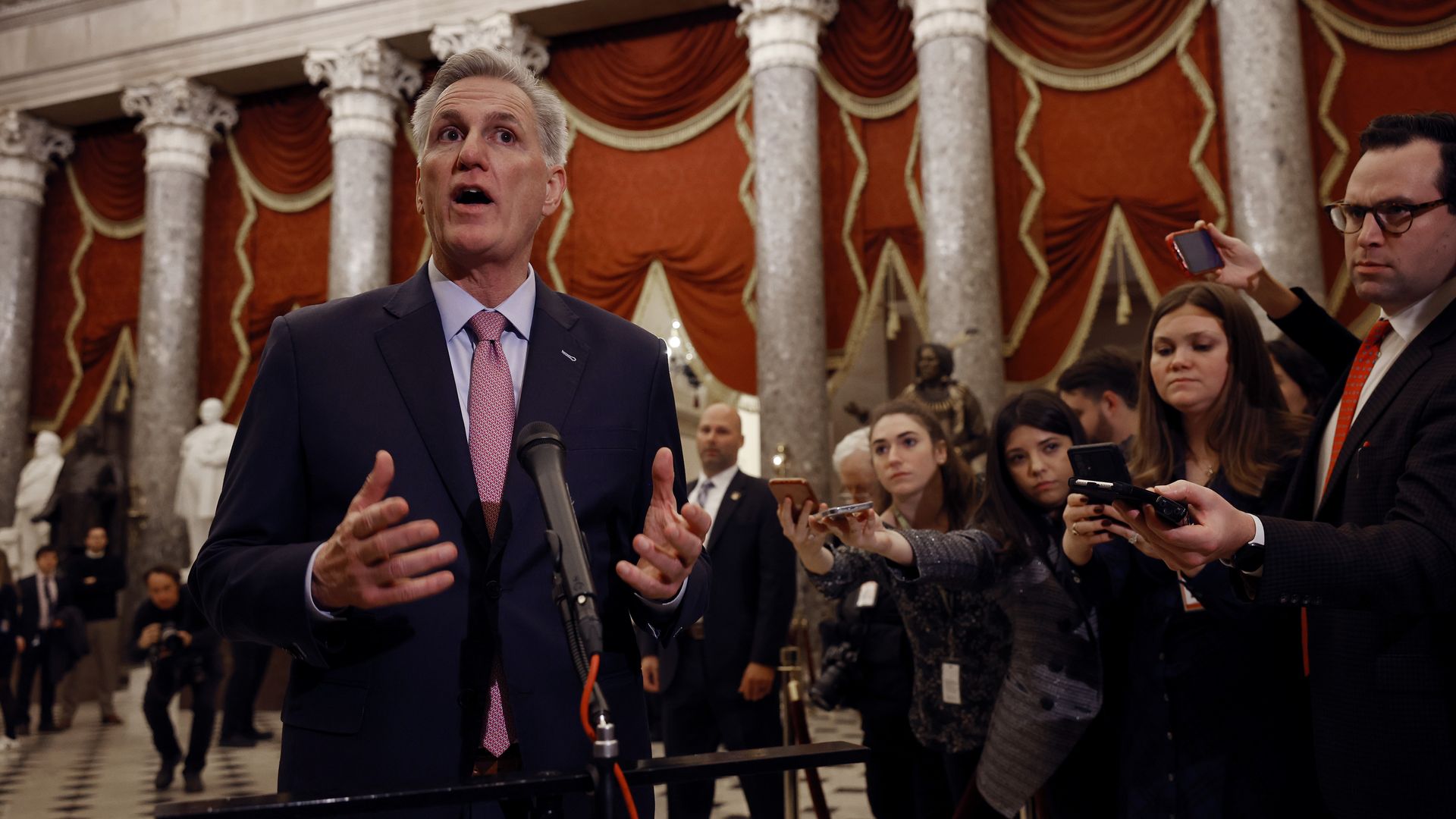 House GOP Leader Kevin McCarthy struck a deal last week that, after days of a stalemate in his bid to be speaker, swayed even his staunchest critics.
The big picture: McCarthy for weeks has been making concessions to win over his most hard-lined conservative colleagues.
McCarthy clinched the speakership in the early hours of Saturday morning on the 15th vote. Here are some of the key concessions McCarthy made that finally got him a deal for the speaker's gavel.
State of play: McCarthy agreed to lower the number of members needed to call for a motion to vacate the speaker's chair down to one. McCarthy previously proposed that five members could call for a motion to vacate.
It also includes a rule that says that any move to raise the debt ceiling must also be accompanied by spending cuts, CNN reports.
The rules package includes a resolution establishing a House select committee on the "weaponization of the federal government."
McCarthy also agreed to vote individually on 12 appropriation bills, rather than one omnibus spending bill, per CNN.
The package also reinstates the Holman rule, which lets lawmakers amend appropriations legislation and reduce the salary of government officials.
It also gives lawmakers 72 hours to review bills before they come to the House floor.
The rules package also includes votes on bills relating to key sticking points for conservative lawmakers, including on border security and abortion, among other areas.
The other side: Minority Leader Hakeem Jeffries (D-N.Y.) criticized the concessions on Sunday and feared that the "American people will be held captive over the next two years to the extreme MAGA Republican agenda."
"That's going to undermine the health, the safety and the wellbeing of the American people," Jeffries said on NBC's "Meet the Press."
"It may undermine national security and a robust defense and undermine our ability to actually advance an agenda that is anchored in kitchen table pocketbook issues, and not extremism."
What to watch: The House is set to vote Monday on the rules package and some Republican lawmakers have already signaled their intention to oppose it.
Go deeper ... Rep. Comer "not convinced" there won't be motion to oust McCarthy as speaker
Go deeper