Some Republicans expect rocky road for McCarthy's speakership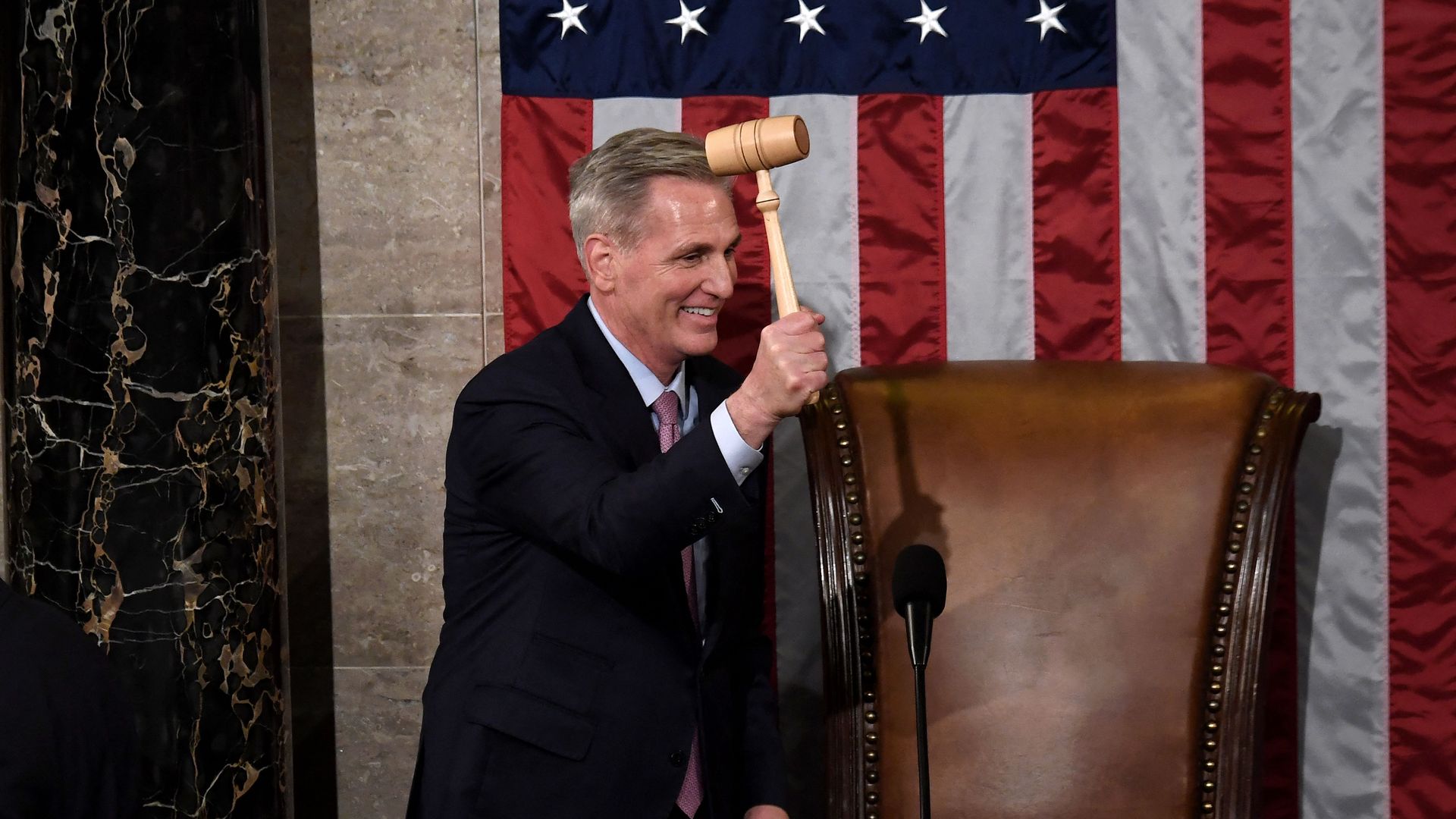 House GOP Leader Kevin McCarthy finally won the speaker's gavel after days of painstaking negotiations, but he gave away much of his power in the process.
Why it matters: Some of McCarthy's hold-outs have already pledged to hold the California Republican to his promises and other GOP lawmakers are foreshadowing a 118th Congress that may be stymied by gridlock and infighting.
Driving the news: "We will use the tools of the House to enforce the terms of the agreement," Rep. Chip Roy, who voted against McCarthy for 11 rounds of voting, said Sunday on CNN's "State of the Union."
Roy's remarks come amid fears that McCarthy's eleventh-hour concessions could make it difficult for the California Republican to secure the votes to raise the debt limit, The New York Times reports.
Roy also said: "Some of the tensions you saw on display when we saw some of the interactions there between Mike Rogers and Matt Gaetz, we need a little of that, we need a little of this breaking the glass."
"A little temporary conflict is necessary in this town," he said.
Rep. James Comer (R-Ky.), who backed McCarthy's bid for speaker, said Sunday that the California Republican "needs a chance" to govern but was "not convinced" that there would not be a motion to remove him from the speakership.
Rep. Tony Gonzales (R-Texas) also supported McCarthy's bid for the speakership. But he warned Sunday that the vote for the speaker "is only the beginning."
"The speaker vote is the easiest vote we'll take in Congress and it was pretty chaotic," he said.
"The House of Representatives is a rough and rowdy place ... this is only the beginning," he said on CBS' "Face the Nation."
"Republicans are much different than Democrats, we're not just going to line up and jump off the cliff. All of us represent our districts and we're going to fight for that."
What to watch: Some House Republicans, including Gonzales, have already signaled that they would vote against the rules package on Monday.
"This is one of many votes ... that has to be more thought-out," he said.
Go deeper ... McCarthy sweetens his offer to House GOP rebels
Go deeper