McCarthy seeks to quell GOP rebellions as House returns from recess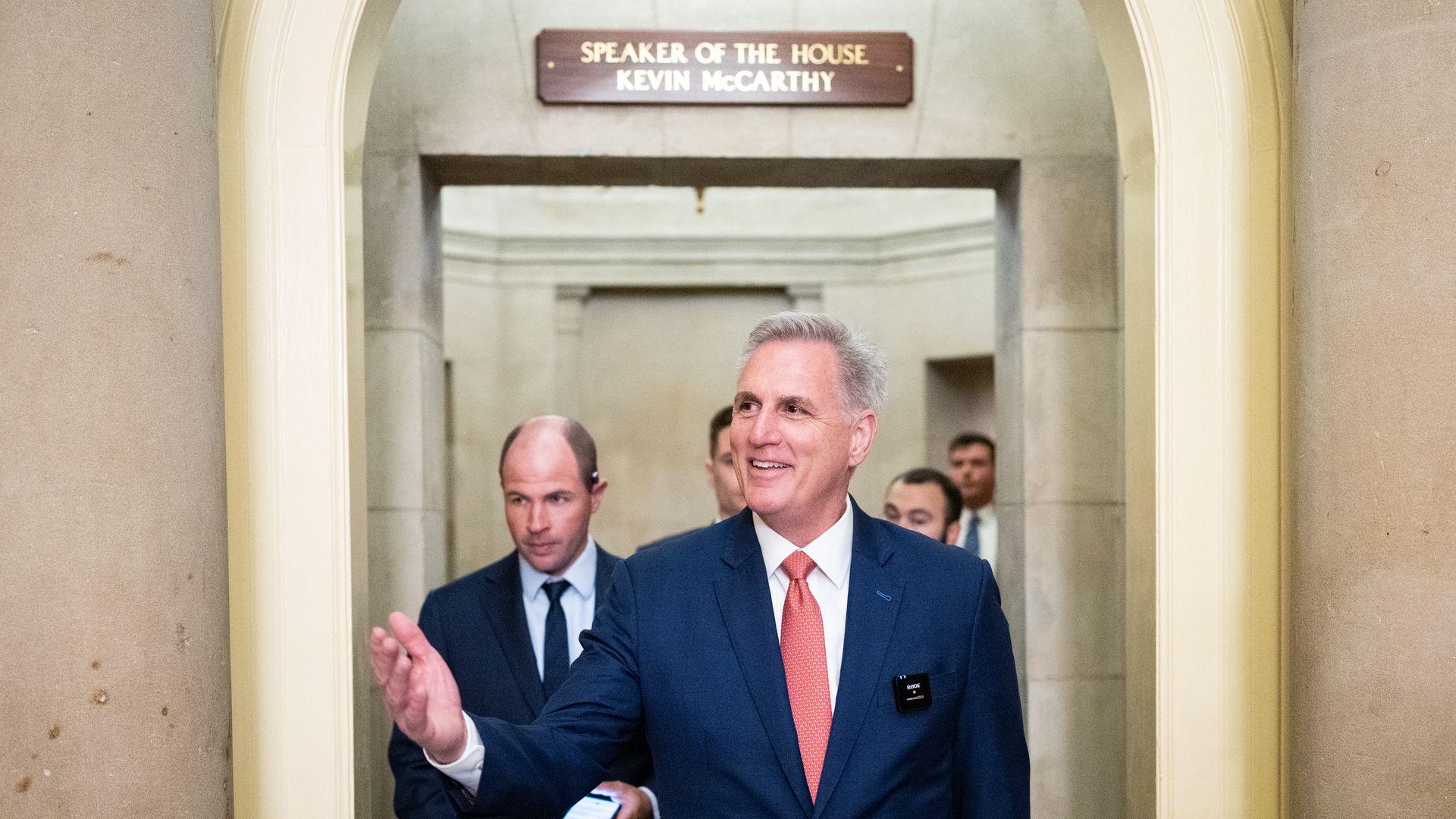 House Speaker Kevin McCarthy (R-Calif.) is facing his first major test since hardline GOP rebels ground the House floor to a halt last month in protest of his handling of the debt ceiling negotiations.
Why it matters: Whether — and how — McCarthy successfully shepherds the must-pass National Defense Authorization Act through the House will dictate the next phase of his speakership.
Up to this point, McCarthy's tenure has been broadly dominated by two conflicting dynamics: Predictions of his demise at the hands of conservative rabble-rousers and an uncanny knack for defying his doubters.
McCarthy advised critics Tuesday not to underestimate him as a potential crisis brewed over the NDAA, telling reporters: "This just seems like another week in Congress. I'll get through it, we'll figure it out as we go."
Driving the news: Right-wing Republicans are demanding votes on a range of controversial amendments to the massive defense policy bill, which has passed with bipartisan support every year for the past six decades.
Many of the amendments take on culture war issues that have become a cornerstone of the GOP agenda, including diversity programs and funding for gender-affirming care at the Pentagon.
The House Rules Committee began meeting Tuesday afternoon to decide which of the more than 1,500 amendments filed by lawmakers should receive a vote.
While the House Armed Services Committee advanced the NDAA with broad bipartisan support, many of the proposed floor amendments could cost the bill Democratic votes — potentially imperiling final passage.
Zoom in: One key demand is an amendment to block a Pentagon policy reimbursing service members who travel to get an abortion — a vote that could endanger vulnerable Republicans McCarthy wants to protect.
"For a lot of our members, some of this travel abortion language is big for them," said Rep. Byron Donalds (R-Fla.), a Freedom Caucus member.
House Rules Committee Chair Tom Cole (R-Okla.) told reporters he would be "surprised" if the amendment didn't get a vote on the floor.
Behind the scenes: GOP leadership is trying to tamp down conservatives' expectations about how many of their culture-focused amendments will get across the finish line, according to a senior House Republican.
The lawmaker said, in meetings on Tuesday and throughout the week, they are trying to hammer home the question: "Is this the right place to be having this conversation, versus the Appropriations Committee? ... Is that really what we ought to be doing?"
The big picture: McCarthy on Tuesday afternoon summoned representatives from every ideological faction of the GOP conference to discuss how to stave off future rebellions.
Multiple lawmakers told Axios that while the NDAA fight is important, they believe the bigger threat to McCarthy's standing as speaker will be appropriations.
McCarthy previously had suggested that Congress would pass 12 separate appropriations bills — a process demanded by members of the Freedom Caucus — but today hinted he may have to go a different route.
What to watch: Three GOP lawmakers told Axios they believe a government shutdown in October — the result if Congress doesn't pass the appropriations bills or a continuing resolution — is more likely than not.
Go deeper