Trump reps call push to disqualify him under 14th Amendment "absurd"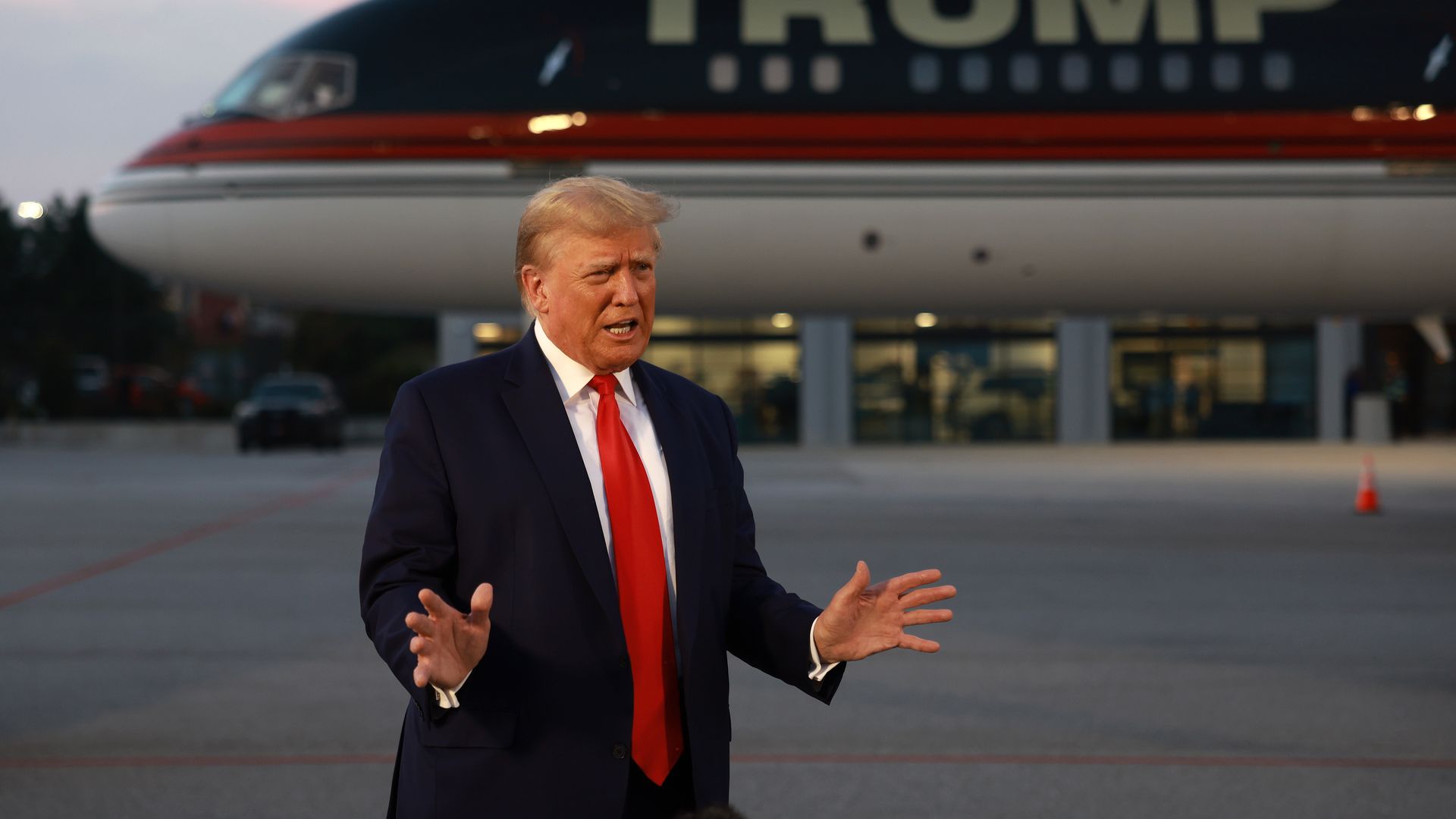 Representatives for former President Trump pushed back Monday on two leading Democrats' comments that there are potential grounds to remove him from the 2024 presidential ballot under the 14th Amendment's "insurrection clause."
Driving the news: Rep. Adam Schiff (D-Calif.) and Sen. Tim Kaine (D-Va.) said Sunday there's a strong case for disqualifying Trump from the ballot due to Section 3 of the amendment, which prevents anyone who "engaged in insurrection" against the U.S. from holding elected office. A Trump campaign spokesperson called this an "absurd conspiracy theory."
The big picture: Election officials in several states are examining whether Trump's name should be removed from the 2024 ballot under the 14th Amendment clause.
Two leading conservative law professors, William Baude and Michael Paulsen, wrote in an article that there is grounds for disqualifying Trump under this clause.
Two liberal nonprofits have vowed to take legal action should Republican presidential primary front-runner Trump's name appear on the ballot.
Of note: Trump sent out fund-raising emails Sunday on potential litigation over the 14th Amendment that railed against "traitorous 'Republicans'" who may be looking into potential cases as he stares down four criminal indictments, per NBC News.
What they're saying: Schiff told MSNBC Sunday that the 14th Amendment case is a "valid argument," noting it's "pretty clear" that if "you engage in acts of insurrection or rebellion against the government, or you give aid and comfort to those who do," you're disqualified from running for office.
"It doesn't require that you be convicted of insurrection. It just requires that you have engaged in these acts," said the former member of the House Jan. 6 committee investigating the U.S. Capitol riot. "It's a disqualification from holding office again, and it fits Donald Trump to a T."
Kaine told ABC News' "This Week" Sunday there's "a powerful argument to be made" for disqualifying Trump from the 2024 race, though he said he believed it's "probably going to get resolved in the courts."
He added that in his view, the Jan. 6 attack on the Capitol "was designed for a particular purpose at a particular moment, and that was to disrupt the peaceful transfer of power as is laid out in the Constitution."
The other side: A Trump campaign spokesperson said in an email Monday that President Biden, who took swipes at his predecessor in a Labor Day speech in Pennsylvania on Monday, Democrats, and "Never Trumpers are scared to death" about 2024 election polls.
"The people who are pursuing this absurd conspiracy theory and political attack on President Trump are stretching the law beyond recognition much like the political prosecutors in New York, Georgia, and D.C.," the spokesperson said.
"There is no legal basis for this effort except in the minds of those who are pushing it."
Meanwhile, the Trump campaign-allied MAGA Inc. super PAC in an email Sunday called the comments by "Hillary Clinton's former running mate" Kaine a "bogus legal theory."
They pointed to an Obama-appointed Florida judge's dismissal last week of a challenge to Trump's candidacy under the 14th Amendment.
Between the lines: U.S. District Judge Robin Rosenberg said in her ruling that the plaintiffs in the Florida case "lack standing to challenge" Trump's qualifications for seeking the presidency, "as the injuries alleged" in the U.S. Capitol insurrection "are not cognizable and not particular to them."
For the record: Trump denies any wrongdoing in the criminal cases against him and has pleaded not guilty in three of them, including a federal Jan. 6 case alleging that he plotted to overturn the 2020 election.
Go deeper: Why Trump can legally run for president despite indictments
Editor's note: This article has been updated with comment from a Trump campaign spokesperson, the MAGA Inc. Super PAC and further context.
Go deeper