Biden ratchets up Trump criticism in Labor Day speech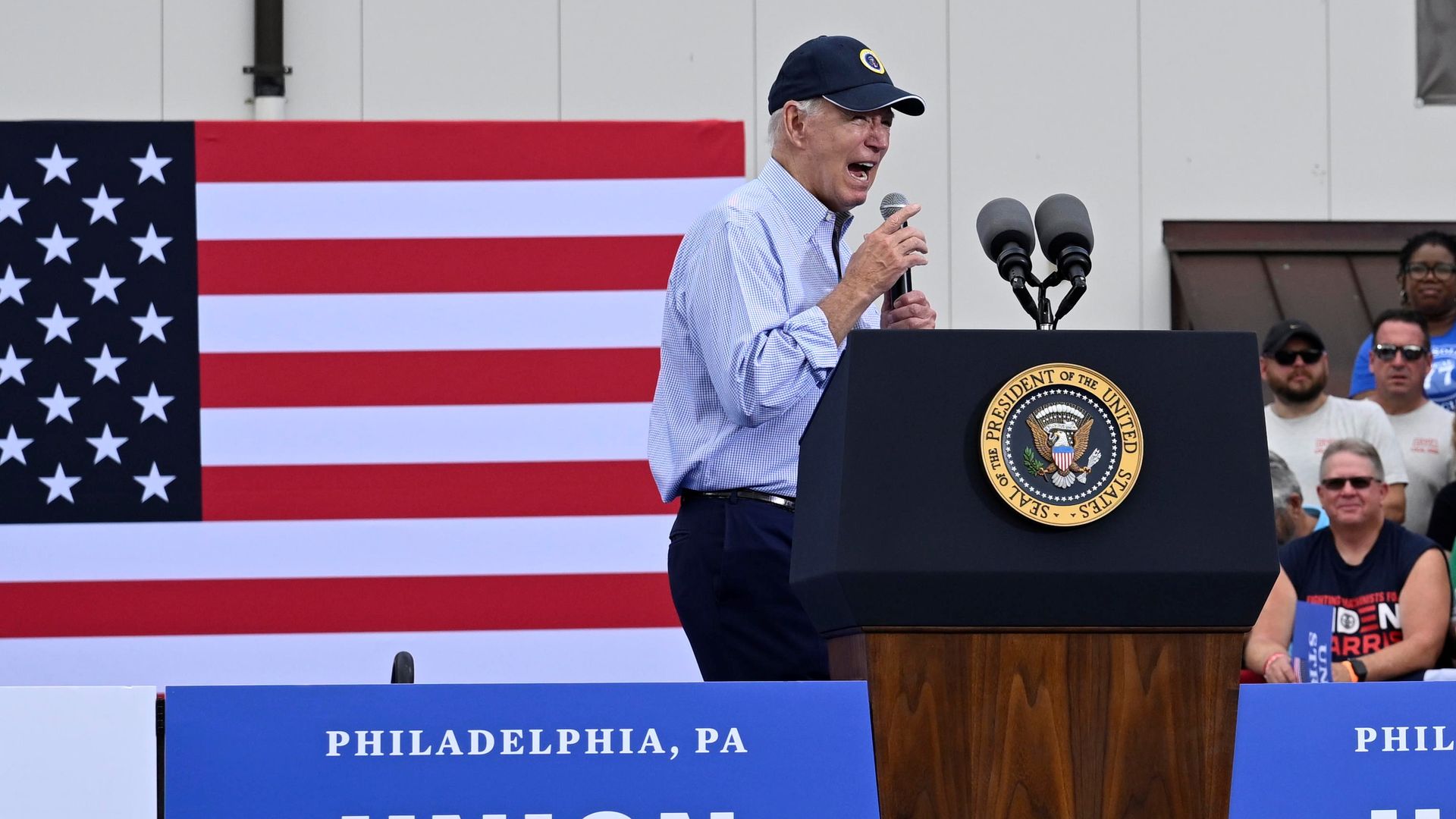 President Biden included pointed attacks against former President Trump during a Labor Day speech in Pennsylvania on Monday.
Why it matters: Biden, speaking to the Sheet Metal Workers' Local 19 in Philadelphia, criticized Trump's performance on jobs and infrastructure while also attempting to shore up his union base.
Recent polling has shown that Biden and Trump are headed toward a close 2024 presidential rematch, as both have a major lead in party primary races.
Polling has also indicated that Biden may be underperforming with working-class Black and Latino voters.
Of note: Biden, never referring to Trump by name, called the former president "the guy who held this job before me" and "the last guy."
What they're saying: While praising the 2022 bipartisan infrastructure bill, Biden jabbed at Trump's inability to pass a major infrastructure bill while in office, saying, "The great real estate builder, the last guy, he didn't build a damn thing."
Biden hit Trump on the unemployment rate at the end of his time in office, pointing out that the U.S. had 3 million fewer jobs at that time compared to when Trump was elected.
"The guy who held this job before me was one of two presidents in history who left office with fewer jobs in America than when he was elected to office," Biden said, adding that the other was President Herbert Hoover, who held office during the onset of the Great Depression.
Biden didn't point out, though, that the county had still been recovering from a pandemic-induced unemployment shock and that unemployment had been at record lows before the pandemic.
The big picture: Biden, 80, touched on concerns over his age on Monday, as well.
"Someone said, 'You know, that Biden, he's getting old, I tell you what.' Well, guess what? The only thing that comes with age is a little wisdom," he said. "I've been doing this longer than anybody, and guess what? I'm going to continue to do it with your help."
Go deeper: Biden admin wipes millions in student debt for more "cheated" borrowers
Go deeper