Why Trump can legally run for president despite indictments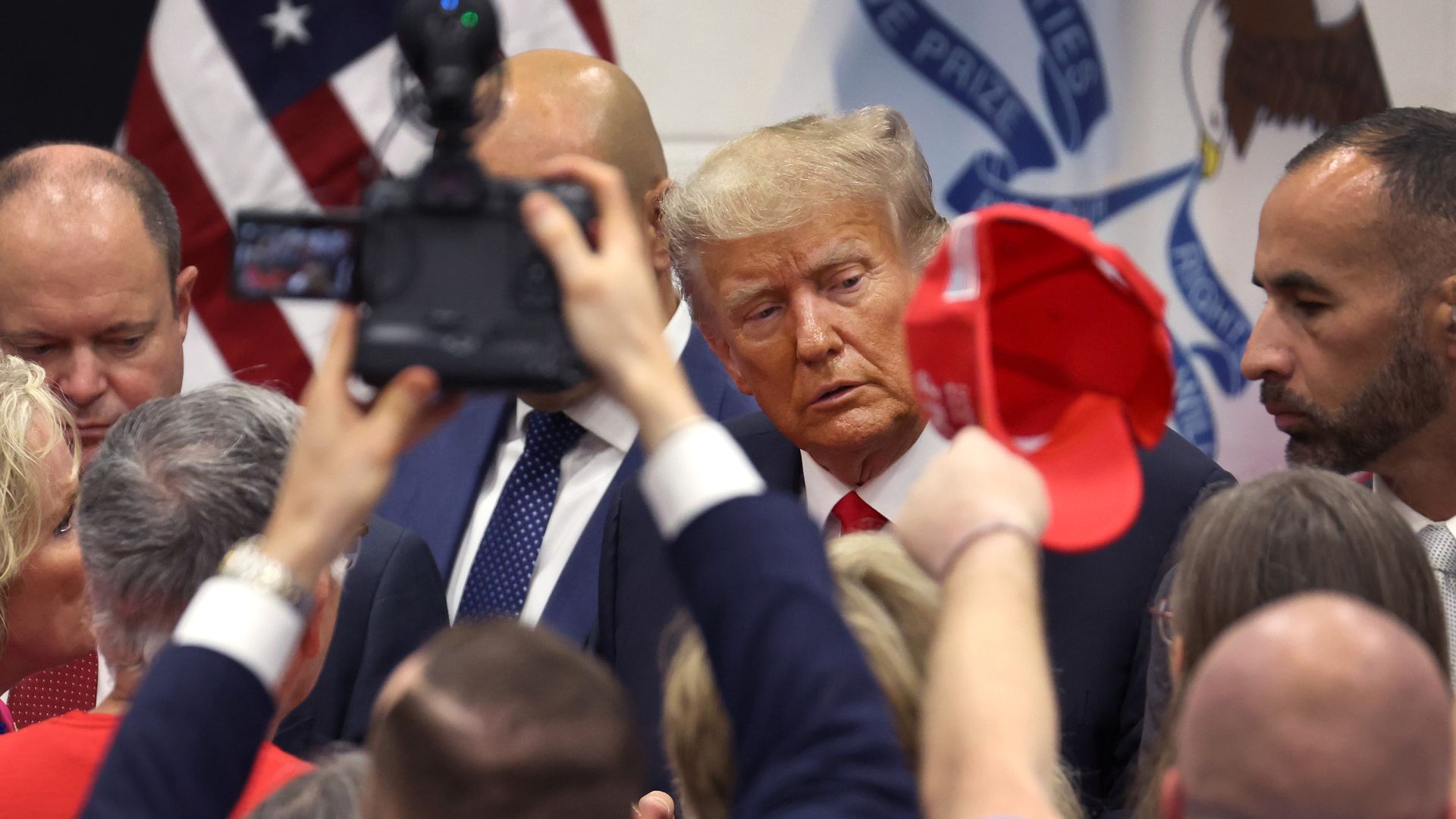 Former President Trump has been indicted three times — and faces potential criminal convictions — but he's not barred from running for or assuming presidential office.
Why it matters: While Trump is the first former U.S. president to face criminal charges, his legal peril doesn't endanger his legally viable path to a second term — and could even be a boon politically, experts told Axios.
Driving the news: Trump is facing four new indictments, including "conspiracy to defraud" the U.S., as part of special counsel Jack Smith's criminal investigation into the Jan. 6 attack and alleged efforts to overturn the 2020 election, according to an indictment unsealed Tuesday.
Yes, but: The Constitution does not bar Trump from holding presidential office, and his situation has other nuances.
What does the Constitution say?
Trump, the current 2024 GOP presidential nomination frontrunner, fits the three qualifications under the Constitution to seek the presidency:
Must be at least 35 years old
Must be a natural-born citizen
Must have lived in the U.S for at least 14 years
Can Trump run for president or be elected after indictments?
Indictments, and even potential convictions, do not legally disqualify Trump from running for president in 2024 or from serving if elected, said Chris Edelson, an assistant professor at American University who specializes in presidential power.
"The clearest path to disqualifying Donald Trump running for office would have been if the Senate had convicted him in one or both of the impeachments," Edelson said.
Context: The Senate acquitted Trump in both of his impeachment trials in 2020 for abuse of power and 2021 for incitement of insurrection, respectively.
Between the lines: The Civil War-era 14th Amendment has a clause that bans anyone who "engaged in insurrection" against the U.S. from holding elected office without the approval of two-thirds of the House and Senate.
After the Jan. 6 insurrection, Democrats accused Trump of engaging in "insurrection or rebellion" against the U.S. as defined in the 14th Amendment, which would prohibit any such person from "holding any office" if the Senate had convicted him.
Lawmakers also floated using the 25th Amendment to remove him from office at the time, which like impeachment didn't bar him from future office.
Reality check: Beyond impeachment and the 14th Amendment, the only other barrier to the presidency is the two-term limit. Trump is one of nearly two dozen U.S. presidents who have served one term.
But, but, but: Trump is also being investigated over efforts to subvert the 2020 election by special counsel Jack Smith, who was appointed by Attorney General Merrick Garland to oversee both federal probes on Trump.
How does all of this affect Trump's campaign?
The indictments could bolster further support from Trump's voter base, which holds the belief that he has been unfairly persecuted, said Heidi Kitrosser, a professor of law at Northwestern University. It is not yet clear how this will affect his campaign moving forward.
Trump's candidacy, under these legal circumstances, is unprecedented, Kitrosser said. "I don't think there's a clear picture of exactly how it would work and what it would look like," she added.
Flashback: Trump drew on a familiar playbook soon after announcing he'd been indicted in the classified documents probe, blasting a fundraising email that said: "Biden-appointed Special Counsel has INDICTED me in yet another witch hunt."
What to watch: The former president's trial over the hush money payment is set for March 2024, squarely in the middle of primary season.
Smith has previously said his office would seek a "speedy trial" in the federal classified docs probe — posing logistical challenges for someone mounting a presidential campaign.
Smith's office said Tuesday that it would also seek a speedy trial in the Jan. 6 case.
Trump has historically fought to delay legal proceedings and could do the same in these cases, Politico reported.
Meanwhile, most of Trump's 2024 rivals so far are not taking the risk of blasting him, and instead are criticizing the Justice Department.
House GOP leadership has wholly condemned the federal indictment this week, while the Senate's response has been slightly more complicated.
Has America seen a similar situation before?
Flashback: Eugene V. Debs ran as a Socialist presidential candidate in 1920 from prison — probably the most relevant historical moment to the Trump situation, said Robert Spitzer, a professor at SUNY Cortland. (Debs lost but received more than 5 percent of the popular vote.)
Some candidates have run for lower elected positions with criminal charges.
"In history, you could probably find a scattering of cases of that sort," he said. "There aren't many."
Go deeper