Trump says he's been indicted in classified docs probe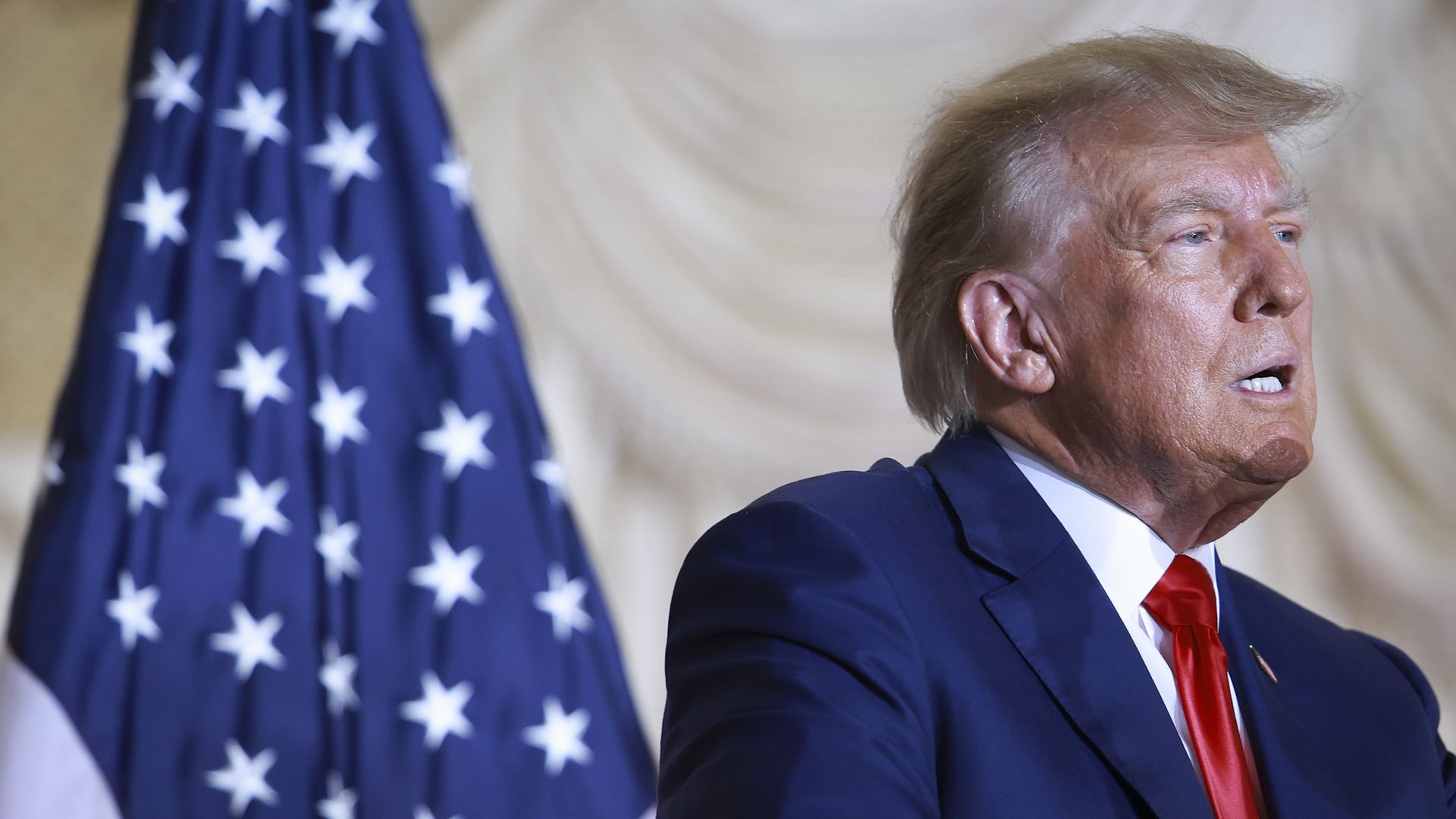 Former President Trump said Thursday that he was indicted in the criminal investigation into his handling of classified documents after leaving office.
Why it matters: It would be the first federal indictment of a former U.S. president. He is also the front-runner for the 2024 GOP presidential nomination.
Driving the news: Trump said on Truth Social that he has been summoned to appear at the federal courthouse in Miami on Tuesday. He told Fox News late Thursday he'd plead not guilty to the charges.
The Department of Justice declined to comment.
"The corrupt Biden Administration has informed my attorneys that I have been Indicted, seemingly over the Boxes Hoax," Trump wrote Thursday on Truth Social.
Of note: President Biden addressed the DOJ's investigation into Trump when questioned by a reporter on the matter at a Thursday news conference before his predecessor posted on social media that he's facing charges.
"I have never once, not one single time, suggested to the Justice Department what they should do or not do, relative to bringing a charge or not bringing a charge," Biden said.
Details: Trump attorney Jim Trusty said on CNN that his team received a summons to appear in court and possessed a summary sheet outlining seven charges.
He suggested they could include an Espionage Act charge, "several obstruction-based type charges" and false statement charges.
Trusty also said that he believes there is a conspiracy charge.
The big picture: Trump's post comes nearly one year after the FBI searched Trump's Mar-a-Lago residence and retrieved more than 100 classified documents.
The FBI searched Trump's Florida residence last August to probe whether classified national security materials were illegally taken there.
An unsealed affidavit related to the search warrant revealed that 14 of the 15 boxes retrieved from Mar-a-Lago by the National Archives and Record Administration contained 184 documents with classification markings.
Editor's note: This story has been updated with additional reporting and background. Axios' Rebecca Falconer, TuAnh Dam and April Rubin contributed to this report.
Trump is running for president again — and so are a bunch of other Republicans.
The big picture: The former president is currently leading in early polls in the crowded Republican field, which ballooned this week with three newcomers.
Contenders include former Vice President Mike Pence, Florida Gov. Ron DeSantis, South Carolina Sen. Tim Scott, former UN ambassador Nikki Haley and former New Jersey Gov. Chris Christie.
Read more about the 2024 presidential candidates.
Democrats are treating Trump's reported second indictment, this time by a federal grand jury, with even greater gravity than the first, Axios' Andrew Solender reports.
Why it matters: The Justice Department's reported charges, over Trump's alleged mishandling of classified documents, are widely seen as the most likely to ensnare the ex-president.
What they're saying: "This is more serious. The Feds, it's always very serious," Rep. Mike Quigley (D-Ill.), a former criminal defense attorney who served on the Intelligence Committee during Trump's first impeachment, told Axios.
Florida Gov. Ron DeSantis, a Trump 2024 rival, slammed the DOJ following news of the indictment, saying "the weaponization of federal law enforcement represents a mortal threat to a free society."
Driving the news: "We have for years witnessed an uneven application of the law depending upon political affiliation," DeSantis wrote in a tweet.
"The DeSantis administration will bring accountability to the DOJ, excise political bias and end weaponization once and for all."
Trump pleaded not guilty in April to 34 counts of falsifying business records in a Manhattan criminal court related to hush money payments during his 2016 presidential campaign.
State of play: The case is scheduled to go to trial in March 2024, when Trump is likely to be in the middle of the Republican presidential primary.
Prosecutors allege that Trump conducted a "catch and kill" scheme including the $130,000 payment to adult film actress Stormy Daniels.
Catch up quick: The case comes more than four years after ex-Trump lawyer Michael Cohen was convicted and sentenced to three years in prison on federal charges in part related to the hush money payment to Daniels. Cohen has been a witness against the former president.
House Speaker Kevin McCarthy (R-Ca.), long one of Trump's staunchest allies, in a tweet Thursday said he stands with the former president. He vowed to "hold this brazen weaponization of power accountable."
McCarthy's tweet contained multiple unverifiable claims, including that President Biden was behind the indictment and that he "kept classified documents for decades."
Why it matters: Trump's and McCarthy's relationship has seen wrinkles over the years.
Trump said their relationship remained undamaged last year after released audio showing McCarthy saying he planned to urge the former president to resign following the Jan. 6 insurrection.
Context: McCarthy in January had Trump's support during a historically prolonged fight to secure the gavel. Right-wing House members held out for days and leveraged their key votes to demand concessions.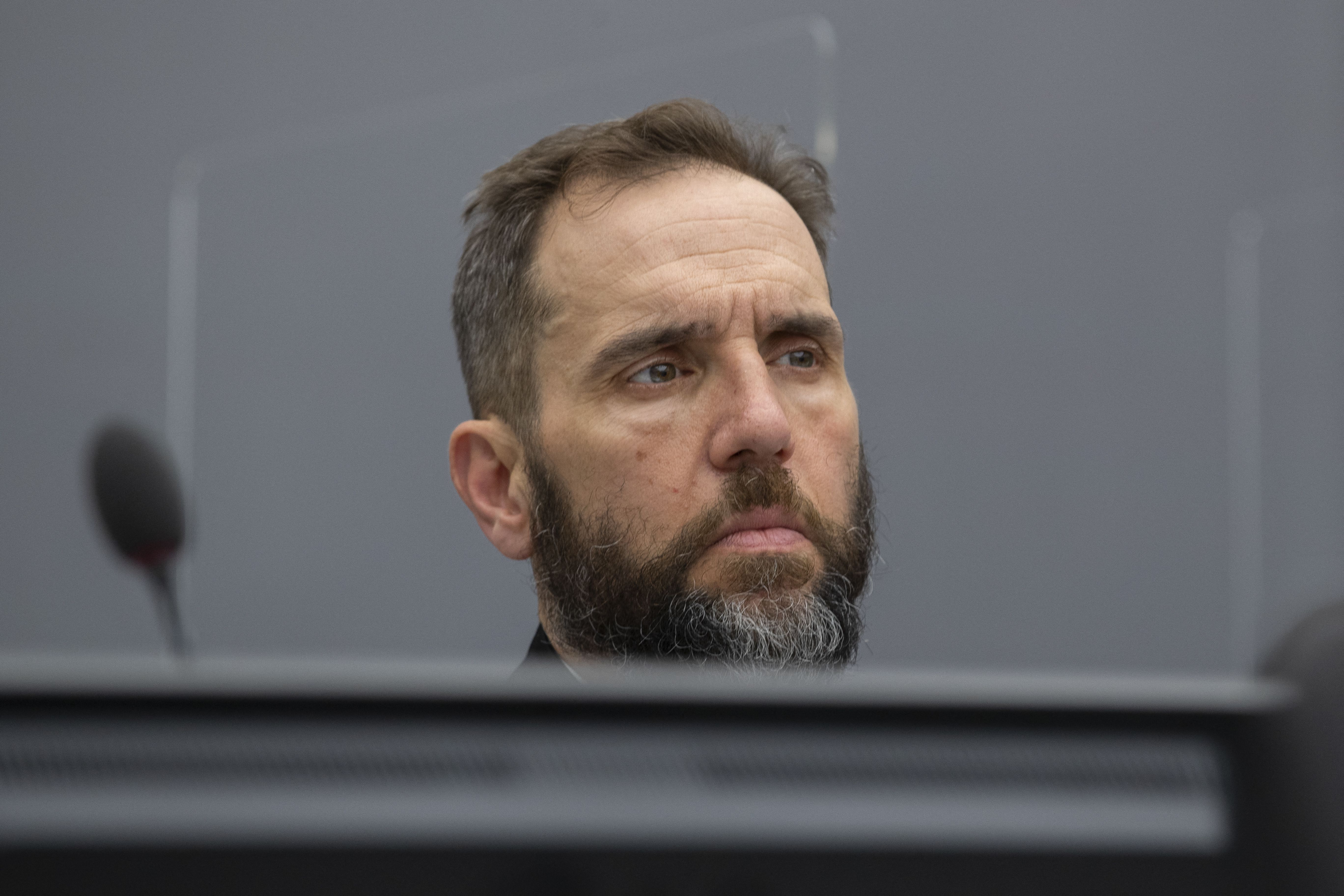 Jack Smith was tapped by AG Merrick Garland last November to oversee federal investigations into Trump.
Smith was formerly a chief prosecutor at The Hague, where he investigated war crimes in Kosovo.
"The pace of the investigations will not pause or flag under my watch," Smith said in a statement following his appointment. "I will exercise independent judgment and will move the investigations forward expeditiously and thoroughly to whatever outcome the facts and the law dictate."
Of note: Garland appointed Smith as special counsel to avoid the perception of a conflict of interest after Trump declared his 2024 candidacy.
Since then, Trump and his allies have made disparaging comments about Smith and the investigations.
A number of key witnesses were brought in front of the grand jury investigating the probe into his handling of classified documents, including Trump lawyer Evan Corcoran.
Smith reportedly conducted interviews with nearly every employee at Trump's Mar-a-Lago home in Palm Beach, Florida, to conduct his investigation.
Read more about the mood following Smith's appointment and what he knew as of late May, from Axios' Zach Basu.
Biden is under a different special counsel investigation over the discovery of classified documents from his time as vice president. Key known differences distinguish the two cases:
The number and classification of documents
Actions after the documents were discovered
Presidents' responses to the document discovery
General treatment of documents
Meanwhile, the Department of Justice last week informed former Vice President Mike Pence's legal team that it was closing the investigation into the discovery of classified documents at his Indiana residence and that he would not be charged.
Go deeper: How Biden and Trump's classified doc discoveries have differed
Trump drew on a familiar playbook in the email some 20 minutes after the indictment announcement, writing: "Biden-appointed Special Counsel has INDICTED me in yet another witch hunt."
The 2024 Republican presidential front-runner complained that the "Deep State" was trying to "take us down" as he appealed for donations.
Flashback: Trump raised millions of dollars in April after launching a fundraiser off the back of the Manhattan indictment over an illegal hush money payment.
Trump allies including Reps. Jim Jordan (R-Ohio), Elise Stefanik (R-N.Y.) and Matt Gaetz (R-Fla.) slammed the indictment on Thursday night.
Jordan said it was a "sad day" for the country, while Stefanik called it "the epitome of the illegal and unprecedented weaponization of the federal government" against the former president. Gaetz echoed Trump, calling it a "phony Boxes Hoax indictment."
All three sit on the GOP-created panel designed to probe "weaponization" of federal agencies
Iowa GOP Sen. Chuck Grassley also tweeted casting doubt on federal law enforcement agencies.
The Washington Post reported this spring that investigators had zeroed in on whether Trump personally inspected some of the boxes with classified material after receiving a grand jury subpoena requiring that they be returned.
Former Attorney General Bill Barr, once one of Trump's closest loyalists, told Fox News in April that he thinks "the document case is the most serious case."
"What's at issue in that case is not the taking of the documents. It's what he did after the government sought them and subpoenaed them, and whether there was any obstruction," Barr said.
Former President Trump released a four-minute video Thursday evening asserting his innocence after announcing that he's been indicted.
What he's saying: "I'm an innocent man, I did nothing wrong," Trump said in the video on Truth Social. "And we will fight this out just like we've been fighting for seven years."
The DOJ's classified documents probe is just one of several known probes surrounding Trump as he pursues a second presidential campaign. Other probes into Trump focus on:
A 2016 hush money payment to conceal an alleged affair with porn star Stormy Daniels
His efforts to subvert the 2020 election results
Business fraud
The big picture: Trump earlier this year became the first U.S. president to ever face criminal charges when he was indicted by a Manhattan grand jury in the hush money case.
Read more about the known criminal investigations of Trump.
Go deeper