Trump's bigger legal danger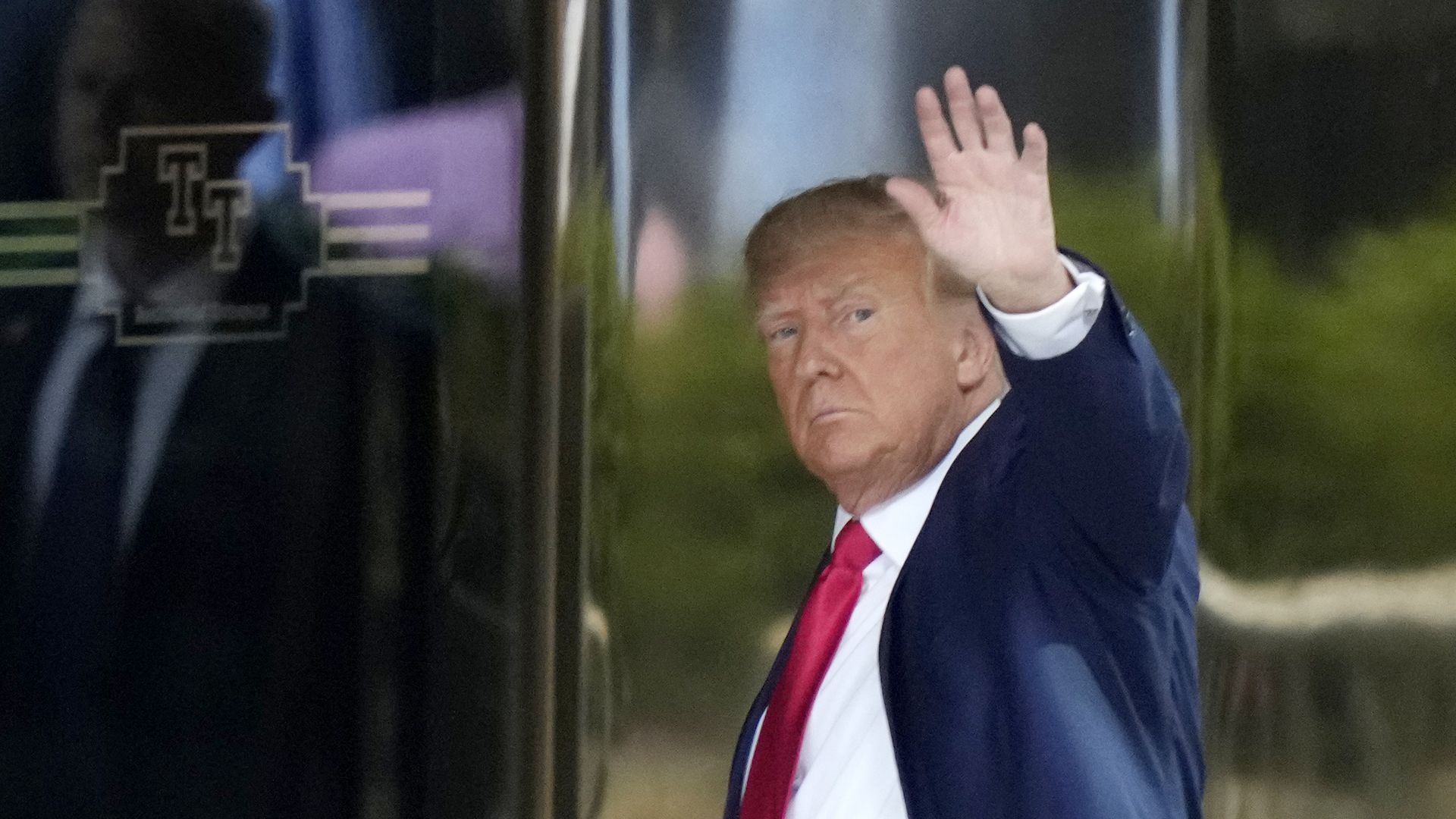 Democrats, Trump insiders and legal experts all agree: The investigation into former President Trump's handling of classified documents poses a far more dangerous threat to his freedom than the indictment in New York.
Why it matters: A year from now, Trump may look back with envy at the sordid hush money case that brought him to Tuesday's historic arraignment — the first for a former president, but potentially not the last.
Driving the news: The intensifying classified documents probe, led by special counsel Jack Smith, has uncovered significant new evidence that Trump may have obstructed justice as the government attempted to retrieve top-secret records from Mar-a-Lago, the Washington Post reports.
Investigators suspect that Trump personally examined some of the boxes containing classified material — apparently out of a desire to keep certain documents — after receiving a grand jury subpoena demanding they be returned.
Trump's valet testified that the former president then ordered him to move the boxes — an account corroborated by surveillance footage.
Between the lines: Unlike the Manhattan district attorney's prosecution, which focuses on a payment from 2016 and has triggered disputes over jurisdiction, the potential crimes Smith is investigating are recent and unambiguous.
Proving intent is a key challenge in prosecuting obstruction. But investigators have evidence — including texts and emails from Trump's former personal assistant — that Trump ignored requests from multiple advisers to return the documents for over a year.
They also have evidence that Trump asked his lawyers to release false statements claiming he had returned the documents, and that multiple advisers warned Trump that holding on to them could be illegal.
What they're saying: Former Attorney General Bill Barr, who has called the Manhattan DA's case "pathetically weak," sounded the alarm on Sunday over the legitimate danger Trump is facing in the classified documents probe.
"I think the document case is the most serious case," Barr told Fox News. "I don't think they went after those documents to get Trump. I think they actually wanted the documents back."
"What's at issue in that case is not the taking of the documents. It's what he did after the government sought them and subpoenaed them, and whether there was any obstruction."
Remember: Former special counsel Robert Mueller found 10 instances of potential obstruction during the Russia investigation — but declined to make a judgment due to the Justice Department policy that prevents a sitting president from being indicted.
The big picture: A parade of key witnesses have already been hauled in front of the grand jury investigating the Mar-a-Lago case, including Trump's lawyer, Evan Corcoran.
A federal judge found that Trump likely used Corcoran in furtherance of a crime, triggering a rare exception to attorney-client privilege that could provide investigators with critical insight.
Several Secret Service agents connected to Trump are expected to testify before the grand jury this week, Fox News reports.
The bottom line: Trump has benefitted from the Manhattan indictment being the first to drop, given that most Americans see it as at least somewhat political. But the former president's legal luck is likely run out if he's forced to head south to D.C. or Georgia.
Go deeper