Trump indictment amplifies split between House and Senate GOP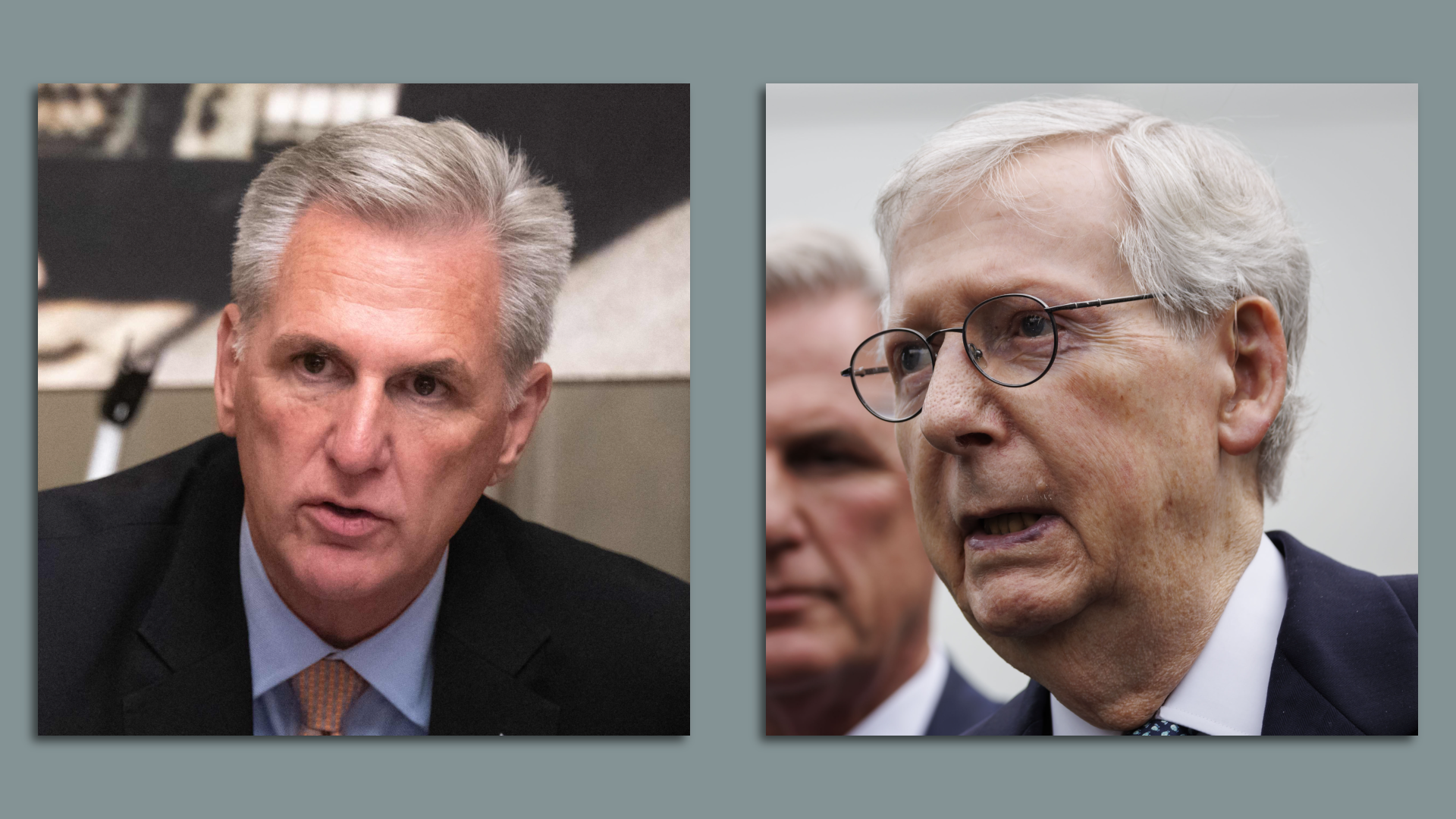 The reported federal indictment of former President Trump is once again casting a light on the gulf between House and Senate Republicans, with GOP senators proving far more willing to break with the ex-president.
Zoom in: Some senators are even praising the Justice Department or seizing on the indictment to boost Trump's primary opponents.
Sen. Mike Rounds (R-S.D.), who has endorsed Sen. Tim Scott (R-S.C.), told Axios: "With Tim, I don't think you'll have those types of discussions."
Sen. Mitt Romney (R-Utah), one of the party's most vocal Trump critics, said in a statement the Justice Department appears to have exercised "due care" in charging Trump.
Driving the news: While House GOP leadership has condemned the indictment across the board, Senate Minority Leader Mitch McConnell (R-Ky.) and Minority Whip John Thune (R-S.D.) have both stayed silent as of Friday afternoon.
House Speaker Kevin McCarthy (R-Calif.) went as far as to threaten congressional action, tweeting: "House Republicans will hold this brazen weaponization of power accountable."
Sen. John Barrasso (R-Wyo.), the chair of the Senate Republican Conference, said in a statement the indictment "looks like an unequal application of justice," adding, "It feels political, and it's rotten."
Trump has reportedly been summoned to the federal courthouse in Miami on Tuesday, but as of Friday morning, no indictment has been released for people to read.
The intrigue: Romney criticized Manhattan District Attorney Alvin Bragg in April, saying he "stretched to reach felony criminal charges in order to fit a political agenda" in going after the ex-president's alleged hush money payments
But on the DOJ's classified documents case, Romney said, "Mr. Trump brought these charges upon himself by not only taking classified documents, but by refusing to simply return them when given numerous opportunities to do so."
The Utahn also drew a connection to his votes to convict Trump in his two Senate impeachment trials, saying the DOJ's allegations are "consistent with his other actions offensive to the national interest."
The backdrop: When House Republicans launched an investigation into Bragg's probe earlier this year, their Senate counterparts expressed some hesitancy about the heavy-handed intervention.
"I'd personally prefer to see them work on their agenda that they ran on and got them a majority," Sen. John Cornyn (R-Texas) said in March.
Between the lines: Unlike McCarthy, who has hitched his political fortunes to Trump, McConnell and the ex-president share a notorious animosity towards one another. Thune has gone so far as to endorse Scott over Trump.
Thune told CNN on Thursday there is an "exhaustion factor" with Trump. "Always a lot of drama around the former president."
"No surprises," Rounds said of the indictment.
The big picture: The House-Senate divide among Republicans has policy implications beyond attitudes towards the ex-president.
Go deeper