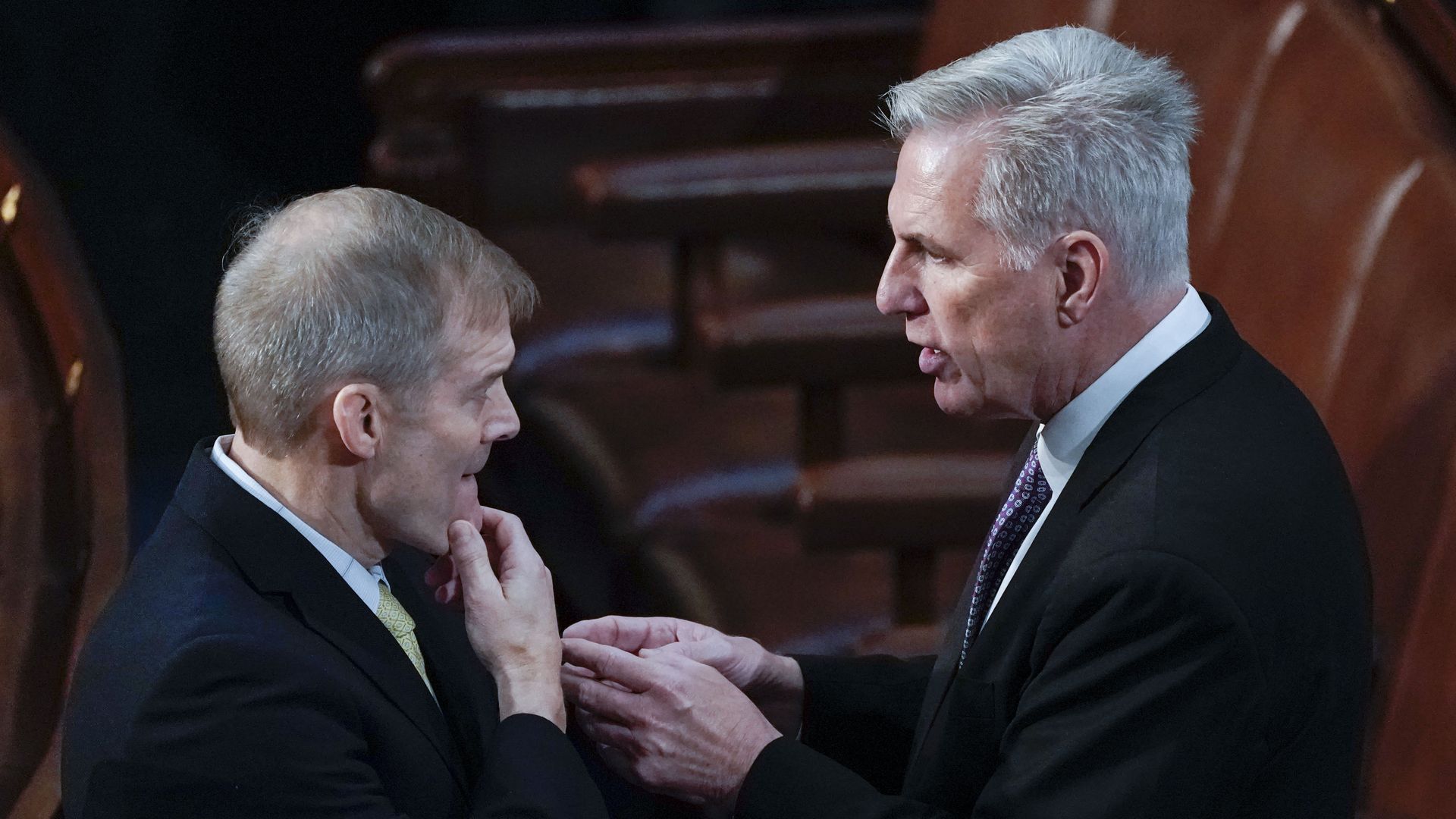 The threat of cuts to U.S. defense spending has emerged as a flashpoint in House Republicans' first week in the majority, widening the GOP's isolationist fault line and exposing the fragility of Kevin McCarthy's young speakership.
Why it matters: The implications of McCarthy's budget concessions are global, stretching far beyond the personal and process arguments that dominated his quest for the gavel.
What's happening: Conservative rebels extracted an agreement during the speaker fight to cap 2024 discretionary spending at fiscal year 2022 levels. Unless the Pentagon is exempted, that could result in a potential $75 billion drop in defense spending, according to Bloomberg.
Rep. Jim Jordan (R-Ohio), a McCarthy ally backed by the Freedom Caucus, confirmed as much when asked about military spending on "Fox News Sunday": "We got a $32 trillion debt. Everything has to be on the table."
That comment drew a bristling op-ed from the conservative-leaning Wall Street Journal editorial board, which wrote: "The reality is that if defense is cut, what will go first is spending for operations and maintenance to sustain military readiness, as well as money for the weapons to deter China."
What to watch: Rep. Tony Gonzales (R-Texas), a Navy veteran, called the potential defense cuts "a horrible idea" and vowed to vote against the House rules package Monday night.
The House GOP has no shortage of defense hawks who feel the same way, including the chairs of the Armed Services and Foreign Affairs committees.
With only four votes cushioning the Republicans' majority, the consequences of McCarthy's desperate deal-making are already being felt at a granular level.
"Any five Republicans can pretty much kill anything these days, and that's a double-edged sword," Rep. Mario Díaz-Balart (R-Fla.) told Axios' Andrew Solender, adding that defense cuts would make any appropriations bill a non-starter.
The intrigue: Eager to capitalize on the GOP's internal strife, the White House press office blasted out the WSJ op-ed and a statement that called defense cuts "senseless and out of line with our national security needs."
Rep. Abigail Spanberger (D-Va.), one of several rising Democratic stars with a national security background, expressed similar views.
It's part of an accelerating realignment in which former Rep. Liz Cheney (R-Wyo.) — once the epitome of an establishment Republican — appears to have more in common with Democrats than some in the GOP conference she once chaired.
Even in the Senate, several newly elected Republicans — like Ohio's J.D. Vance, Oklahoma's Markwayne Mullin and North Carolina's Ted Budd — are seen as less stalwart internationalists than many of their colleagues.
The other side: Reps. Chip Roy (R-Texas) and Andy Harris (R-Md.), two former McCarthy holdouts, vehemently denied on Monday that defense cuts were part of the deal that they negotiated.
Instead, the Republicans insisted the cuts would target the "woke" federal bureaucracy and other non-defense spending.
Democrats will keep a watchful eye out for any sign of entitlements heading for the chopping block. "They are going to try to cut Social Security and Medicare. It could not be clearer," White House chief of staff Ron Klain tweeted.
Go deeper