Full list: When Trump's 18 co-defendants surrendered in Georgia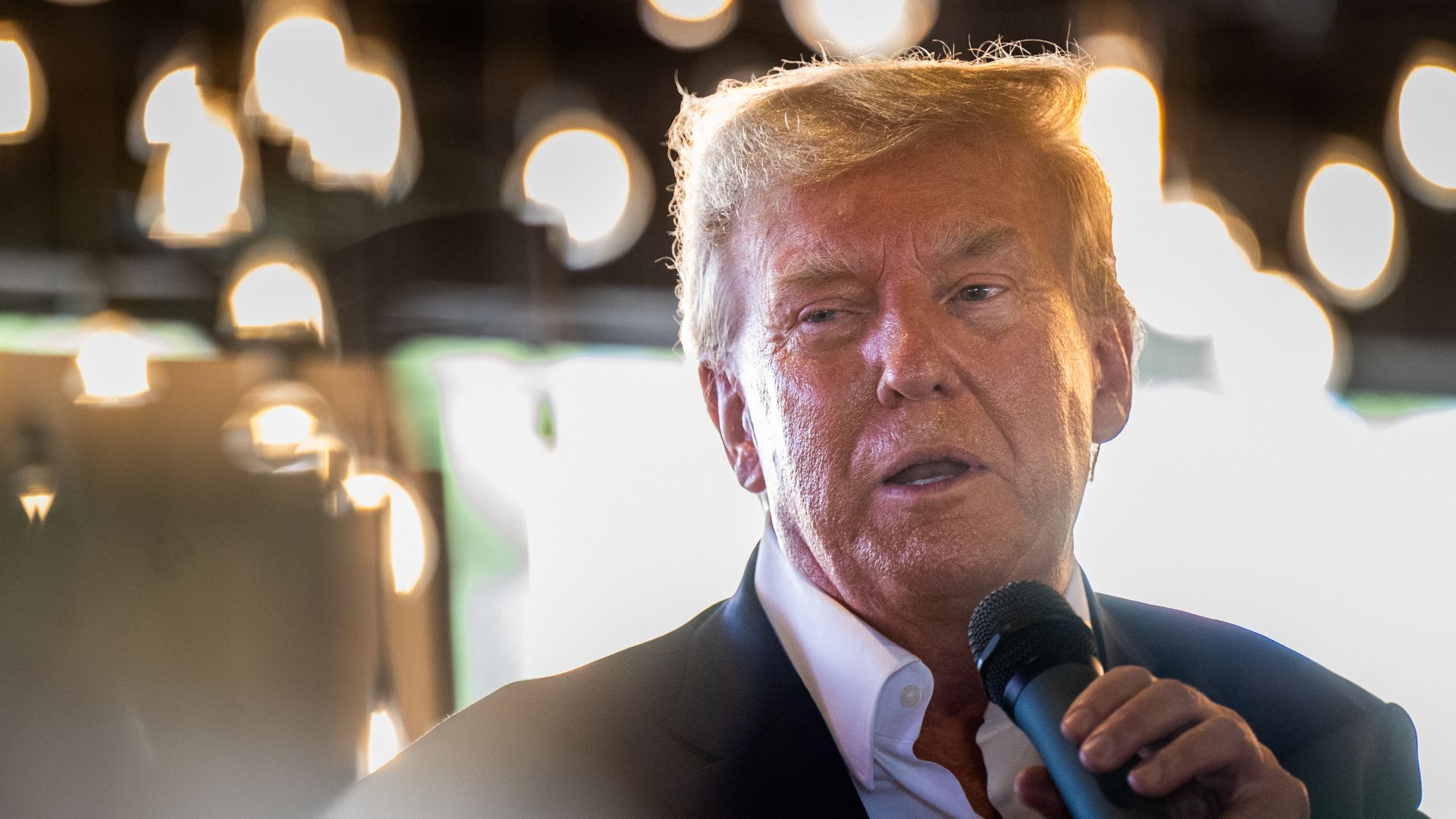 All of former President Donald Trump's 18 co-defendants in the Georgia election interference case surrendered to authorities before Friday's noon deadline, capping a dayslong parade of high-profile figures through a notorious Atlanta jail.
Why it matters: Defendants in the case faced an Aug. 25 deadline to turn themselves in to the Fulton County jail for their alleged efforts to overturn the state's 2020 election results.
The big names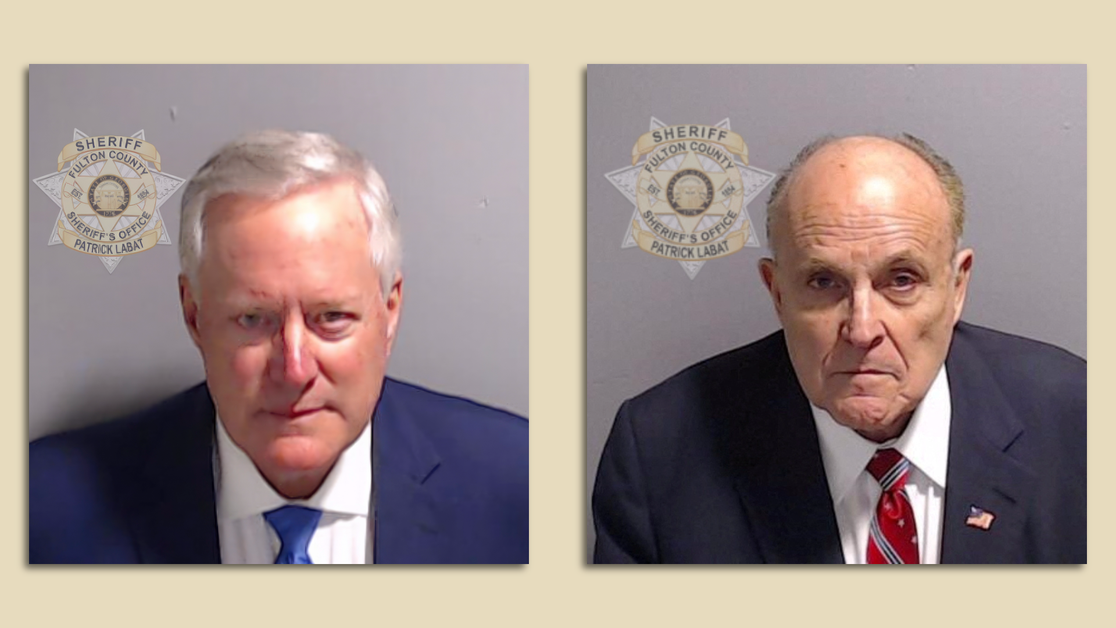 Mark Meadows: The former White House chief of staff and member of Congress surrendered to authorities at the Fulton County jail on Thursday.
Meadows faces two charges for allegedly violating Georgia's racketeering law (or RICO) and soliciting the violation of oath by a public officer.
Rudy Giuliani: The former New York City mayor and Trump lawyer turned himself in at the Fulton County jail on Wednesday.
Giuliani, who helped spread false claims about the 2020 election and was involved in efforts to install fake electors, faces 13 charges in the case.
Sidney Powell: The ex-lawyer for the Trump campaign also surrendered to authorities on Wednesday. She is facing seven charges in the Georgia case.
Jenna Ellis: Another former Trump campaign attorney, Ellis turned herself in at the Fulton County jail on Wednesday as well.
Ellis authored memos claiming Pence had the authority to block Biden's 2020 victory when Congress met to certify the results on Jan. 6, 2021.
She's charged with racketeering and asking a public official to violate an oath as part of an effort to convince Georgia officials to appoint new electors for Trump.
Jeffrey Clark: A former Department of Justice official who supported Trump's efforts to overturn the 2020 election, Clark turned himself in to authorities on Friday.
Clark is charged with violating Georgia's RICO law and conspiracy to commit false statements and writings.
John Eastman: The former Trump lawyer — who championed the legal theory that Trump used to pressure then-Vice President Mike Pence to overturn the election results — turned himself in on Tuesday.
"My legal team and I will vigorously contest every count of the indictment in which I am named," Eastman said in a statement.
Kenneth Chesebro: Chesebro, an attorney who advised the Trump campaign, turned himself in at the Fulton County jail on Wednesday.
Chesebro is credited with being the first lawyer to suggest that Trump could use slates of fake electors to sow doubt in Congress on Jan. 6.
The Georgia officials
David Shafer: The former chairman of the Georgia Republican Party, who was one of Trump's fake electors in Georgia, turned himself in early Wednesday morning.
Cathy Latham: Latham, the former chair of the Coffee County Republican Party and another fake GOP elector, also surrendered Wednesday.
Misty Hampton: The former Coffee County elections director turned herself in on Friday.
Hampton was allegedly involved in the scheme to grant Trump supporters unauthorized access to election equipment in Coffee County.
Shawn Still: A current Georgia state senator, Still surrendered to authorities on Friday as well.
Still was one of the 16 fake electors in Georgia who signed a certificate falsely declaring that Trump had won the state.
The lesser-known figures
Scott Hall: Prosecutors have accused Hall, a bail bondsman who was the first defendant to surrender Tuesday, of participating in a scheme to illegally breach election equipment in Coffee County, Ga.
Hall is facing several charges, including conspiracy to commit election fraud, conspiracy to commit computer invasion of privacy, and conspiracy to defraud the state.
Ray Smith: The Georgia-based lawyer who represented Trump in post-election challenges in the state surrendered to authorities on Wednesday.
Smith, who gathered witnesses to testify in hearings before Georgia lawmakers in Dec. 2020 about alleged problems with the state's election, faces 12 charges in the case.
Harrison Floyd: The head of Black Voices for Trump, Floyd surrendered to authorities on Thursday.
Alongside other co-defendants, Floyd was allegedly involved in efforts to intimidate Georgia election worker Ruby Freeman and made several attempts to contact her.
Robert Cheeley: The Georgia-based lawyer is the only defendant facing a charge of perjury, and turned himself in early Friday morning.
At a hearing before Georgia legislators in Dec. 2020, Cheeley presented video clips of election workers and alleged they were double- and triple-counting votes.
Michael Roman: Roman, a former Trump campaign aide, also turned himself in at the Fulton County jail Friday.
Roman played a key role in facilitating the work of pro-Trump fake electors.
Trevian Kutti: Kutti allegedly took part in the effort to intimidate election worker Freeman, along with Floyd. He surrendered to authorities Friday morning.
Kutti allegedly pressured Freeman to falsely confess to election fraud.
Stephen Lee: An Illinois pastor who was also allegedly involved in the effort to intimidate Freeman, Lee was the last defendant to surrender to authorities ahead of the deadline Friday.
Lee is facing five counts, including two counts of criminal attempt to commit influencing witnesses.
When Trump surrendered
State of play: Fulton County Superior Court judge Scott McAfee, who is overseeing the case, signed off on bond agreements for Trump and some of his co-defendants on Monday.
Go deeper: Why Georgia's case against Trump could be so damaging
Editor's note: This story has been updated with additional details throughout.
Go deeper