Pence says Trump's lawyers asked him to "reject votes outright"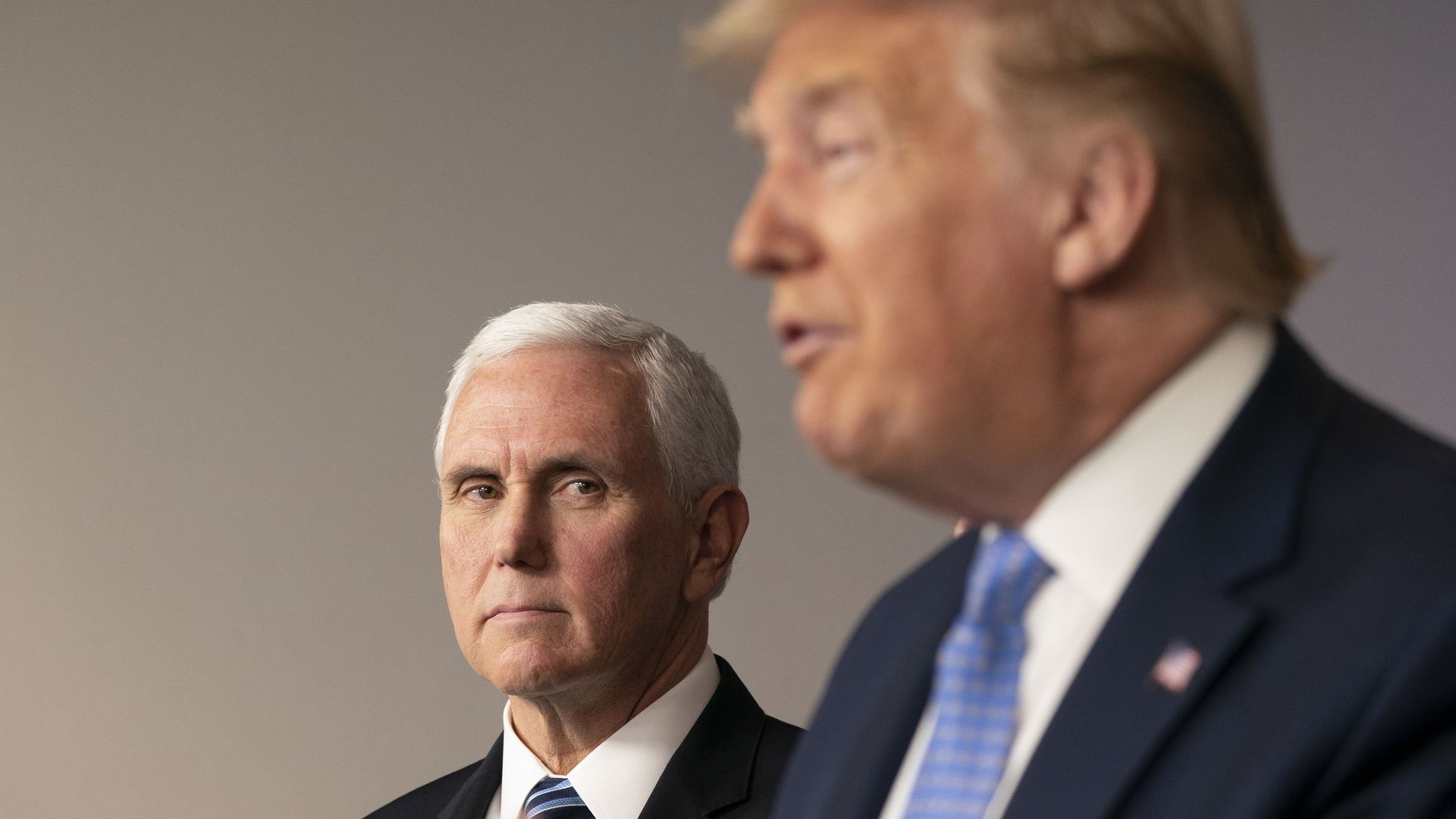 Mike Pence will be one of Donald Trump's "best witnesses" and the former president will be "acquitted" if he testifies at the Jan. 6 criminal trial, a Trump attorney told ABC News Sunday.
The big picture: The former Trump administration vice president is considered a key witness on allegations that Trump tried to overturn the 2020 presidential election results and pressured to stop Pence from carrying out his congressional role of certifying President Biden's win.
Pence told CBS News Sunday he has "no plans to testify" in the case, but he will "obey the law" and "respond to the call of the law, if it comes."
He confirmed that he sometimes took notes, "particularly at important moments" — including during events related to the Jan. 6 investigation, "given the momentous events that were unfolding," to remind himself of "what had been said."
What they're saying: Trump's lawyer John Lauro told ABC's "This Week" that he "cannot wait" to cross-examine Pence because "what he will do is completely eliminate any doubt that Mr. Trump, President Trump firmly believed that the election irregularities had led to inappropriate results."
Lauro said on CBS' "Face The Nation" the "ultimate ask of Vice President Pence was to pause the counts and allow the states to weigh in."
He told CNN's "State of the Union" that Trump didn't direct Pence "to do anything" that could be considered criminal. "He asked him in an aspirational way," Lauro said. "Asking is not action. It's core free speech."
Meanwhile, Pence told CNN's "State of the Union" Sunday that Trump's lawyers said on Jan. 5, 2021, the day before the U.S. Capitol riot: "We want you to reject votes outright.'"
"They were asking me to overturn the election. I had no right to overturn the election," added Pence, who is challenging front-runner Trump for the 2024 Republican presidential nomination.
"I don't know what was in his heart, I don't know what his intentions were, but I do know what he and his lawyers asked me to do. And it's what no vice president in American history had ever done before, and frankly what no vice president or any one person in Washington should ever do again."
— Former Vice President Mike Pence on CNN.
Zoom out: Trump last week pleaded not guilty to all four charges in the Jan. 6 case, including to "conspiracy to defraud" the U.S.
Between the lines: The indictment acknowledges that Trump can "speak publicly about the election and even to claim, falsely, that there had been outcome-determinative fraud during the election and that he had won."
What we're watching: Trump said in a post on his Truth Social platform that his legal team would ask for the recusal of D.C. District Judge Tanya Chutkan, who's overseeing the Jan. 6 case, and for the venue to be changed from D.C. because he said there's "no way" he could get a fair trial.
More from Axios...
Editor's note: This article has been updated with new details throughout.
Go deeper