Trump "disregarded the truth" of 2020 vote, indictment says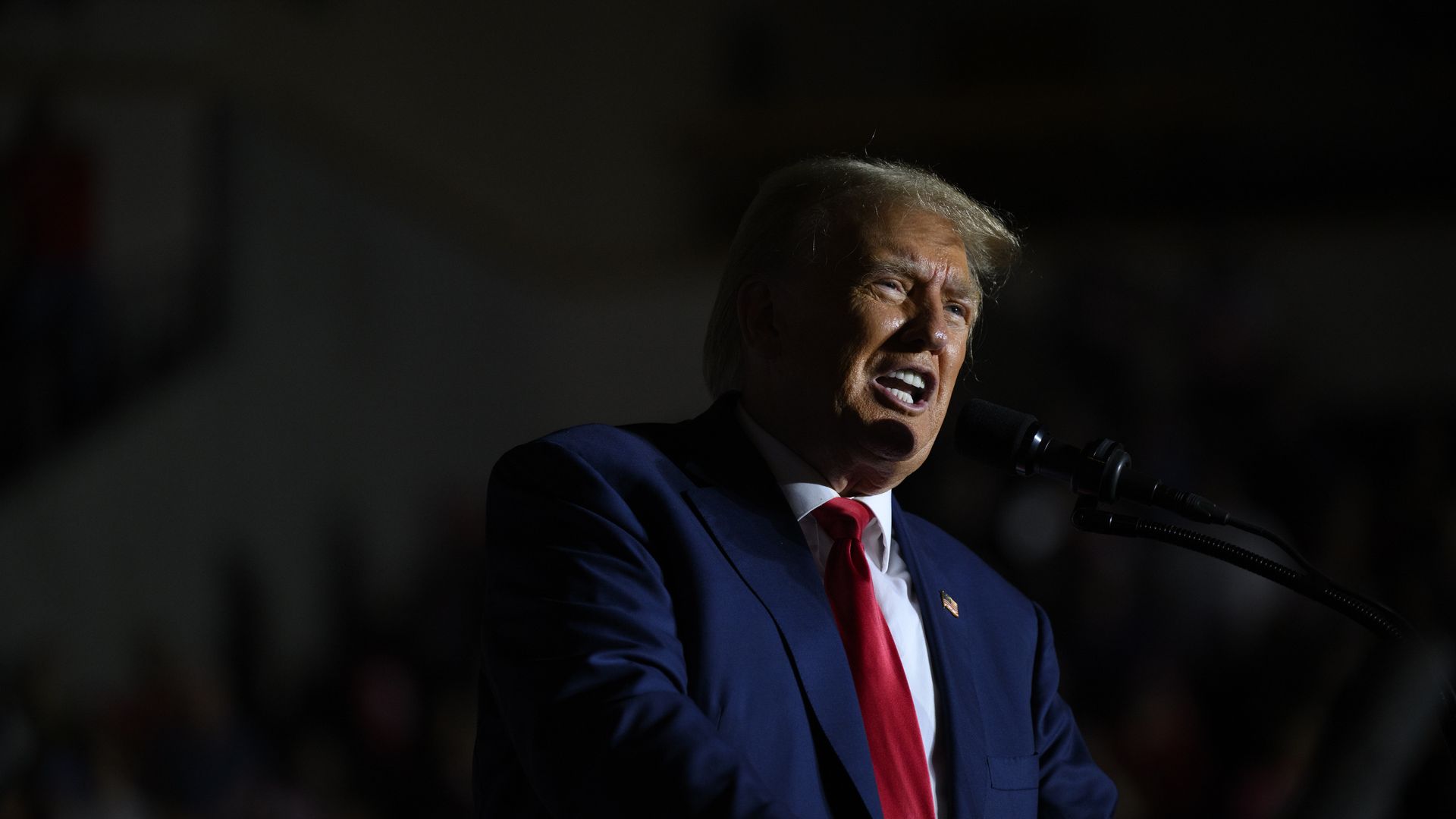 More than a dozen officials in former President Trump's inner circle and beyond repeatedly told him that his claims the 2020 election were false — but he continued to carry out his conspiracy to reverse the election, according to Tuesday's 45-page indictment.
Why it matters: Proving that Trump pushed theories of voter fraud that he knew were false will be key to prosecutors' efforts to convict Trump on three conspiracy counts and an obstruction of justice charge related to the Jan. 6 plot.
"These claims were false, and the Defendant knew that they were false," the indictment states.
"In fact, [Trump] was notified repeatedly that his claims were untrue... and he deliberately disregarded the truth."
Zoom in: The indictment details many conversations Trump had with people in his administration, his campaign and state governments who told him that his and his lawyers' claims of election fraud weren't supported by evidence. They included:
Former Vice President Mike Pence, whose notes of conversations involving him and Trump are recounted in detail, repeatedly told Trump that he'd seen "no evidence of outcome-determinative fraud," the indictment says.
Justice Department leaders appointed by Trump — including Attorney General Bill Barr — "told [Trump] on multiple occasions that various allegations of fraud were unsupported," according to the indictment.
John Ratcliffe, Trump's director of national intelligence, told Trump there was no indication of foreign interference that would change the election's outcome, as Trump and his allies were claiming.
Chris Krebs, head of the Cybersecurity and Infrastructure Security Agency (CISA), tried to knock down rumors of voter fraud by declaring that the 2020 election was "the most secure in American history." Trump responded by firing him.
Trump's own senior attorneys in the White House "told him that his presidency would end on Inauguration Day in 2021," the indictment says.
Several Trump campaign staffers are described as telling Trump that the election was legitimate, but were rebuffed.
As Trump's lawyers continued to contest the ballot-counting process in Atlanta a month after the election, a senior campaign adviser wrote in an email: "When our research and campaign team can't back up any of the claims made by out Elite Strike Force Legal Team, you can see why we're 0-32 on our (court) cases. ... It's tough to own any of this when it's all just conspiracy sh*t beamed down from the mothership."
Trump allies in state government also denied the then-president and his associates' claims of election fraud — and pressure to act on those claims — in the weeks between the election and inauguration day.
Then-Arizona House Speaker Rusty Bowers, who supported Trump, told the former president over the phone that suggesting that he replace Biden electors with Trump electors was "beyond anything he had ever heard or thought of as something within his authority," the indictment states.
Then-Michigan Senate Majority Leader Mike Shirkey told Trump in the Oval Office on Nov. 20, 2020, that he had lost the state "not because of fraud" but because of underperformance with certain populations, the filing alleges.
Georgia Attorney General Chris Carr also told Trump over the phone that investigators had found no evidence for the claims of election fraud in the state.
Georgia' Secretary of State Brad Raffensperger also corrected Trump's claims of election fraud during a call on Jan. 2, 2021.
What they're saying: "The attack on our nation's Capitol on January 6, 2021, was an unprecedented assault on the seat of American democracy," special counsel Jack Smith said in a press conference Tuesday evening.
"It was fueled by lies — lies by the defendant targeted at obstructing a bedrock function of the U.S. government," he added.
Trump's campaign responded by saying on social media that the prosecution of him was "reminiscent of Nazi Germany in the 1930s," a statement that drew criticism from the Anti-Defamation League and others.
Before the indictment was announced, Trump — who has a big lead in GOP primary polls for 2024 — called the indictment "fake charges" and said Smith's actions were politically motivated.
More from Axios:
Go deeper