Trump indictment details aggressive lawmaker outreach on Jan. 6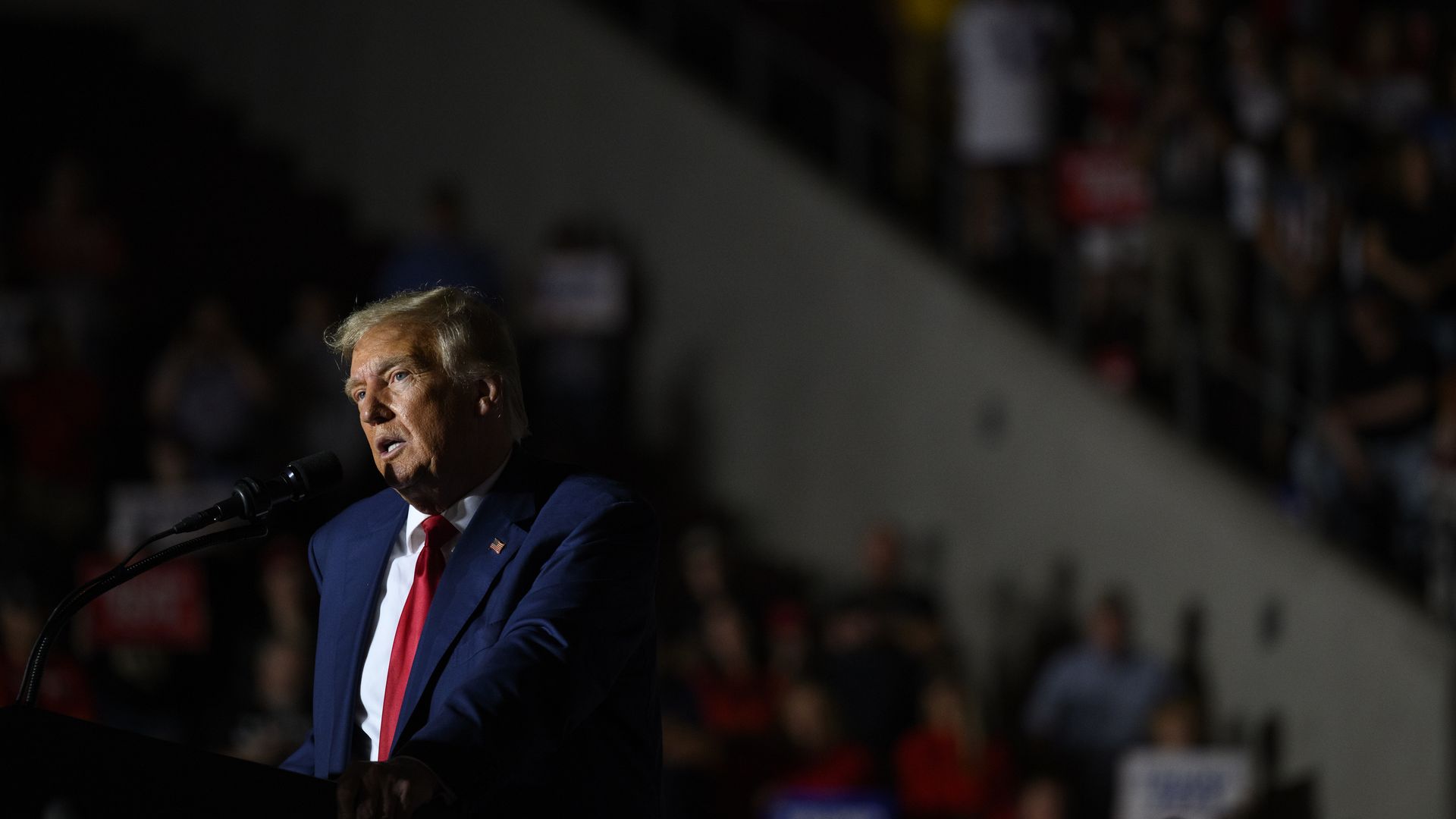 The 45-page federal indictment charging former President Trump over his efforts to overturn the 2020 election details the ex-president's communications with members of Congress during and after the Jan. 6 riot.
Why it matters: It illustrates how the Trump team plowed ahead with its attempts to press lawmakers to decertify the election despite the scenes of violence that played out in the backdrop.
Trump is being charged with conspiracy to defraud the U.S., conspiracy to obstruct an official proceeding, obstruction of and attempt to obstruct an official proceeding and conspiracy to deprive people of their civil rights.
The indictment continually references instances in which Trump was informed his claims of election fraud were false.
Zoom in: Between 6:00 p.m. and 7:18 p.m. on Jan. 6, Trump and co-conspirator 1 — who from public reporting and the Jan. 6 report appears to be Trump lawyer Rudy Giuliani — made at least seven calls to senators and one call to a House member.
None of the six alleged co-conspirators were charged in the indictment.
Co-conspirator 6, identified in the indictment as a political consultant, allegedly tried to confirm the phone numbers of six senators after Trump directed co-conspirator 1 to "call and attempt to enlist in further delaying the certification."
In one voicemail for a senator, co-conspirator 1 said, "We need you, our Republican friends, to try to just slow it down[.]"
What they're saying: Trump and co-conspirator 1 "attempted to exploit the violence and chaos at the Capitol by calling lawmakers to convince them, based on knowingly false claims of election fraud, to delay the certification," the indictment says.
While co-conspirator 1 was calling senators on Trump's behalf, the indictment says, the White House counsel called Trump to "ask him to withdraw any objections and allow the certification," but Trump "refused."
Between the lines: The Jan. 6 select committee's final report said Giuliani placed calls that evening to Sens. Marsha Blackburn (R-Tenn.), Mike Lee (R-Utah), Bill Hagerty (R-Tenn.), Lindsey Graham (R-S.C.), Josh Hawley (R-Mo.), Ted Cruz (R-Texas) and Dan Sullivan (R-Alaska), as well as Rep. Jim Jordan (R-Ohio).
Hawley, Cruz and Jordan all later voted to decertify Pennsylvania's and Arizona's presidential electors.
Zoom in: The indictment also references a call between Trump and House Speaker Kevin McCarthy (R-Calif.), then the House minority leader, as the violence was unfolding on Jan. 6.
Trump, according to the indictment, "told the Minority Leader that the crowd at the Capitol was more upset than the Minority Leader was."
Rep. Jaime Herrera Beutler's (R-Wash.) statements about the call in February, 2021 briefly ground the Senate impeachment trial against Trump to a halt as senators considered whether to call witnesses.
Go deeper