GOP 2024 rivals and Buttigieg slam DeSantis video targeting LGBTQ rights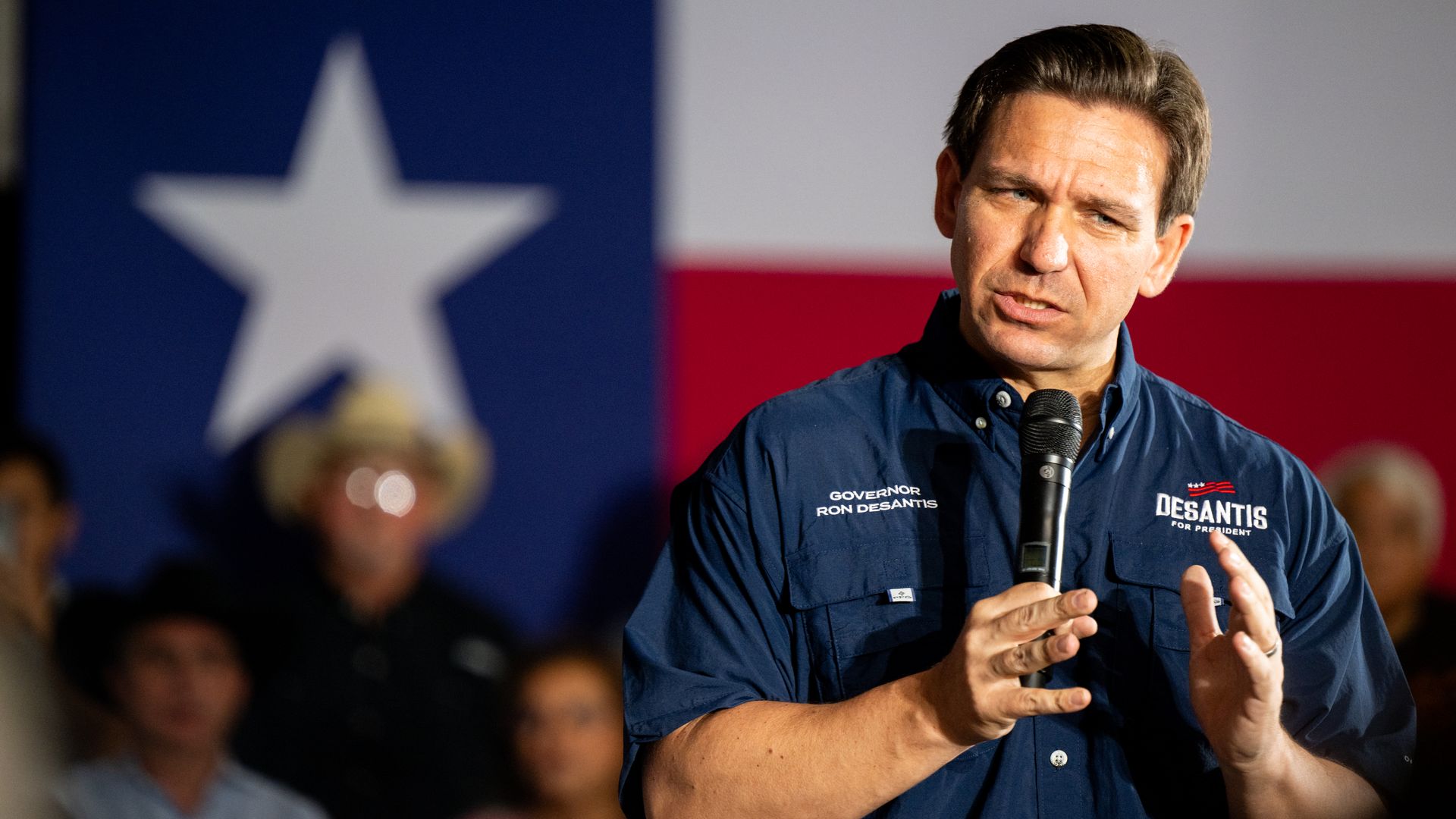 Florida Gov. Ron DeSantis was criticized Sunday by two rival Republican presidential candidates and Transportation Secretary Pete Buttigieg for a video taking aim at former President Trump's previous support for the LGBTQ community.
Driving the news: The DeSantis War Room Twitter account released a video marking the end of Pride Month Friday featuring footage of Trump at the 2016 Republican National Convention pledging to protect LGBTQ citizens in the wake of the mass shooting at Pulse nightclub in Orlando, Florida.
The video that's been denounced by a prominent LGBTQ Republican group as "homophobic" features support expressed by Trump, who's pledged to roll back transgender rights if elected in 2024, for trans Americans.
It then moves on to headlines underscoring LGBTQ rights restrictions DeSantis signed into law, spliced with images of the governor and shirtless muscular men.
What they're saying: Buttigieg, the first openly gay man to be confirmed as a Cabinet member, addressed the video during an appearance on CNN Sunday.
"I'm going to leave aside the strangeness of trying to prove your manhood by putting up a video that splices images of you in between oiled-up, shirtless bodybuilders," he said.
"And just get to the bigger issue that is on my mind whenever I see this stuff in the policy space, which is, again: Who are you trying to help? Who are you trying to make better off? And what public policy problems do you get up in the morning thinking about how to solve?"
Buttigieg added that he doesn't understand "the mentality of somebody who gets up in the morning thinking that he's going to prove his worth by competing over who can make life hardest for a hard-hit community that is already so vulnerable in America."
Meanwhile, former New Jersey Gov. Chris Christie (R) said he's "not comfortable" with the video nor the way his Republican presidential rivals DeSantis and Trump "are moving our debate in this country."
"This type of video does nothing to address those issues. And it is a teenage ... food fight between Ron DeSantis and Donald Trump. And I don't think that's what leaders should be doing," said Christie, a former Trump ally, on CNN Sunday.
"They're trying to divide us further. And it's wrong. It's absolutely wrong."
Separately, former Rep. Will Hurd (R-Texas), who joined the Republican presidential primary race last month, told CNN Sunday he wished candidates "would focus their attacks on war criminals like Vladimir Putin, not my friends in the LGBTQ community," adding: "It is 2023. We should be talking about how do we embrace our differences."
The other side: Representatives for DeSantis did not immediately respond to Axios' request for comment, but his aide Christina Pushaw denied in a tweet that opposing the federal recognition of Pride Month is homophobic.
"We wouldn't support a month to celebrate straight people for sexual orientation, either... It's unnecessary, divisive, pandering," she added.
More from Axios:
Go deeper