DeSantis attacks LGBTQ+ community with "slate of hate" laws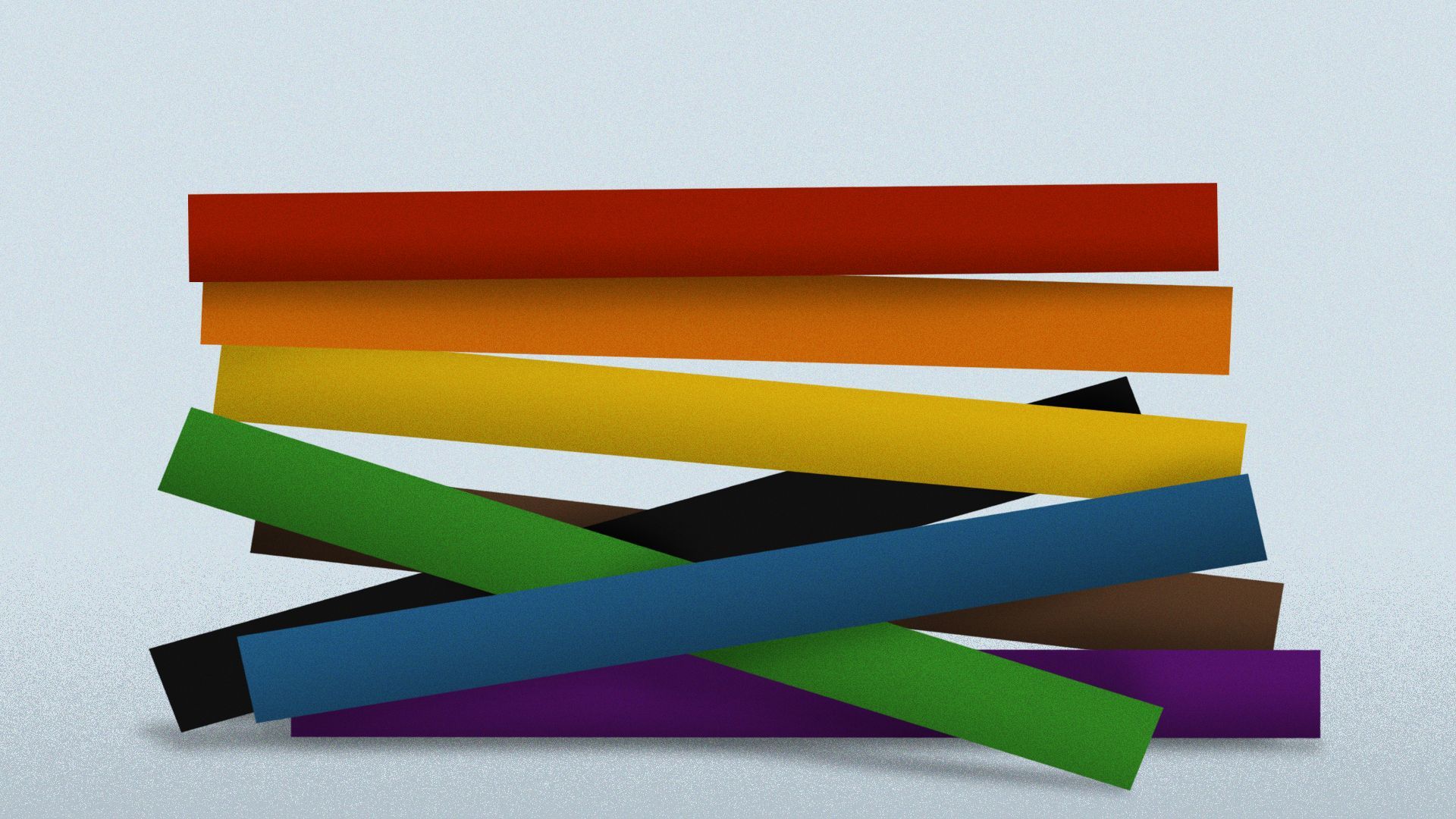 Florida's LGBTQ+ community has been bracing for legislative blows all year, and their fears were confirmed Wednesday when Gov. Ron DeSantis signed several controversial bills dubbed a "slate of hate" by activists.
Driving the news: DeSantis signed four bills into law that touch several aspects of daily life for some LGBTQ+ community members, from limiting the use of preferred pronouns in public schools to criminalizing the use of bathrooms that don't align with a person's sex at birth.
The big picture: DeSantis is doubling down on his administration's previous efforts to prohibit gender-affirming health care for minors and restrict classroom instruction on sexual orientation and gender identity.
The legislation bans certain clinical services offered to transgender teens, but also requires adult patients seeking such treatment to provide "written, informed consent" that these procedures are "dangerous."
It also expands the Parental Rights in Education law, dubbed "Don't Say Gay" by critics, through eighth grade.
Zoom in: Positioned behind a podium reading "Let Kids Be Kids" at Cambridge Christian School in Tampa, DeSantis said Florida is "a citadel of normalcy, and kids should have an upbringing that reflects that."
The Republican governor also repeated misleading talking points about the clinical services offered to transgender youth, including the notion that such health care is "not based in science."
Be smart: DeSantis called gender-affirming care "a movement amongst I would say rogue elements of the medical establishment." But most major medical associations in the U.S. — including the American Medical Association and the American Academy of Pediatrics — support gender-affirming care for adults and adolescents.
Surgeries are not considered for children, and they are not commonly recommended or provided to adolescents.
Details: A measure signed Wednesday would bar Florida's schools from requiring employees and students to use a person's preferred pronouns if they don't correspond to their sex assigned at birth.
Another newly signed bill would punish business owners who knowingly allow children to attend "adult live performances," which LGBTQ+ activists say will lead to the policing of drag shows and Pride events.
The bathroom legislation applies to educational institutions, detention facilities, correctional institutions and juvenile correctional facilities, among other public buildings.
What they're saying: Joe Saunders, political director of LGBTQ+ rights nonprofit Equality Florida, called the signing "an all-out attack on freedom."
"DeSantis doesn't see freedom as a value worth defending. He sees it as a campaign slogan in his bid for the White House."
"My art form is not endangering to children, it's not endangering to anyone," Angelique Young, a Tampa-based drag performer, said Wednesday at Equality Florida's virtual press conference.
"What this bill does is it takes away opportunities for trained people like myself to showcase their talent and their skills and their education in a mindful way."
Go deeper