7 years after Pulse, Florida Republicans and LGBTQ+ community at odds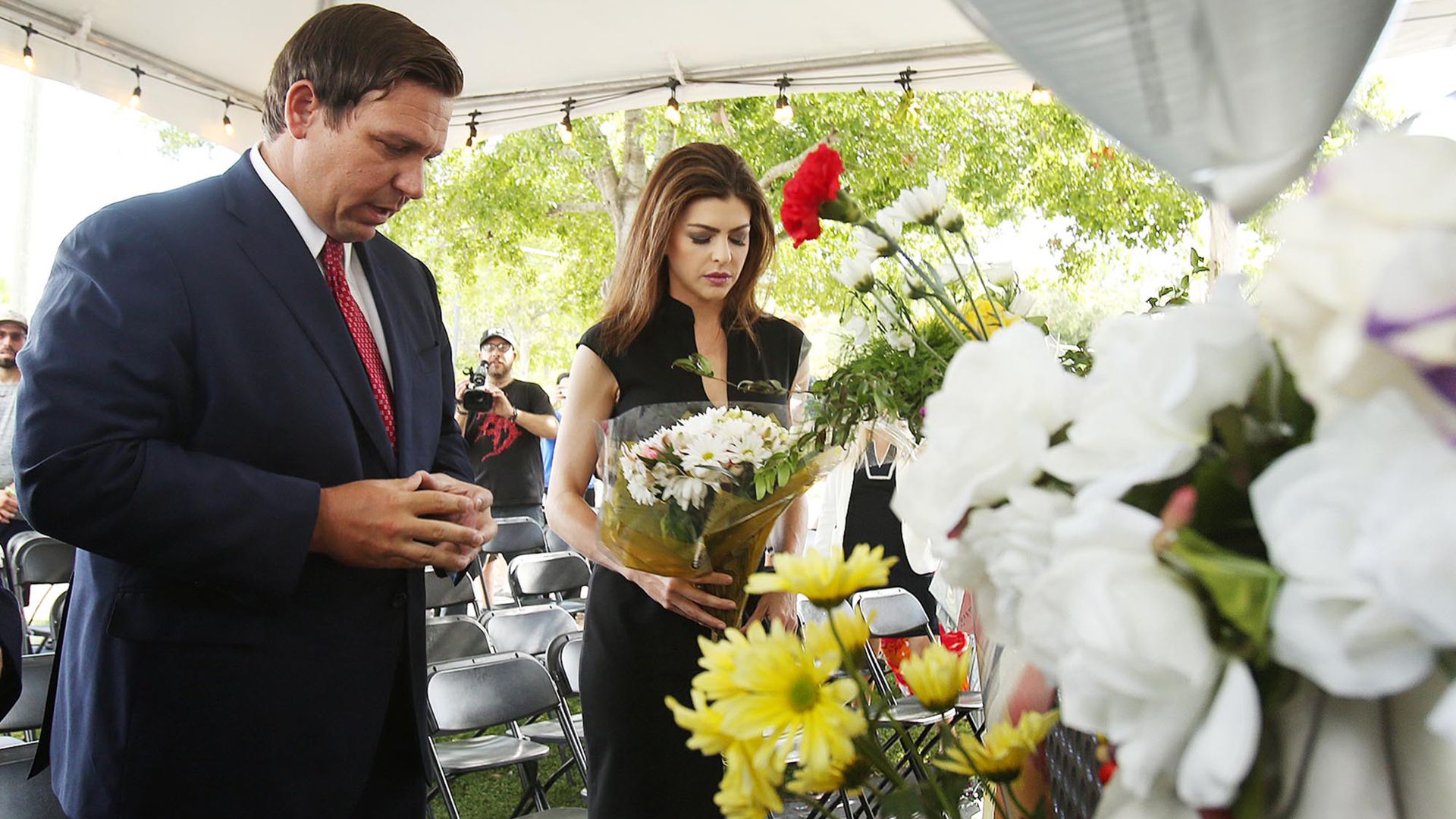 In his first year as governor, Ron DeSantis began what some Floridians thought might be a legacy of allyship with the LGBTQ+ community — a promise and a handshake in a visit to the Pulse Nightclub memorial in Orlando.
Yes, but: At the start of his second term and run for president, queer and trans Floridians are at the center of his legislative culture war.
Why it matters: The seventh anniversary Monday of the Pulse shooting shows how far Florida's political pendulum has swung in just four years.
Flashback: In 2019, after putting flowers on the spot where 49 mostly LGBTQ+ people died, the governor wrote on the memorial, "Florida will always remember these precious lives."
The moment sparked hope for Brandon Wolf, a survivor of the shooting who was starting his career with LGBTQ+ advocacy group Equality Florida at the time.
"It means a lot for you to be here, maybe more than you know," Wolf said to DeSantis after the two shook hands. "This community feels like we need allies and feels like we need to be heard. I really hope that this is a moment to start building that relationship."
The intrigue: Wolf is now one of DeSantis' most vocal adversaries. As Equality Florida's spokesperson, he helps lead the fight against DeSantis' policy agenda with lawsuits and protests.
And he's afraid that the "slate of hate" laws taking effect this year and DeSantis' run for president will spark more violence like what happened at Pulse.
What they're saying: Carlos Guillermo Smith, a former Democratic House representative from Orlando, was also there that day in 2019.
"It seems like a lifetime ago because of how abruptly DeSantis changed direction after making that promise to this community," Smith said. "He lied, broke his promise, and relentlessly attacked LGBTQ people in order to advance his own political ambitions."
The other side: DeSantis ordered flags across the state to fly at half-staff Monday to honor Pulse victims with the same memorandum he's been using for the last three years. He made no other statements in person or on his social media.
U.S. Sens. Marco Rubio and Rick Scott, who was governor when Pulse happened in 2016, re-upped their congressional resolution again this year honoring the victims.
Neither DeSantis, Rubio nor Scott's office responded to Axios' request for comment on the GOP's future with the LGBTQ+ community. But when DeSantis signed the four bills in May that deal with everything from pronouns to bathroom use, he defended it by saying Florida is "a citadel of normalcy, and kids should have an upbringing that reflects that."
The big picture: DeSantis has likely done irreparable damage between himself and the LGBTQ+ community, University of Central Florida politics professor Aubrey Jewett told Axios. But despite the party largely carrying out his wishes, Jewett thinks other Florida Republicans could still change course.
"Over the long scope of political history in the U.S., we see issues ebb and flow," Jewett said, referencing the country's stance on same-sex marriage and how LGBTQ+ people are viewed culturally. "Often, what has happened after a period of progressive change or success [is] there is a conservative backlash. … If history is any judge, things will turn again."
What's ahead: If DeSantis loses the presidential nomination, the Florida GOP could decide to put up a more moderate candidate in the next gubernatorial race (DeSantis will be termed out).
"If he loses, you may see other Republicans who are still conservative but not necessarily going after the LGBTQ community or even say 'No, this is wrong. Republicans shouldn't be doing this,'" Jewett said.
Still, he says "It's possible this is going to become a mainstay of the Republican party."
More Tampa Bay stories
No stories could be found
Get a free daily digest of the most important news in your backyard with Axios Tampa Bay.