Team DeSantis bets big on angrier GOP base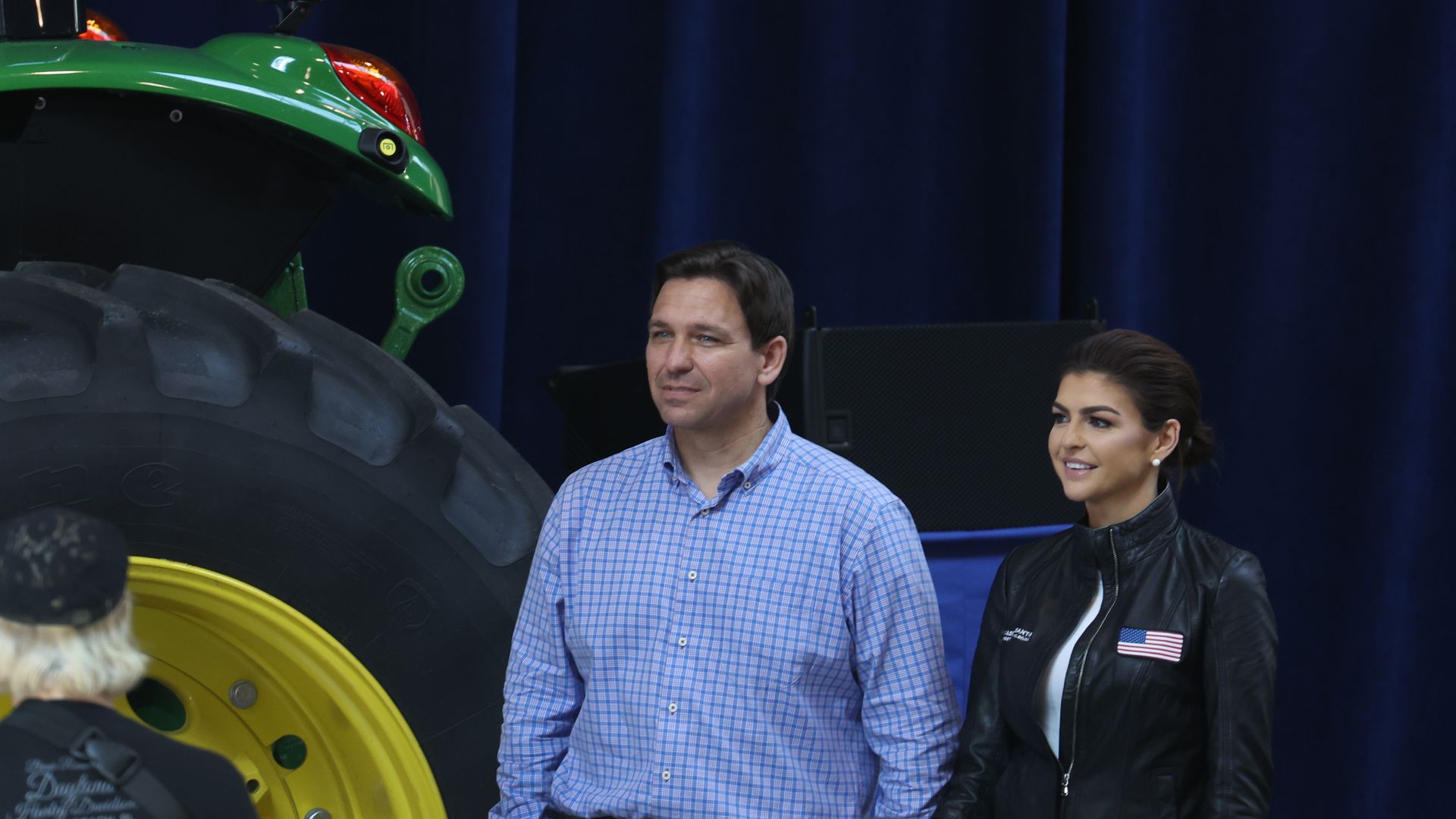 Flush with $82.5 million that was just transferred from his state account, the super PAC backing Florida Gov. Ron DeSantis is ready to spend huge sums on a bet that the Republican electorate in 2024 is angrier and more conservative than it was in 2016.
Why it matters: The DeSantis team argues that the swing voters of the Republican primary are on the far-right rather than the center-right and are more focused on cultural than economic power.
"The fight for the soul of the party isn't about tax cuts or trade deals," Jeff Roe, a top adviser to Never Back Down, the super PAC supporting DeSantis, told Axios. "It is this cultural combat that we have as a country."
"These people know that DeSantis is a culture warrior for this time," he said. "These voters are more angry than they were in 2016."
The fight for the right flank of the party could hurt both DeSantis and Donald Trump in a general election.
Driving the news: This week, the Super PAC Never Back Down will begin a $5 million ad buy through July 4 designed to burnish DeSantis' conservative credentials, sources told Axios.
Zoom in: DeSantis has sustained some $18 million in attack ads from Trump's Super PAC, dropped significantly in national polls the last several months, and muddled through a buggy Twitter announcement.
But Never Back Down says that DeSantis' numbers have rebounded over the past month with likely caucus-goers and shared two internal polls with Axios, one taken in mid-May and another taken from May 30 to June 1 with 655 respondents.
The latest poll showed the Florida governor effectively tied with Trump in Iowa with a head-to-head matchup, up from DeSantis' 14-point deficit in mid-May.
With the other candidates included, DeSantis was further away from Trump but had still gained ground. In the most recent survey, Trump led DeSantis 39%-29%, compared to 24%-48% earlier in the month.
At the national level, Trump still has a comfortable lead, up 53%-26%, according to a CNN survey from May 24, but DeSantis' team believes a strong early showing can catapult the Florida governor to the nomination.
Zoom out: DeSantis advisers appear more focused on getting to the right of Trump on hot-button cultural fights, including attacking corporate support for LGBTQ+ causes and how sexual education is taught in schools.
DeSantis world doesn't seem overly concerned by a Federal Election Commission complaint from a campaign finance group that questioned the legality of the transfer of more than $80 million from the state campaign account to a federal one.
The intrigue: Both candidates' super PAC's can't coordinate with the official campaigns and have recently been sharing their internal polling.
Last week, Trump's super PAC pollster Tony Fabrizio sent a memo to GOP donors arguing that it's a "myth" that DeSantis is more electable than the former president, as Axios first reported.
DeSantis' official campaign declined to comment.
By the numbers: In addition to buying airtime, DeSantis's super PAC is investing heavily in an extensive field operation.
So far, DeSantis' official campaign has let its super PAC take the lead on field organizing, an unusual and largely untested approach in presidential politics.
In Iowa, Never Back Down says it has knocked on 65,963 doors, relying mostly on volunteers and paid organizers, who have gone through an eight-day training camp in West Des Moines. That's led to 19,126 conversations, officials say.
The goal is to reach each of likely caucus-goer five times before election day.
In New Hampshire, super PAC officials say they have hit 27,793 doors for a total of 6,209 conversations.
The super PAC says it has more recently begun hitting doors in South Carolina and Nevada.
Never Back Down told the New York Times in May that it planned to hire more than 2,600 field organizers by Labor Day.
Go deeper: In the hopes of dislodging Trump early, several GOP candidates have an Iowa-centric strategy. A top adviser to former Vice President Mike Pence, who is expected to announce his candidacy this week, said that "we're going to organize Iowa, all 99 counties, like we're running him for county sheriff."
Go deeper