Glitches hit DeSantis' safe-space strategy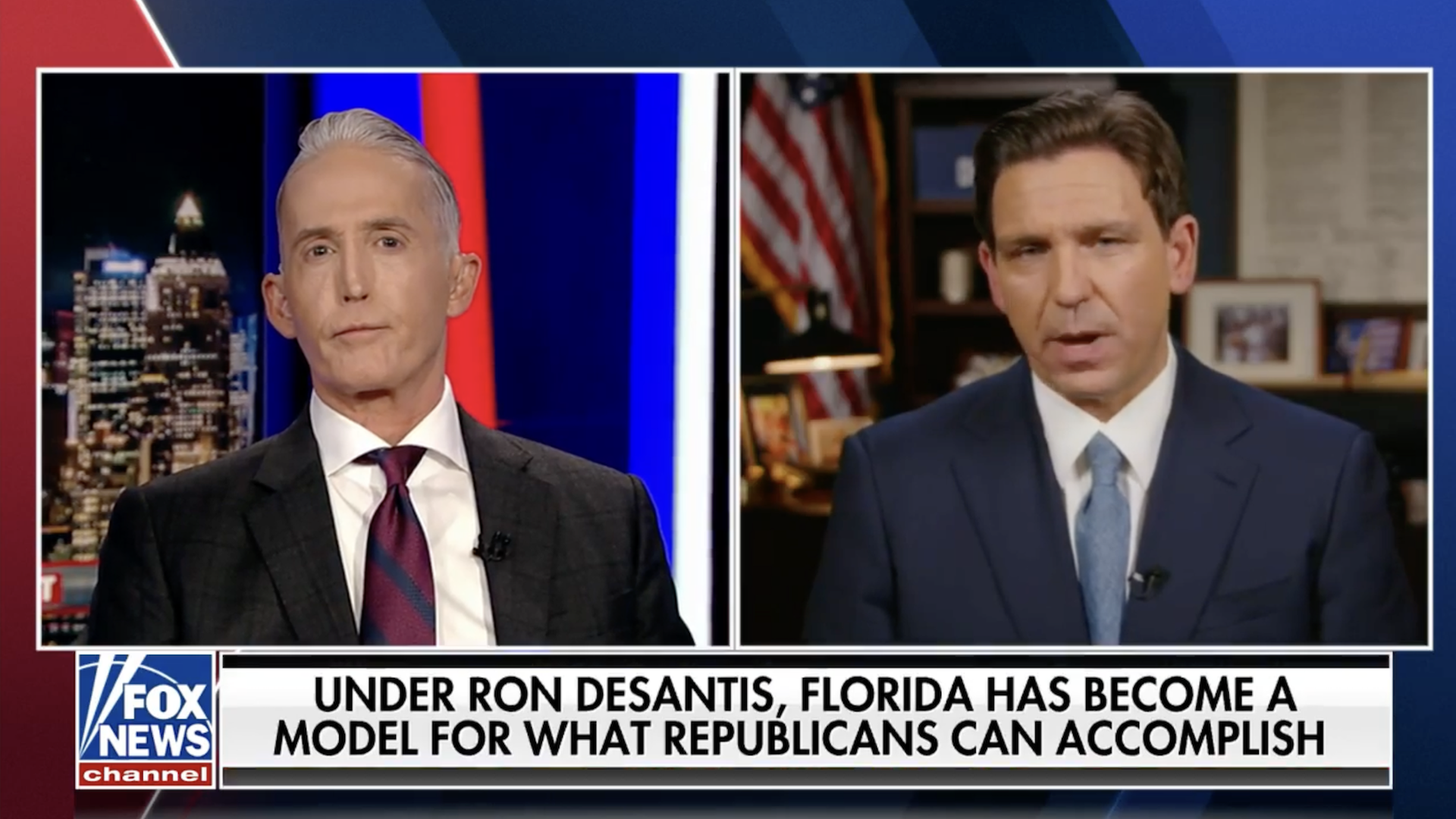 Florida Gov. Ron DeSantis' glitchy Twitter chat with Elon Musk on Wednesday was a stumbling start to his campaign's media strategy for 2024: Largely ignore mainstream media — and their tough questions — by sticking to conservative outlets.
Why it matters: DeSantis' safe-spaces game plan will test the powers of the conservative media ecosystem. If he can get past former President Trump to the general election, he'll likely have to appeal to more voters than the most conservative outlets can deliver.
DeSantis believes mainstream outlets are partisan even as they claim to be objective — and that he has little to gain by engaging with them.
"I'm not going to sit there and humor them and treat them as some neutral arbiter," he told libertarian John Stossel in an interview posted this week.
Zoom in: After a buggy 20 minutes on Twitter Spaces on Wednesday, DeSantis, Musk and moderator David Sacks finally returned in a new — and functioning — forum with a fraction of the original audience. DeSantis launched into a speech that resembled his pitch on his recent book tour.
As political foes and the Twitter universe mocked DeSantis and Musk over the glitches, DeSantis responded to questioners who praised him and his conservative record. Afterward, he posted a tongue-in-cheek video saying he "broke the internet."
He followed that appearance with a Fox News primetime interview, and a radio interview with conservative host Mark Levin.
Today, DeSantis will appear with conservative radio hosts Erick Erickson, and then Dana Loesch. Friendly interviews earlier this week included a 40-minute sit-down with Stossel and a glowing New York Post profile of DeSantis' wife, Casey.
On Fox News, DeSantis said he'd fire FBI Director Chris Wray, a frequent target of Republicans who say the bureau has treated conservatives unfairly. "There would be a new (director) on day one."
The big picture: DeSantis' insular operation has turned down interview requests from national media outlets while prioritizing access for conservative outlets — including a tiny Florida publication, the Florida Standard, that reports suggest was cooked up by DeSantis donors.
DeSantis told Stossel that newspapers have been partisan "for most of American history....You had a Hamilton paper and a Jefferson paper, and they were very stridently partisan...
"What bugs me, and I think a lot of Republicans, ... is they pretend that somehow they are objective."
DeSantis' team did not respond to a request for comment.
Between the lines: President Biden also has mostly dodged sit-down interviews with reporters who aren't ideologically aligned with him.
Trump avoided many mainstream outlets after his presidency, but recently has been more willing to expand his audiences — that's what led to his controversial town hall on CNN.
Trump's team tried to bury DeSantis' announcement last night with a flurry of press releases citing polls, statements of support for Trump from lawmakers in early primary states, and ideological attacks.
Biden's personal account also took a shot while DeSantis' Twitter Spaces feed was down — posting a link to the Biden campaign's donation page that said, "This link works."
What they're saying: "In true Ron DeSantis fashion, his presidential launch was quite literally not ready for prime time. Welcome to the race for the MAGA base, Ron!" Democratic National Committee spokesperson Ammar Moussa tells Axios.
Musk, after the DeSantis event, tweeted: "All Presidential candidates are most welcome" on Twitter.
Twitter banned Trump after the Jan. 6, 2021 insurrection, but Musk has allowed him to return.
When asked whether Trump might do so, a senior adviser to the former president said: "Why use the nuclear option when your opponent is using a BB gun?"
Go deeper