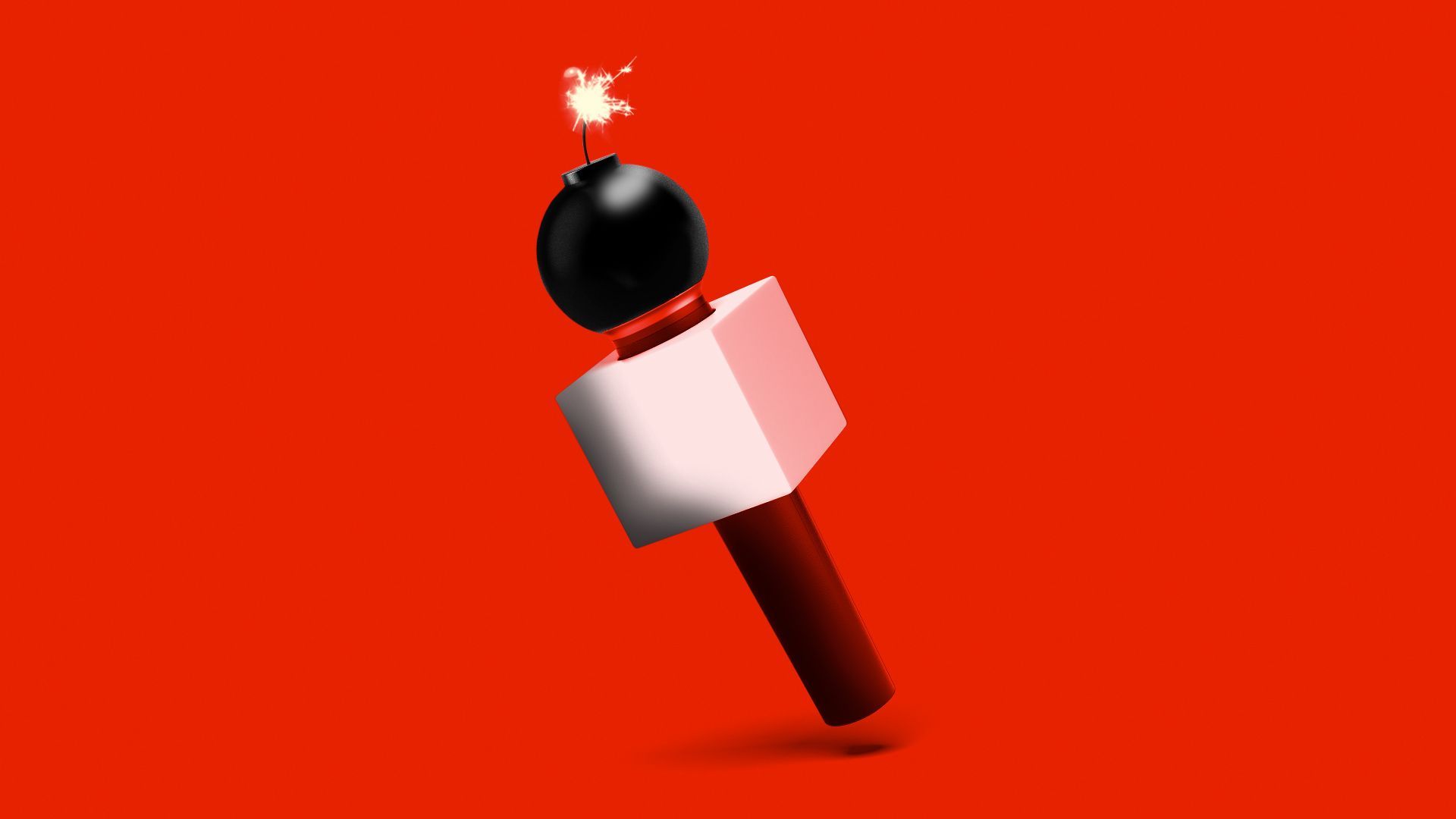 The fallout from former President Trump's CNN town hall has been swift, sweeping and contentious — delighting his most loyal supporters but horrifying those hoping to slow his runaway train to the GOP nomination.
Why it matters: The chaotic performance, which produced a firehose of lies, was a reminder of Trump's staggering gravitational pull. With him at the center of the political and media universe, there's virtually nowhere to hide.
Driving the news: Republican senators, generally a Trump-skeptical bloc compared to the GOP base, appeared demoralized today as they were peppered with questions about it.
"Where do I begin?" Sen. Todd Young (R-Ind.) told reporters when asked why he wouldn't support Trump in the primary. "Republicans are in a winning mood. We want to win. We know he's the shortest path to losing."
Sen. Josh Hawley (R-Mo.), asked about Trump teasing pardons for a "large portion" of the Jan. 6 defendants, responded: "If you're asking me do I think you should pardon the people who engaged in rioting in here, no."
"It looked like a lot of Democratic campaign ads being written last night," said Sen. John Thune (R-S.D.), the No. 2 Senate Republican.
Thune is right: A source familiar with the Biden campaign's thinking told Axios' Sophia Cai that Trump's town hall provided "weeks' work of damning content in one hour."
Zoom out: The contagion from Trump's unfiltered performance is seeping well beyond the campaign.
Trump urged Republicans negotiating the debt ceiling to allow the U.S. to default if Democrats don't agree to spending cuts — an extreme position that has divided House conservatives at a critical moment for GOP unity.
CNN itself is facing upheaval, with its own senior media reporter writing: "It's hard to see how America was served by the spectacle of lies that aired on CNN Wednesday evening."
The intrigue: The Trump campaign is largely thrilled with how the night went, but the former president's lawyers may be wishing he'd kept his mouth shut when grilled on his legal troubles.
Ahead of a charging decision this summer by prosecutors, Trump said he had no regrets about his now-infamous phone call with Georgia Secretary of State Brad Raffensperger — claiming he "owed me votes" in the 2020 election.
Trump admitted more directly than before that he knowingly took government documents from the White House to Mar-a-Lago, now the subject of a criminal investigation by Justice Department special counsel Jack Smith.
E. Jean Carroll, the writer who won a verdict against Trump in a sexual abuse and defamation lawsuit this week, is considering suing him again for defamation after his "vile" attacks on her last night.
Go deeper