Trump held liable for sexual battery, defamation in E. Jean Carroll lawsuit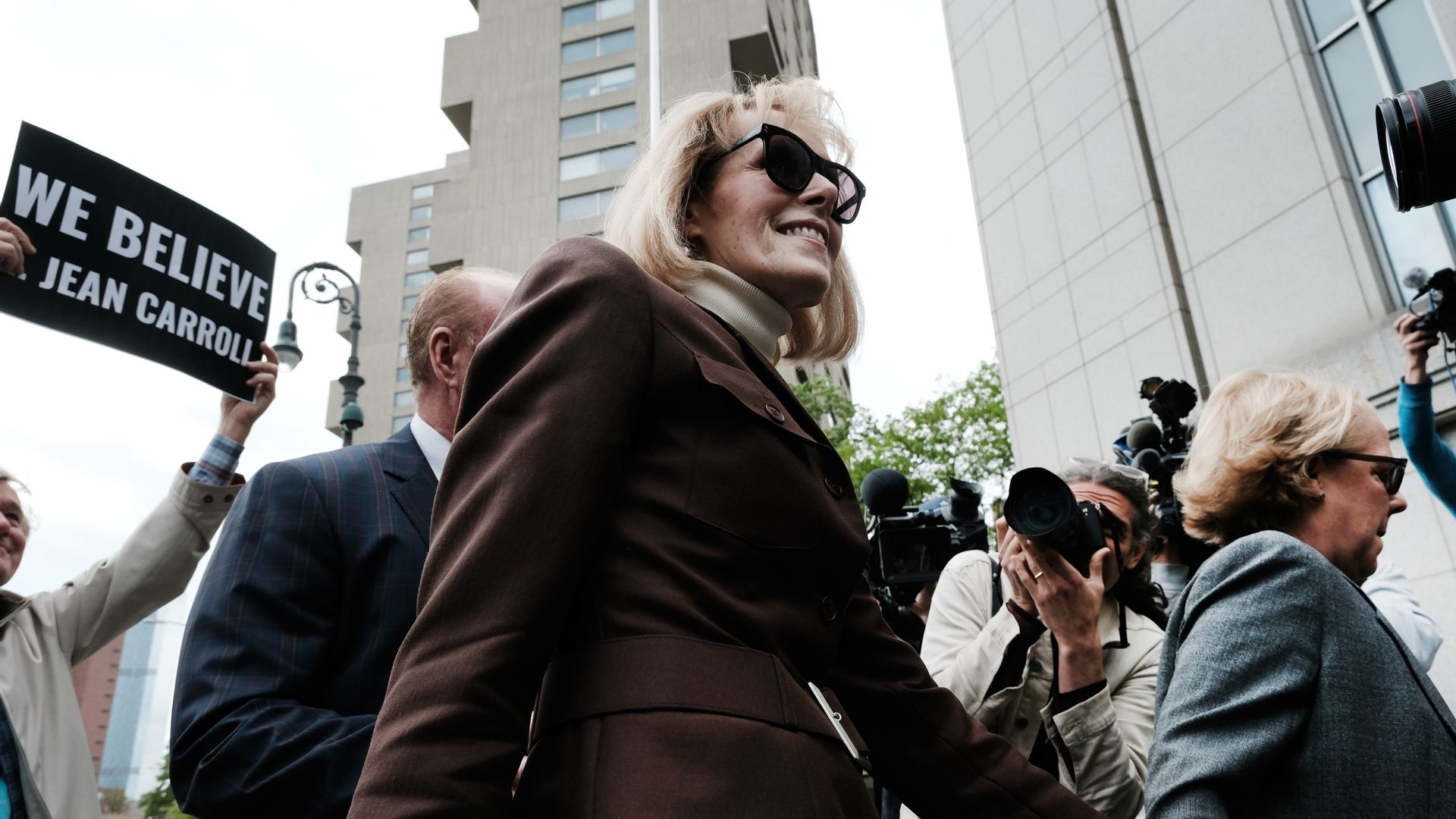 A jury ordered former President Trump on Tuesday to pay a total of $5 million in damages to writer E. Jean Carroll for sexual abuse and defamation in a civil suit.
The latest: Both Trump and his defense lawyer Joe Tacopina said the former president would appeal the jury's decision.
Driving the news: The jury found that Trump did sexually abuse Carroll but did not determine that he raped her.
They also determined that he was liable for defaming her when he denied her accusations.
"I have absolutely no idea who this woman is," Trump wrote in a Truth Social post after the verdict, which he called a "disgrace."
"A continuation of the greatest witch hunt of all time!" Trump added.
The verdict was read on Tuesday just hours after jury deliberations began.
Why it matters: Although at least 26 women have accused Trump of sexual misconduct or assault, this marks the first known time that the former president has been held legally responsible for sexual assault and defamation.
State of play: Carroll initially publicly accused Trump of sexual assault in 2019, alleging that he sexually assaulted her in the dressing room of a luxury Manhattan department store in the mid-1990s.
During the trial, Carroll told the jury that she was in court because "Donald Trump raped me, and when I wrote about it, he said it didn't happen," AP reports. "He lied and shattered my reputation, and I'm here to try and get my life back."
Trump denied the allegation, prompting Carroll to sue him for defamation in late 2019 on the grounds that his denial had damaged her reputation and her career. That case has not yet gone to trial.
Carroll filed a second lawsuit against Trump in 2022, alleging battery and defamation, after New York enacted the Adult Survivors Act, which allows adult survivors of sexual violence to sue over attacks that occurred decades ago.
As part of it, Carroll sought unspecified compensatory and punitive damages for psychological harm, dignity loss, pain and suffering, and reputation damage.
Trump in a video deposition shown on May 4 called Carroll's allegations "the most ridiculous, disgusting story" and said they were "made up," AP reports.
Lawyers for Carroll played about 30 minutes of video excerpts from Trump's deposition, which took place in October.
Trump's attorneys were not expected to call any witnesses.
What they're saying: "No one is above the law, not even a former President of the United States," Roberta Kaplan, Carroll's counsel, said in a statement after the verdict.
"For far too long, survivors of sexual assault faced a wall of doubt and intimidation," the statement continued. "We hope and believe today's verdict will be an important step in tearing that wall down."
Meanwhile, the former president's campaign claimed in a statement after the verdict that the case was meant to target Trump "because he is now an over-whelming front-runner to be once again elected President of the United States."
"The continued abuse of our great Constitution for political ends is disgusting and cannot be tolerated," the statement reads.
It also called the case a "witch-hunt" from the Democratic Party and said Carroll's claims were "totally made-up."
The big picture: Over the course of the trial, jurors heard testimony from Carroll and two other women who have accused Trump of sexually assaulting them.
Tacopina pressed Carroll on why she couldn't provide a more precise date in 1995 to 1996 for when she alleges the rape occurred — as he cast doubt on her account during a cross-examination that at times drew rebukes from the judge.
After Tacopina asked her why she didn't scream, Carroll responded that she's "not a screamer" and told him that he couldn't "beat up on me" for not screaming.
"Women who don't come forward, one of the reasons they don't come forward is they are asked why they didn't scream," she said. "Some women scream, some women don't. It keeps women silent."
Editor's note: This story has been corrected to reflect that the statement issued after the verdict criticizing the case against Trump was issued by his campaign, not his legal team.
Go deeper