Key takeaways from E. Jean Carroll's civil rape trial against Trump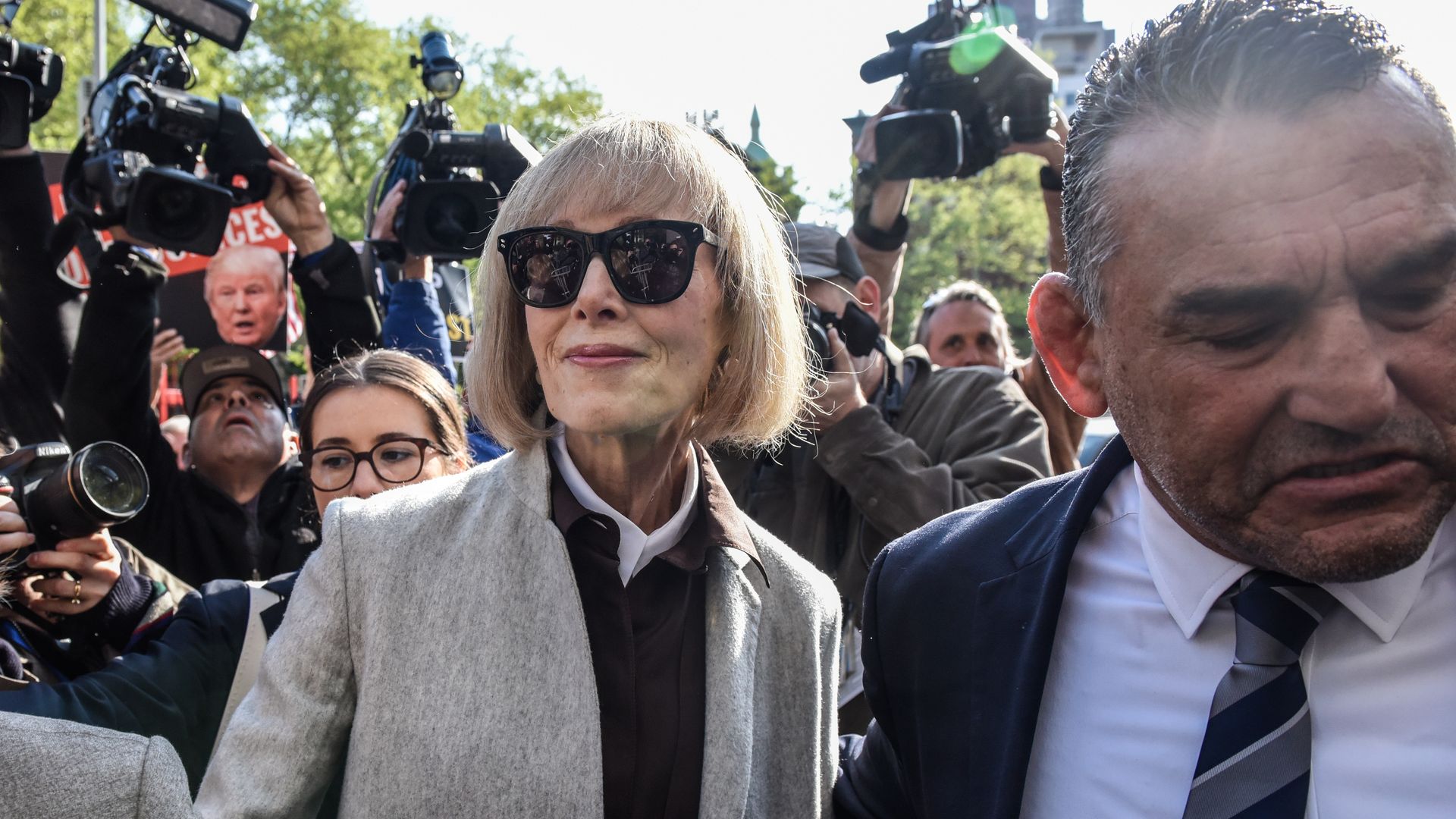 Closing arguments in E. Jean Carroll's battery and defamation civil trial against former President Trump, whom she alleges raped her in the 1990s, are due to start on Monday and jury deliberations are expected to begin Tuesday.
Why it matters: At least 26 women, including Carroll, have made public allegations of sexual misconduct or assault against Trump over the years, but only a few resulted in litigation and none have gone to trial. Trump has denied the allegations against him.
Of note: Trump's defense lawyer Joe Tacopina in an 18-page letter on May 1 had requested District Judge Lewis Kaplan declare a mistrial in the case, arguing Kaplan made "pervasive unfair and prejudicial rulings" against Trump. Kaplan rejected the request once the trial resumed.
Tacopina offered an alternative, noting that Kaplan ought to "correct the record for each and every instance in which the Court has mischaracterized the facts of this case to the Jury" and "allow the Defendant's counsel to have greater latitude to cross-examine Plaintiff and her witnesses."
Key moments of trial
During the third day of the trial, Tacopina pressed Carroll on why she couldn't provide a more precise date in 1995 to 1996 for when she alleges the rape occurred — as he cast doubt on her account during a cross examination that drew rebukes from the judge, according to the New York Times.
After Tacopina pressed her on why she didn't scream, CNN reports that Carroll said she's "not a screamer" and was "too much in panic" to scream.
"You can't beat up on me for not screaming," she said. "One of the reasons [some women] don't come forward is they are asked why they didn't scream. Some women scream, some women don't. It keeps women silent."
Carroll testified that the Times' watershed story on Harvey Weinstein's sexual misconduct and the ensuing #MeToo movement "caused me to realize that staying silent does not work," per the Washington Post.
She told the jury of allegations that she'd also been assaulted by then-CBS chair Les Moonves, who has faced his own sexual assault allegations, but that she did not sue him because "he did not defame me. He did not call me a liar," ABC reports.
Trump in a video deposition shown on May 4 called Carroll's allegations "the most ridiculous, disgusting story" and said they were "made up," AP reports.
Lawyers for Carroll played about 30 minutes of video excerpts from Trump's deposition, which took place in October.
Separately, Trump claimed on his social media site last month that the case "is a made-up scam"and a "Witch Hunt" — prompting U.S. District Judge Lewis Kaplan, who's presiding over the trial, to warn his lawyers against further "entirely inappropriate" outbursts from outside the courtroom, per the New York Times.
How did we get here?
Carroll, a writer and longtime advice columnist, first accused Trump of sexual assault in an excerpt of her book, "What Do We Need Men For?" published in New York Magazine in 2019.
In the book, Carroll alleges that the sexual assault occurred in a New York City department store in the mid-1990s.
A few months after Trump denied the allegation in 2019, Carroll sued for defamation — accusing him of damaging her reputation and her career through his denial.
Carroll was allowed to sue Trump for battery last November — after New York's Adult Survivors Act, which allows adult survivors of sexual violence to sue over attacks that occurred decades ago, went into effect.
Trump has previously attempted to dismiss Carroll's litigation. His lawyers have sought to delay lawsuits and trial, including after they learned that Carroll's legal fees have in part been paid by LinkedIn founder Reid Hoffman.
What's at stake in the trial?
Carroll is seeking unspecified compensatory and punitive damages for psychological harm, dignity loss, pain and suffering and reputation damage.
For Trump, the trial comes as he is again running for president and amid several other legal challenges.
Because it's a civil trial, Trump would not be considered a criminal if the jury's verdict is in favor of Carroll, but he may have to pay her millions of dollars in damages if he loses the case.
Other key trial points:
Jurors in the trial, which isn't televised, were expected to hear testimony from two other women who have accused Trump of sexually assaulting them.
They heard the infamous Access Hollywood tape, during which Trump can be heard boasting about groping women.
Trump had unsuccessfully attempted to exclude the tape and testimonies from evidence.
Trump's attorneys were not expected to call any witnesses, per AP.
Will Trump testify?
Trump will not testify after the judge-imposed deadline of 5pm Sunday passed without the former president's legal team filing a motion on this.
Kaplan set the deadline after Trump told Sky News as he played golf at his resort in the Republic of Ireland Thursday that he "will probably attend" the trial, adding: "I'm going back to New York."
The judge previously said Trump was under no legal obligation to testify or attend the trial. Kaplan noted that Carroll had indicated she did not intend to call him as a witness.
Trump's lawyers previously asked Kaplan to instruct jurors that Trump "wishes to appear" at the trial but his presence would be too logistically burdensome on the courthouse and New York City.
Kaplan rejected the claimed burden of Trump's appearance and denied the request.
What other legal woes is Trump facing?
In addition to Carroll's lawsuit, Trump has been charged with 34 counts of falsifying business records in the first degree by a Manhattan grand jury related to 2016 hush money payments to adult film actress Stormy Daniels.
Go deeper: Trump testifies in New York fraud lawsuit
Editor's note: This story has been corrected to show that Carroll's accusation against Trump was first published in New York Magazine (not in her book) and to say the civil trial is for one lawsuit, not multiple suits. It was also updated with more details on the number of women accusing Trump of sexual misconduct and with further details from the trial.
Go deeper