Florida's bargain hunters are getting some huge deals at a store that turns trash into treasure.
What's happening: Hotbins — a store full of giant bins that are filled with random boxes of stuff — opened its Tampa location last month.
I love cheap s**t — and I just hit the jackpot.
Why I care: Online shopping mostly ended the thrill of Black Friday specials, but Hotbins — a fast-growing Florida chain that sells returns and overstock items from Amazon and Target — brings my high-stakes bargain-hunting dreams to life.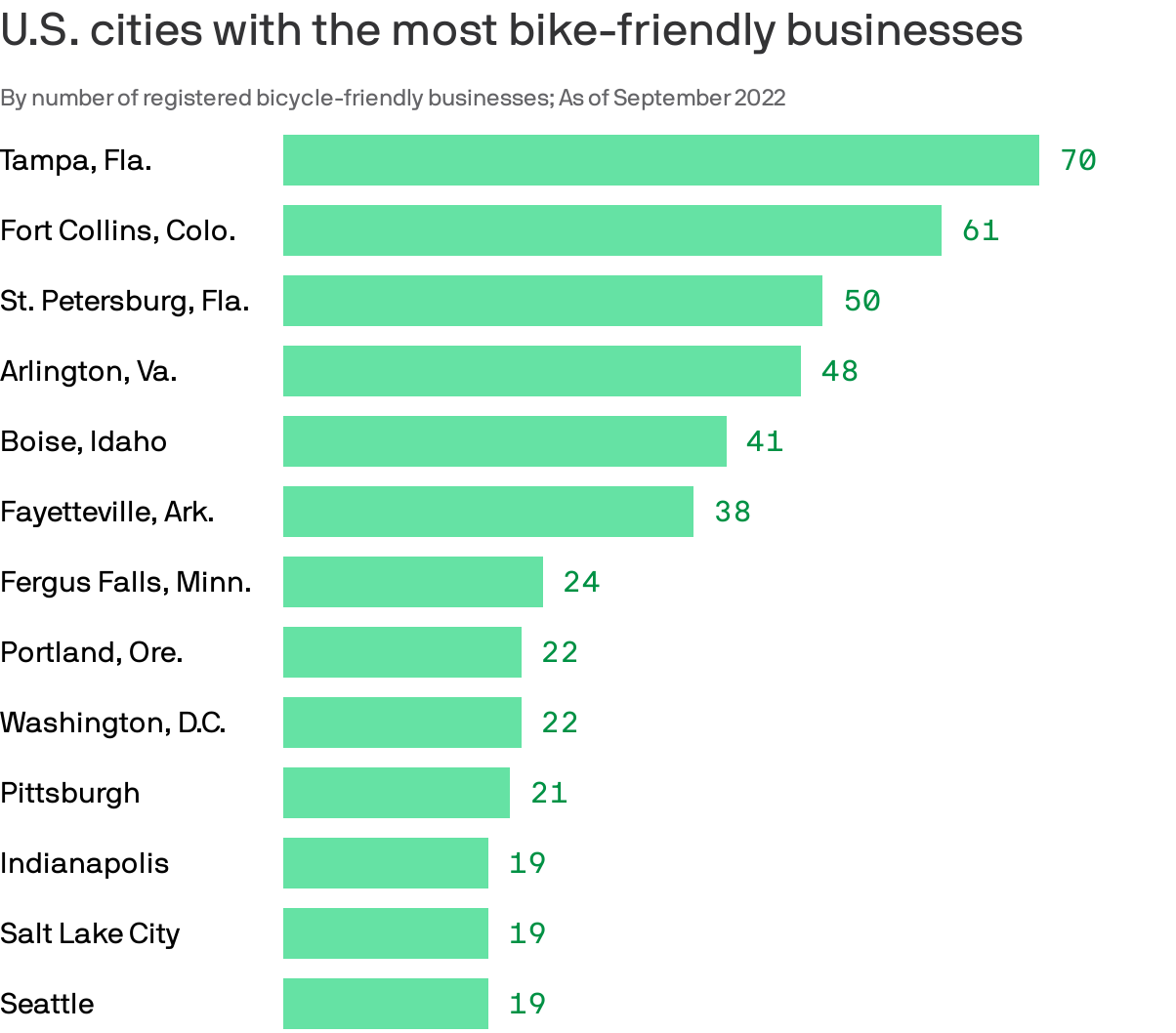 Tampa has the most bicycle-friendly businesses among U.S. cities, according to the League of American Bicyclists. St. Pete is third.
Why it matters: Bike-friendly communities are attractive to a growing number of tourists and professionals looking for places to live in the work-from-home economy.
Candice Rezvanian has spent nearly a decade becoming a venture capital investor and operations expert.
At Strut Consulting, she supports high-profile venture capital clients in successful fund management.
Walmart is growing its new health clinics in Florida.
Driving the news: Walmart Health announced plans Wednesday to build 16 new health care facilities in Florida in 2023, including seven in Tampa Bay, to meet the needs of the state's growing — and aging — population.
If you've wandered around downtown St. Petersburg, you've probably passed 48 acres of farmland and had no idea.
Driving the news: Brick Street Farms is growing leafy greens inside upcycled shipping containers in a warehouse and parking lot at Tropicana Field — and they're about to get a whole lot more growing power.
A Canadian tech company wants to transform the way people report abuse and assault in Tampa Bay and around the world.
What's happening: REES Community founder Mary Lobson is trying to anchor her company in the area through the Tampa Bay Wave's new TechDiversity Accelerator cohort.
Tampa-born Vū Studio technology played a key role in the production of the upcoming movie "Sympathy for the Devil," starring Nicolas Cage and Joel Kinnaman, studio representatives tell Axios.
State of play: About half of the film, a psychological thriller introduced during this year's Toronto International Film Festival, was shot at Vū's 40,000-square-foot virtual production studio in Las Vegas.
Get a free daily digest of the most important news in your backyard with Axios Tampa Bay.
🌱
Support local journalism by becoming a member.
Learn more