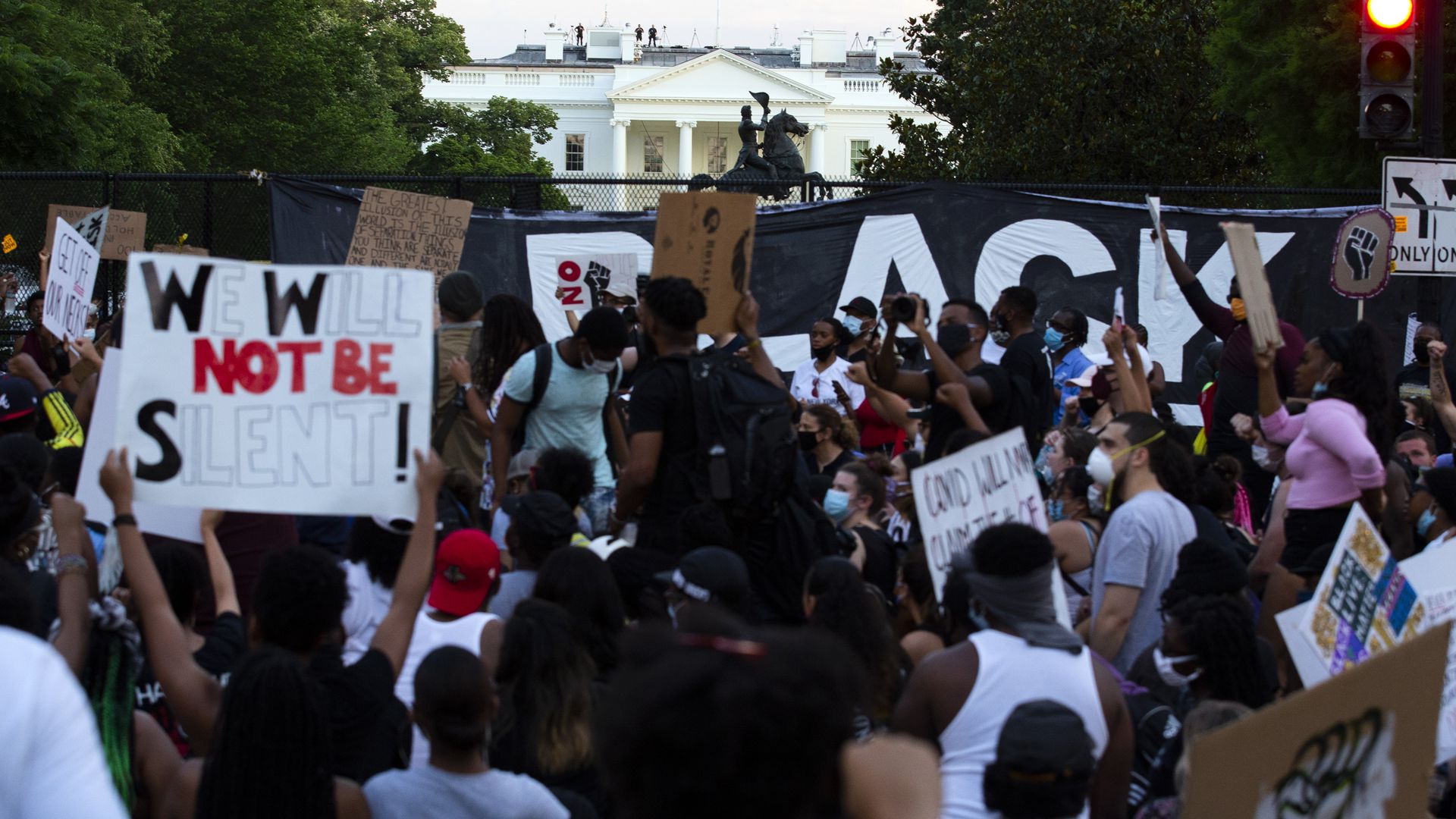 Demonstrations over the death of George Floyd continued across the nation on Sunday as activists and lawmakers hit the cable news circuit to react to the past week's events.
The latest: Both acting Homeland Security Secretary Chad Wolf and Attorney General Bill Barr said on Sunday they don't believe there is "systemic racism" among law enforcement in the U.S. Meanwhile, calls by activists to "defund the police" are growing louder as largely peaceful protests continue for yet another week.
Black Lives Matter co-founder Alicia Garza told NBC on Sunday that defunding the police is not about eliminating police departments, but about reinvesting funds toward "the resources that our communities need."
What's happening: President Trump on Sunday ordered the National Guard out of Washington, D.C., after tens of thousands of protesters marched over the weekend in what was likely the largest set of demonstrations yet. The presence of federal law enforcement appeared to have been greatly reduced in recent days, and the protests were largely peaceful.
In Buffalo, two police officers were charged with assault on Saturday after a video emerged of them shoving a 75-year-old protester while clearing a demonstration in the wake of George Floyd's killing.
Curfews are continuing to expire across the U.S., including in Denver, Minneapolis, NYC and Atlanta.
A Wall Street Journal/NBC News poll showed that 80% of Americans believe that the current situation in the United States is "out of control."
The impact: Anthony Fauci, director of the National Institute for Allergy and Infectious Diseases, said he's "very concerned" about the protests that have followed George Floyd's death resulting in a surge in the number of COVID-19 cases across the U.S.
The bottom line: Almost two weeks of nationwide protest in the U.S. has built pressure for states to make changes on what kind of force law enforcement can use on civilians and prompted officials to review police conduct.
Editor's note: This article has been updated with new details throughout.
Go deeper:
Go deeper