Meet the spoilers: 5 candidates weighing third-party White House bids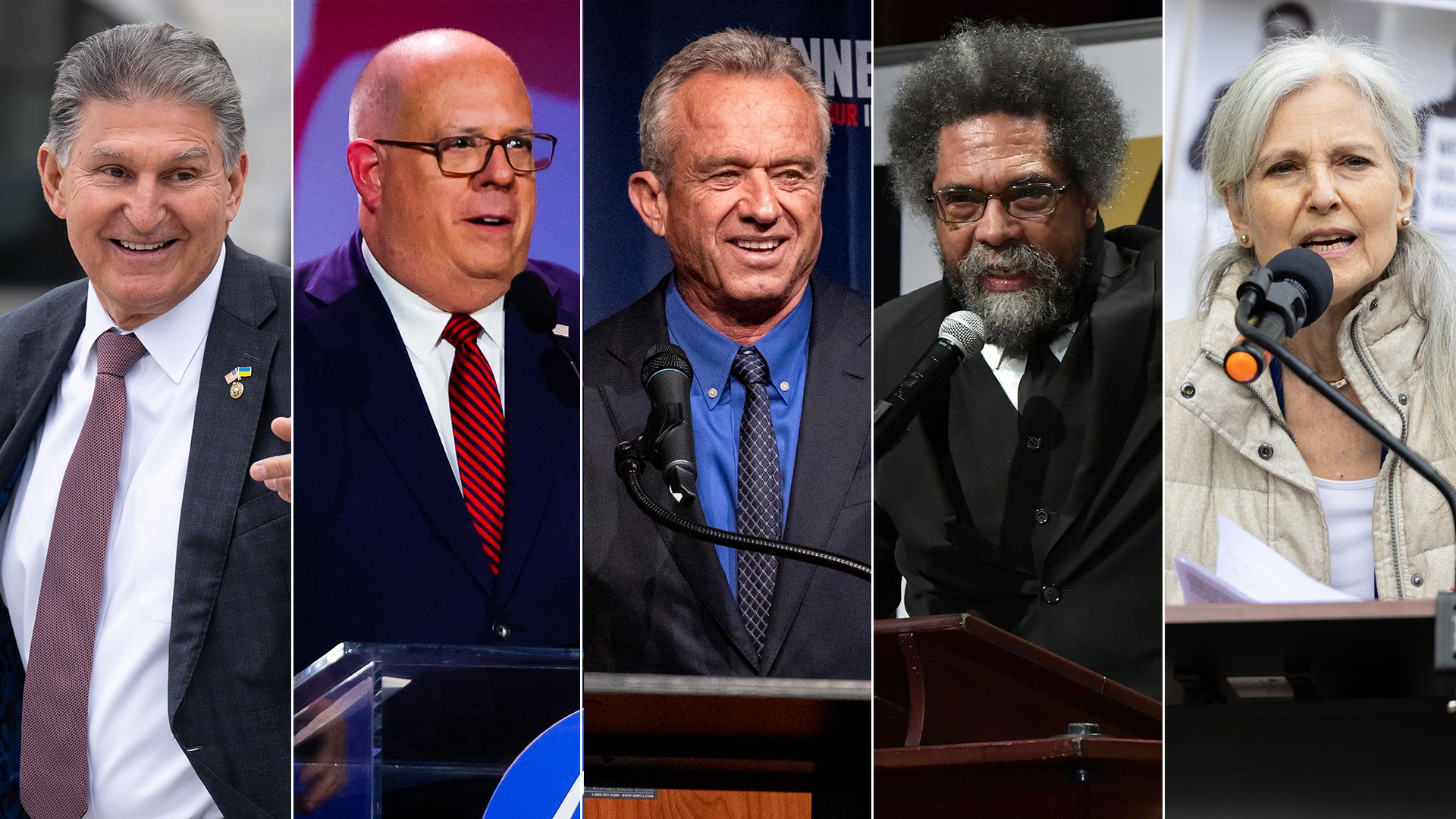 A growing number of would-be presidential contenders are announcing or considering independent or third-party bids to capture the large percentage of Americans who are turned off by both historically unpopular front-runners.
Why it matters: Depending on who enters the race and how much traction they gain, third-party candidates could tip the race in favor of either President Biden or former President Trump.
State of play: Three notable candidates from outside the two major parties are already in the race, while groups including No Labels are seeking a centrist nominee.
Manchin says he's "absolutely" considering presidential bid
Manchin, who announced last week that he won't seek re-election in West Virginia in 2024, said on Wednesday that he was considering a presidential run. He said he doesn't feel represented by Biden or Trump.
In a video announcing his retirement from the Senate, Manchin said he would be "traveling the country and speaking out to see if there is an interest in creating a movement to mobilize the middle and bring Americans together."
Top Democrats have warned that a Manchin candidacy could take votes away from Biden. Some Manchin confidants expect him to flirt with a bid for a few months but aren't convinced he'll pull the trigger, Axios' Hans Nichols reports.
RFK Jr. polls higher than previous independent candidates
Robert F. Kennedy Jr. dropped his Democratic party bid last month to run as an independent, and he has polled as high as 20% in a hypothetical three-way matchup with Trump and Biden.
Kennedy spread misinformation about vaccines during the COVID-19 pandemic and has criticized U.S. funding for Ukraine. Despite being a scion of America's most storied Democratic dynasty, he has garnered significant conservative support.
Kennedy, an environmental lawyer, has polled higher than any independent or third-party candidate in a generation, CNN reported. So far, he seems to be pulling roughly equivalent support away from both front-runners, according to a Morning Consult analysis.
Hogan is potential "No Labels" nominee
Former Maryland Gov. Larry Hogan (R) may have signaled a third-party presidential bid in an ad from earlier this month attacking the foreign policies of Democrats and Republicans.
Hogan is a co-chair of No Labels, a group that is laying the groundwork for a bipartisan ticket in 2024. Hogan and Manchin have both been mentioned as potential No Labels nominees.
On Sunday, Hogan said Biden is "not the strongest nominee" for the Democratic party. He's also said, though, that if a No Labels ticket could jeopardize Biden's re-election, the group won't go forward with it, per The Hill.
West aims to "break the grip of the duopoly"
A prominent progressive scholar and activist, Cornel West is running as an independent after previously registering with the Green and People's parties.
The "policy pillars" listed on his campaign website include economic, environmental and racial justice.
West is more likely to appeal to voters who backed Biden over Trump in 2020. A recent Quinnipiac poll put him at 3%, tied with Green Party candidate Jill Stein.
Stein runs again after key role in 2016
Stein, a physician by training, was the Green Party candidate in 2012 and 2016. She had previously backed West to be the Green Party nominee in 2024, but announced her own candidacy on Nov. 9 after he elected to run as an independent.
Stein received 1% of the vote nationally in 2016, but her share in key swing states was bigger than Trump's margin of victory over Hillary Clinton, leading some to accuse her of tipping the election to Trump. Stein rejected those claims.
Stein has accused Biden of "aiding and abetting" Israeli "war crimes" in Gaza. She says she will campaign for a Green New Deal.
Go deeper: Meet the 2024 presidential candidates
Go deeper