RFK Jr.: Conservatives' favorite 2024 Democrat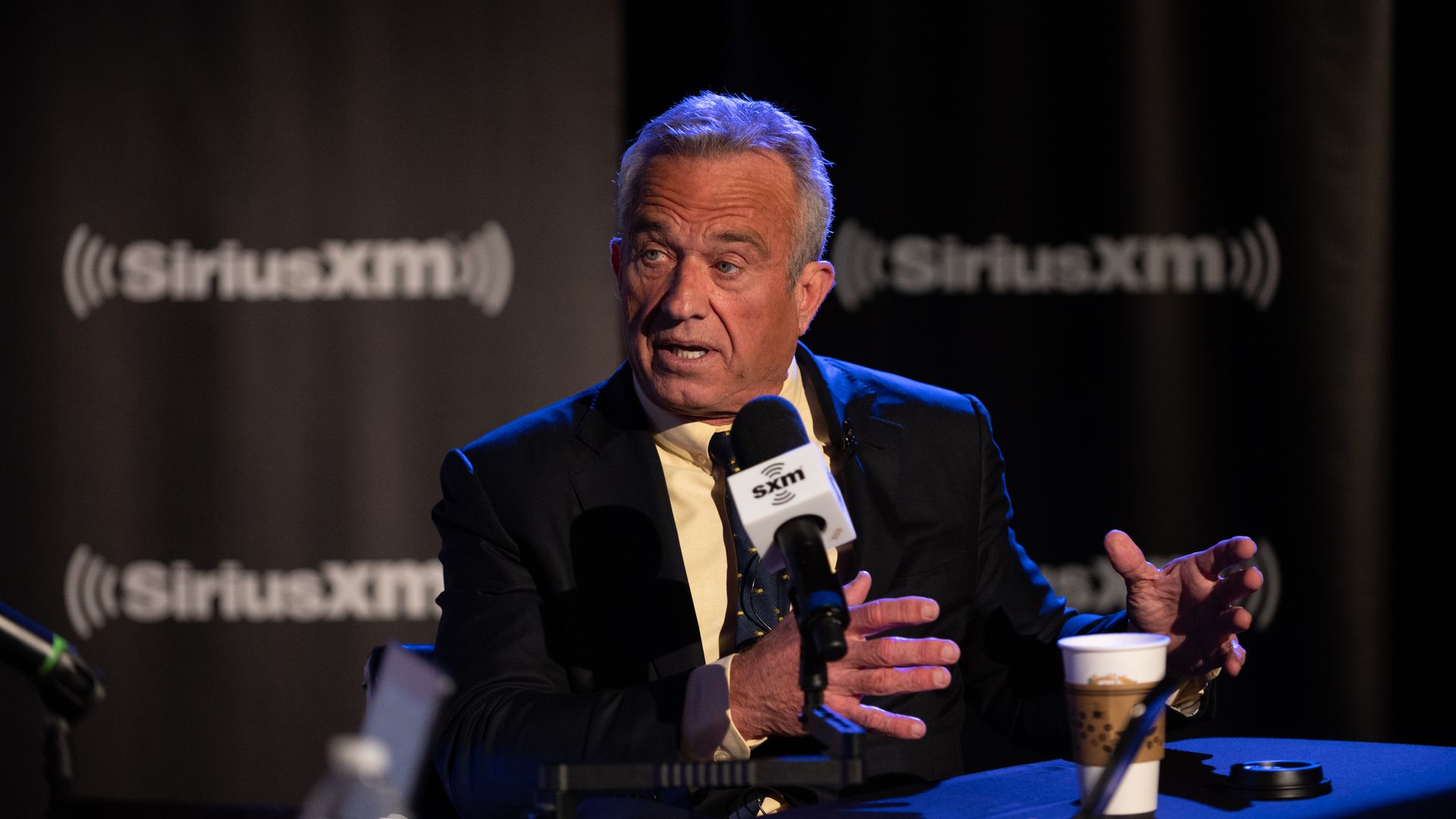 Robert F. Kennedy Jr. began his Democratic campaign against President Biden by criticizing the ties between government and corporate power. Two months later, Kennedy's being embraced by high-profile conservatives eager to air his anti-vaccination views — and to tweak Biden.
Why it matters: Democratic voters have made clear in polls that they're open to a Biden alternative. But as many voters have learned more about Kennedy, his support appears to have dipped in some polls — and Biden remains the overwhelming favorite to win the Democratic nomination.
Zoom in: Kennedy is from one of America's most prominent political families but acknowledged in his announcement speech in April that "I'm not one of those people who say, 'I've got to be careful, because one day I'm going to be in the White House.' "
He was banned from various social media platforms during the pandemic, accused of spreading misinformation about vaccines.
Just this week, YouTube removed a video interview he did with conservative host Jordan Peterson, saying it violated its policy against sharing vaccine misinformation.
Kennedy often criticized social distancing measures, once suggesting that lockdowns gave Americans fewer freedoms than Jews had in Nazi Germany. (He later apologized.)
He wrote a book in 2021 ripping into Anthony Fauci and the CDC, and in 2019 — before the pandemic — his own family publicly criticized him over his stance on vaccines.
Driving the news: Kennedy's position on vaccines and opposition to the war in Ukraine — along with his potential to cause heartburn for Biden — has drawn praise from some conservatives. In some cases, he's been given a microphone to reach voters who don't usually hear from Democrats.
Next week, Kennedy will take questions from South Carolina and New Hampshire voters during a town hall hosted by NewsNation in Chicago.
He'll also speak at an event for Moms for Liberty, which has been labeled an "extremist" group by the Southern Poverty Law Center for "seeking to undermine public education holistically and to divide communities."
And next month, the GOP-led House panel examining the alleged "weaponization" of government is planning to call Kennedy to testify about censorship.
Yes, but: A recent CNN poll found that among those Democrats who supported Kennedy, 20% said it was because of his family name. At the same time, 36% said they wouldn't support him "under any circumstances," compared to 14% for Biden.
The big picture: For now, Biden's campaign is ignoring Kennedy.
Some Biden allies worry, however, that the possibility Kennedy could win the first two contests of the primary season — in Iowa and New Hampshire — could be a bad look for the president.
Biden's team is indicating he won't be on the ballots in those states if they vote before South Carolina, his choice to have the first Democratic primary.
Several swing voter focus groups conducted by Axios have found a deep concern with the 80-year-old president's age. One group — in Georgia — said they wanted to see Biden debate Kennedy to prove his mental acuity.
Go deeper