Focus groups: Georgia swing voters want Biden to debate RFK Jr.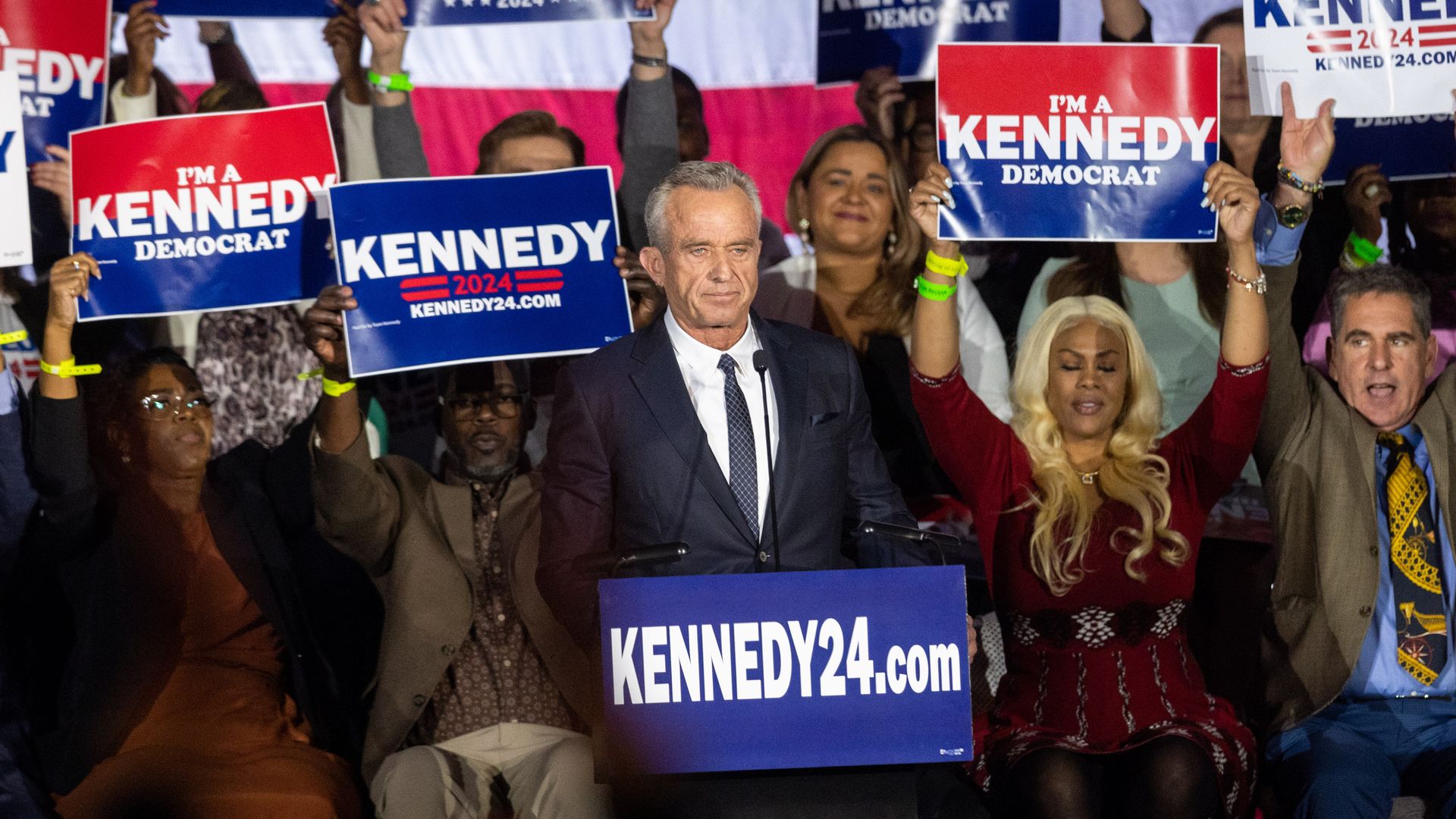 Some Georgia swing voters who backed Biden in 2020 are disillusioned and clamoring for a third-party alternative — and think he should debate Robert F. Kennedy Jr. to prove his fitness for office, according to our latest Engagious/Sago focus groups.
Why it matters: Biden's age (80) is a concern even among those who are "disgusted" by former President Trump and don't want to see him running for office again, either.
Driving the news: As was the case in our last four focus groups in other politically divided states, the latest online sessions with 11 Georgians showed a yearning for a middle-aged leader — and one with slightly more conservative views than Biden.
There are warning signs for Trump, too: In a hypothetical rematch against Biden, all but one of the Georgia swing voters said they'd take Biden over Trump in 2024.
When given the option between those two and "an independent moderate who has the financial resources to run a competitive race," all 11 said they'd seriously consider voting for that candidate.
Zoom in: These are independent-minded voters who said they were looking more to the person than the party — and expressed particular distaste for Trump's behavior.
The focus group was conducted Tuesday evening — after a New York jury found Trump was liable for sexually abusing and defaming author E. Jean Carroll, and before his controversial town hall Wednesday on CNN.
Many said they weren't shocked when Trump was found liable in the Carroll case, and they laughed off his claims of a "witch hunt."
"I'm disgusted that he did this," said Melissa F. "But no, it's not shocking at all. And that should be a terrible thing that it's not shocking to people."
Another voter, Jocelyn D., shared a similar sentiment: "The whole situation is so sad, but because of his behavior in the past in a number of different ways ... it did not surprise me that this happened or that this is verdict came out."
Battle lines: Biden has said he will not participate in any primary debates, but everyone on the panel thought he should do so against Kennedy — or any other prominent challenger.
"I want whoever is representing me as president to be able to put together thoughts and cohesive arguments without needing flashcards or something," Thomas H. said.
Context: Kennedy, 69, is an environmental lawyer who comes from one of America's most famous political families. He's known for his opposition to what he calls "corporate feudalism" and certain vaccines.
What they're saying: Focus group members acknowledged that they know very little about Kennedy, but some thought he "has potential." Others wanted to learn more about him.
Not everyone was a fan — including Jocelyn D.: "I think when you say 'corporate feudalism' it paints a picture that's a little dramatic."
The big picture: Voters said they feel "confusion," "pity," and "embarrassment" when they see Biden on TV, not just because of his age but because what's consuming Washington is not preoccupying their lives.
"While D.C. elites hold their collective breath over the debt ceiling showdown, Georgia swing voters remain blissfully ignorant," said Rich Thau, president of Engagious, who moderated the focus groups.
"When given details about the parties' positions, they side with Republicans — but they're sketchy about what (spending) should be cut."
Details: Our two online panels conducted on May 9 consisted of 11 voters from across the state who supported Trump in 2016 and then Biden in 2020. Two identified as Democrats and the other nine as independents.
A focus group is not a statistically significant sample like a poll, but responses reveal how some voters are thinking and talking about current events.
Go deeper