Focus groups: Arizona swing voters prefer RFK Jr. to Trump and Biden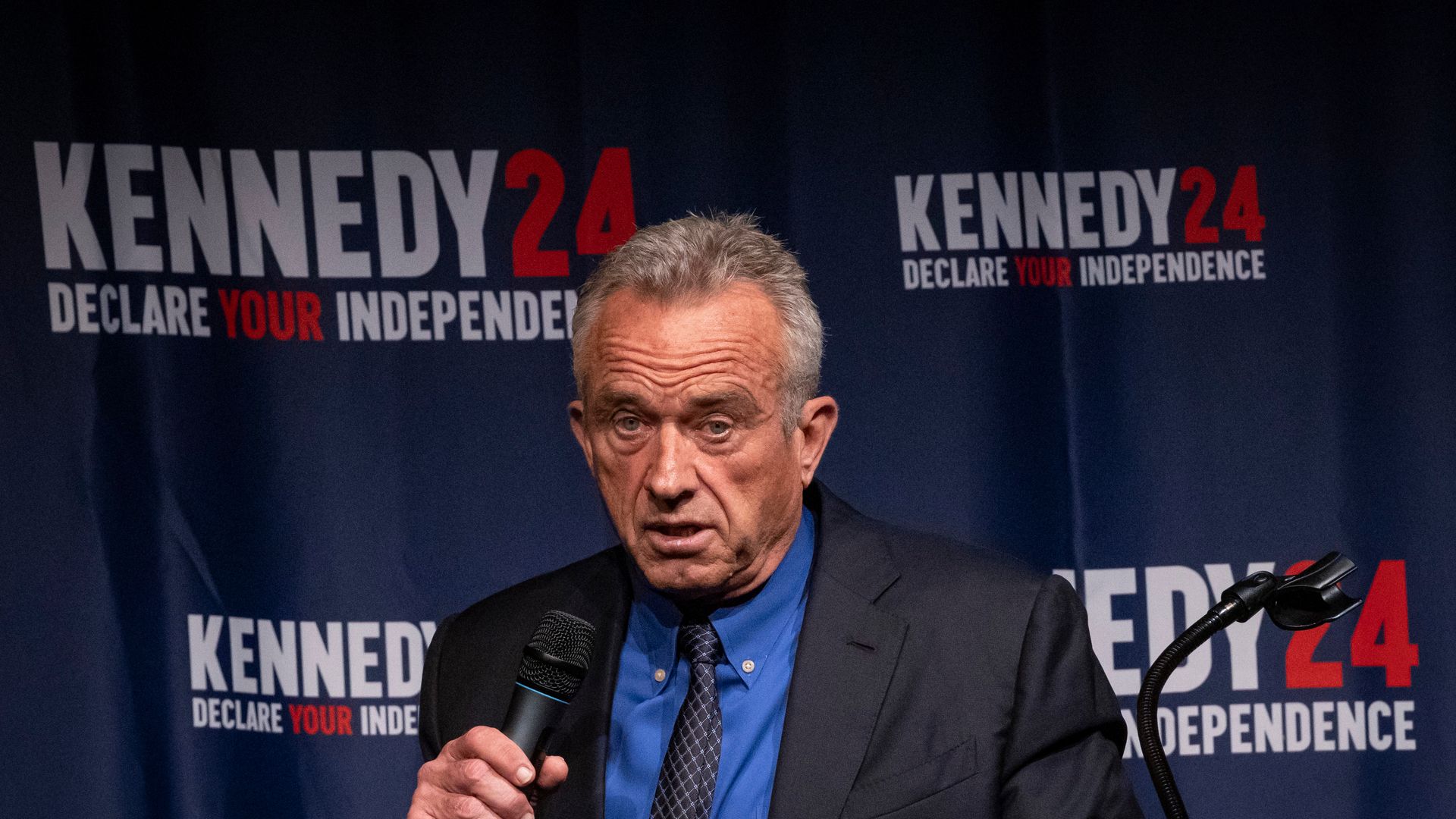 Dissatisfied with President Biden and former President Trump, some Arizona swing voters would prefer Robert F. Kennedy Jr. in 2024, according to our latest Engagious/Sago focus groups.
Why it matters: Interviews with Arizona voters who pivoted from Trump in 2016 to Biden in 2020 suggested they are open to a third option other than the two candidates leading their parties.
"With so much antipathy toward Trump and Biden, swing voters are off-the-charts receptive to a third alternative, especially one with such a recognizable name," said Engagious president Rich Thau, who moderated the focus groups.
"I like the Kennedys. I would look at the past with their family for the ones that … helped run this country. That would be my reason why I would like to choose a Kennedy to come back into office," said Tina N.
Zoom in: Axios sat in on two Engagious/Sago online focus groups Tuesday night with 11 Arizona voters. Two were Democrats, three were Republicans, and six were independents.
A focus group is not a statistically significant sample like a poll, but the responses show how some voters are thinking and talking about current events.
The big picture: Most voters said they would prefer Biden over Trump if next year's race is a repeat of the 2020 election, but they have some real concerns about the incumbent.
"He looks like he's stumbling a lot, so there's a balance issue," said Jocelyn H., referencing Biden's health.
The group participants said they aren't seeing many examples of the economic success that the Biden campaign is trumpeting via social media and ads in their community.
"We're not back. We've entered onto a good path back, and there's still a lot more work to do," said Steven F.
Between the lines: None of the voters could identify Rep. Dean Phillips (D-Minn.), who recently launched a Democratic presidential bid, by name.
And while most thought it's a good thing that the president has a primary challenger, some weren't sure that Phillips is the right guy.
Between the lines: No one in the group disapproved of Biden's handling of the war in Gaza, but only three of the participants would say they approve.
"I think he's hamstrung like the folks over in Israel themselves are as to how do you fight a war in a civilian area while protecting the civilians, while taking out their oppressors, their enemy, who wants them all wiped off the face of the earth, including the entire state of Israel and all its population," Steven F. said.
"I don't know about the funding. I mean, it seems like we're just dumping money into Ukraine and Israel. Obviously if they need the help, it needs to be reciprocated. They need to give us something in return, but I think that we need to support our allies," John M. said.
The bottom line: No one in the group thought Trump would do a better job than Biden in handling the war in Gaza and most participants did not regret swinging to Biden in 2020.
Go deeper