Trump says DOJ weaponization could "happen in reverse" if he's elected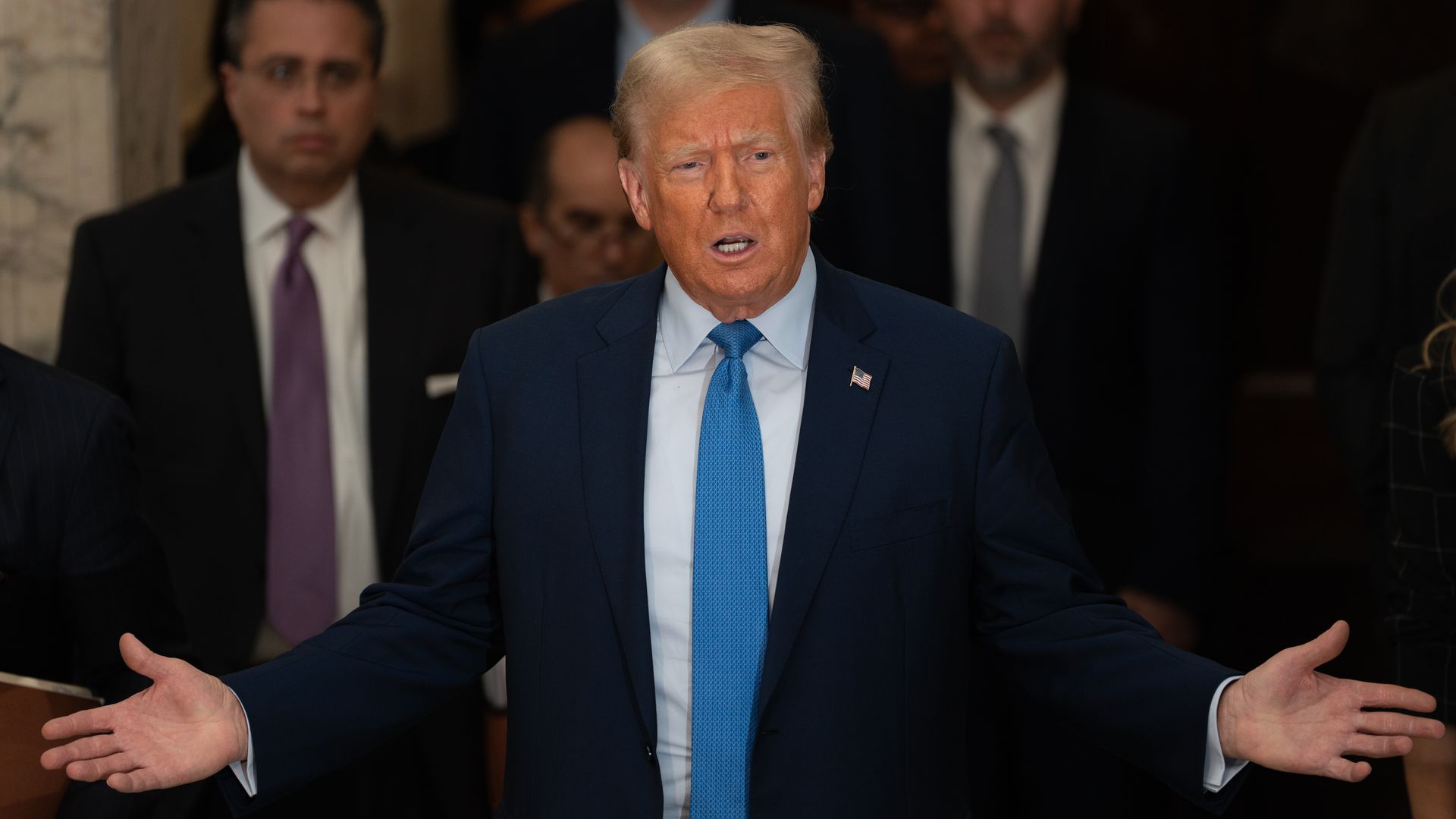 Former President Trump discussed the possibility of weaponizing the Department of Justice against political opponents if he's elected in 2024 during a Univision interview airing late Thursday.
What they're saying: "You say they've weaponized the Justice Department, they weaponized the FBI. Would you do the same if you're re-elected?" Univision journalist Enrique Acevedo asked the Republican primary front-runner during their interview on the Spanish-language TV network.
"If they do this and they've already done it, but if they want to follow through on this, yeah, it could certainly happen in reverse," Trump said.
"What they've done is they've released the genie out of the box."
Of note: A Trump campaign spokesperson clarified via email late Thursday that the former president was speaking in "terms of future elected officials who see Biden going after his political opponent in this disgusting manner, it sets a dangerous example."
He did not immediately respond to Axios' request for comment on whether this meant that Trump would never use the DOJ to go after political opponents.
Why it matters: Trump denies any wrongdoing in the 91 criminal charges in four different jurisdictions he faces and has accused President Biden and his administration of weaponizing the DOJ against him.
Context: Attorney General Merrick Garland appointed Jack Smith as special counsel to investigate Trump over two matters for which he's now being prosecuted, the classified documents case in Florida and the election subversion case in Washington, D.C.
Zoom in: Trump said at another point of the interview that "you can't go after people."
"You know, when you're president, and you've done a good job and you're popular," he said.
"You don't go after them so you can win an election. They've done indictments in order to win an election," he said.
Zoom out: During the interview, Trump also defended his administration's controversial "zero tolerance" immigration policy that resulted in thousands of children being separated from their families at the border.
"When you hear that you're going to be separated from your family you don't come," Trump said of the policy. "When you think you're going to come into the United States with your family, you come."
Trump also said he had "tremendous support from the, I call Hispanic Latino," adding "they're just great people, incredible people."
Go deeper: Why Trump can legally run for president despite indictments
Editor's note: This article has been updated with new details throughout.
Go deeper